We have rounded up 10 meaningful high school graduation gifts for your daughter. If your girl is graduating from high school this year, be sure to take a look at our list of 10 Best High School Graduation Gifts for Girls From Parents. From fashion items, books, home decor, and more. These ideas are cool, practical, and thoughtful. Your high school grads are going to love them all!
Read on to find out 10 of our favorite graduation gifts for girls.
High School Graduation Gifts for Daughter
1. Dream Wishbone Pendant Necklace
Let's start our list of best graduation gifts for girls with this pretty wishbone necklace. It is simple, delicate and dainty. Make a wish, wear it and believe with your whole heart. This is a meaningful necklace to remind girls to keep chasing their dreams.
2. Kattee Urban 3-Way Leather Tote
You can get the high school graduate a work tote if she is entering the workforce after school. This black leather bag looks stylish and professional. It is roomy and versatile. She can carry it with style to the office, running errands, travel and more.
3. Polaroid Snap Instant Digital Camera
For her to capture the wonderful moments ahead. Polaroid Snap Instant Digital Camera – combines digital imaging with Zero Ink printing. It is compact and easy to use. It instantly prints out a physical photo without hassle.
Features 10-megapixel sensor, various capture modes, photo booth mode, and instant selfie self-timer. Handy and lots of fun. It makes one of the best high school graduation gifts for girls.
4. WRISTOLOGY Olivia Chunky Gold Boyfriend Watch
This gorgeous watch is another wonderful graduation gift for high school seniors. It has a minimalist and feminine style. Featuring beautiful gold case, white face embellished with a crystal time index, mint blue leather strap. This watch looks chic and lovely. She will love it for sure.
Best Graduation Gifts From Parents
For graduates who are moving out, new home decor will be appreciated. This makeup organizer is a great choice. Features more than 20 compartments in different sizes and a two-sided mirror at the center. It is made of clear acrylic that suits any vanity area. Solid and functional. It is great for storing makeup, skincare, jewelry and more.
Something fun for her high school graduation. A cool mug that tells her to follow her heart and do whatever she wants. Features a funny graphic with a cute message that reads "I do what I want".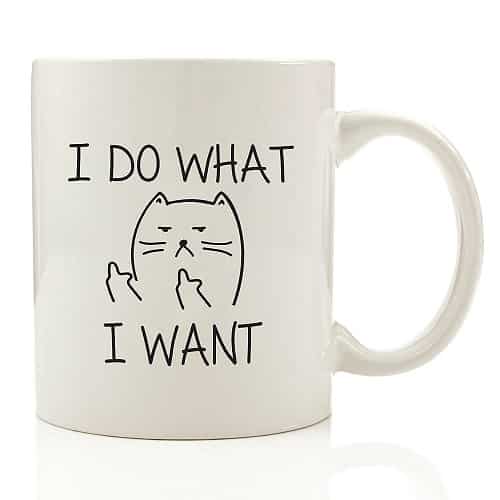 7. Class of 2019 Graduation Bracelet
Simple and stylish bangle bracelet for the high school graduates. It is engraved with a hidden message on the inside that reads "And so the adventure begins…".
This canvas duffle bag is a practical high school graduation gift. It will be useful whether she is going on vacation, college or even gym. We love the beautiful geometric print with contrasting colors. This bag is spacious, light and durable.
9. The Freshman Fabulous: The Girl's Guide to College
A good book for high school grads who are going to college. This book is written by a recent grad, for the future grad. It is filled with humorous, helpful and honest interactive guide. The readers will be encouraged to map out their own college career and goals along the way by using the helpful guides.
The tenth idea on our list of high school graduation gifts for daughter is this classic book by Dr. Seuss – Oh, The Places You'll Go!. A book famous for its wise graduation speech by Dr. Seuss. It is an all-time favorite book to send-off people who are moving to the next stage of life.
That concludes our list of 10 High School Graduation Gifts for Girls From Parents. Thanks for reading.
Follow us on Pinterest!
More High School Graduation Gifts for Girls: