This gift guide helps you to find the perfect gift for male nurses in your life. Browse through our list below to discover what's the best gift to give for a male nurse, a.k.a. the murse.
Nurses are the every day superheroes. They play an important role in caring and monitoring each patient's health. Their hard work and passionate dedication to the wellbeing of their patients are commendable. It is important to show gratitude and recognize the work of nursing professionals and healthcare workers.
Today, there are more men in the nursing profession. According to the U.S. Bureau of Labor Statistics, about 13% of registered nurses are now men, compared to less than 3% in 1970. In this female dominant profession, the work of male nurses deserve our attention. That's why we have come up with a list of gift ideas for the male nurses.
Show your nurse appreciation this National Nurses Week. Gift the male nurse with something meaningful that they really want. Read on to find out 15 best murse gifts.
These gift ideas are also suitable for a male nurse's birthday, Christmas, nursing school graduation, or as a thank you gift for nurse from patients.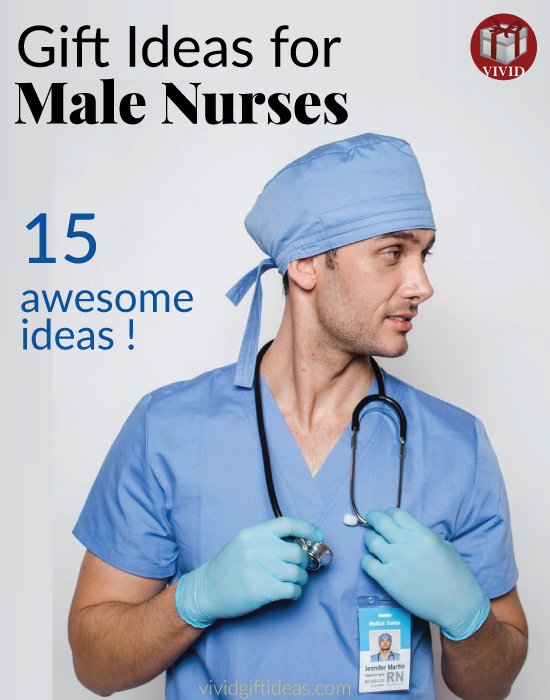 Best Gifts For Male Nurses
Nursing is a rewarding profession. One of the perks of being a nurse is he can "stab" people for their health sake. If you are looking for a small and funny male nurse gift, we recommend this keychain. It comes with a hilarious nurse quote charm and a caduceus symbol charm.
2. Nurse Nutrition Facts Tumbler Cup with Lid
Nursing and caring for sick people is not an easy job. Nurses are angel in disguise. This insulated travel mug perfectly describe the nurses. A nurse contains 1000% compassion, 0% sleep, 500% courage, and more beneficial nutrition to make them a miracle worker in the healthcare field.
This tumbler is made from stainless steel and BPA-free anti-leak flip lid. It will keep your nurse's coffee warm for hours. This is one of the best male nurse gifts that they will actually use.
3. Male Nurse Retractable Badge Holder
You can also give the male nurse a new badge clip. It is a functional gift that any nurse would love! Get the one with fun design and eye-catching statement. The below two badge clips look cute. They are going to make the murse happy.
4. Confessions of a Male Nurse
A fun and inspirational read for male nurses. The author talks about his experiences working as a male nurse in hospitals across the globe. From the good time, to stressful time, and ridiculous incidents happened in hospital, he tells the stories that every nurse can relates.
Murse gift that he actually wants — this cool T-shirt will become his new favorite.
6. Adjustable Scrub Cap with Button
There are many reasons why nurses need scrub cap. One of the main reasons are to help maintain sterility and prevent contamination of the their work environment.
Help him to stay comfortable while working long hour with a breathable scrub cap. This cap with elastic band on the back fits any size. The upgraded soft sweatband with moisture wicking treatment keeps your nurse's forehead clean and dry even after working long hour.
7. Nurse I'll Be There For You Notebook
An appropriate appreciation gift for nurses. This notebook with popular 90s sitcom FRIENDS themed cover will become a big hit among nurses in the hospital. It is perfect for him to write down notes and lists to keep everything organized.
8. RISEMART Diagnostic Pen Light
A popular gift that male nurses really need. This set of professional grade penlights is very helpful for checking ears, mouth, eyes, and throat. The secure pocket clip, sunken bulb and aluminum alloy body makes it sturdy enough to prevent damage from a drop. Also, they come with replacement bulb.
9. Newspaper Style Best Male Nurse Gift Mug
Nurses work long hour in healthcare facilities to keep us well. Express your appreciation this National Nurses Week. This mug makes a wonderful thank you gift for male nurses from patients.
Thank him for the care he gave and tell him he just won the best nurse of the year award. I'm sure it will make his day.
10. To Do List Silicone Wrist Bands
Another male nurse appreciation gift that's cheap and actually useful to the nursing staff and nursing students. These waterproof silicone wristbands come in handy when you are busy running around the hospital. Write down your to-do's and jot down important information so that you won't forget.
It comes with an erasable oil-based ballpoint pen. Write, erase, and re-write for daily planning.
If you are looking for something functional that he can actually use, why not help him to stock up on nurse supplies. You can't go wrong with click pens and writing pads. And, a medical-themed notepad will definitely make him smile.
12. Nursing Clipboard with Storage
A must-have nurse supplies. Approved by RNs, this solid clipboard is useful for nurses, nursing students, and nurse practitioner. The internal storage fits pocket light, stethoscope, pen, notes, and records. He can also flip to the back to see a color-coded medical reference sheet that gives him quick access to the information.
13. Nurse Need Shots Too Glass Cups
A relaxation gifts for nurse man. This shot glass is useful for taking a shot after a long shift. It is such a fun gift to show a nurse you care about him.
A small nurse appreciation gift for men. These colorful socks are great to keep their feet warm and dry. These socks also make a good gift for nursing student, nursing assistant, paramedic, and other healthcare workers.
15. Syringe Pens
Another funny male nurse gift that you can get. These colorful syringe shaped pens look super cool and they are a great conversation starter between nurses and patients.
These pen are available in assorted neon colors to make writing notes more fun.
That concludes our list of best nurse appreciation gifts for men. Thanks for reading.
More Gift Ideas For Nurses: