Honor the doctors in your life with a meaningful appreciation gift. Doctors work tirelessly in healthcare facilities to heal and saving lives. They work really long hours during this pandemic time. Their dedication to the medical field deserve recognition and we should really thank our doctors, physicians, and medical professionals.
Browse through our gift guide to discover what's practical and good for doctors. Featuring 18 thoughtful presents that your doctor will like. Read now to find out what's the appropriate gift to say thank you to your doctors.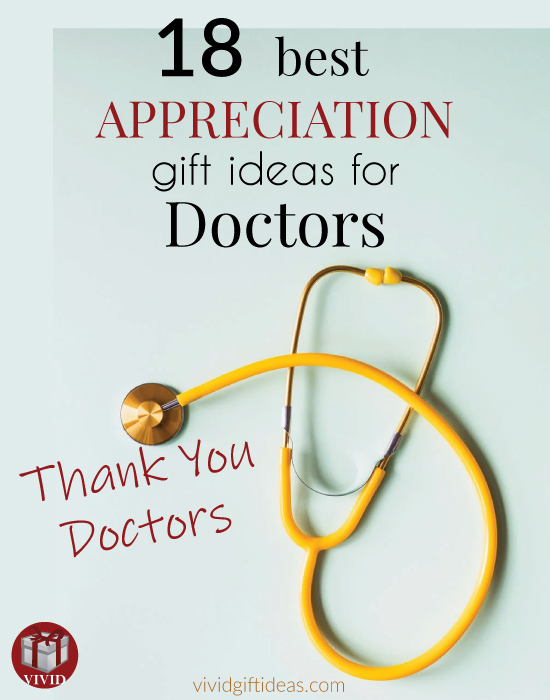 Doctor Appreciation Gift Ideas
Doctors keep their office clean and neat. Get this fun pencil holder to add a little quirkiness to your doctor's office. It helps to keep their desk organized and looking cool. It is a cool gift approved by doctors.
2. Doctor Heart of Angel Figurine
Give your doctor a special gift to express your gratitude. This angel figurine is beautifully crafted with the right details. She is wearing a white coat, holding a stethoscope, and her skirt is engraved with a sincere message that reads "Doctors make the world a better place".
A simple appreciation gift suitable for doctors and medical professionals — because they make a difference.
Thank You Gifts for Doctors
The long working hour and demanding condition in the medical industry can stress out even the toughest medical professionals. They need some praise and encouragement from time to time. It's a good idea to get a motivational gift for the doctor in your life. This keychain will motivate them and keep them going far in this field.
5. Artsy Face Eyeglass Holder Stand
Because this contemporary designed glasses stand will hold your reading glasses in a cool way.
Gifts for Female Doctors
6. Medical Stethoscope Necklace
A gorgeous necklace for doctors, physicians, nurses, veterinarians, and medical workers. We love how the stethoscope is forming a open heart design.
7. KATE POSH Making The World a Better Place Pen
You can get this beautiful wooden pen to celebrate National Doctors' Day. Recognize the hard works of doctors and healthcare workers in the hospital.
Prescription wine to help them relax and unwind after a long day at work. And yes, this is another good gift your doc will appreciate.
Say Thank You to Your Doctor
Show that you care, say thanks with this cute little trinket dish.
10. Doctor Appreciation Wood Sign
Whether it's for decorating home or the office, this wood sign looks great on the wall.
It also makes one of the best retirement gifts for doctors.
11. Doctor Swear Word Coloring Book
Just what a stressed doctor, medical student, and medical professional need after a crappy day at work. This hilarious coloring book is a wonderful stress relief gift your doctor will appreciate. It's fun to vent it out, make the stress go away by coloring the cuss words.
A fun little prezzie to make the eye doctor LOL. Now, they can rock their eye test chart and "perform" eye examination wherever they go.
Let them have some warm coffee while working hard to save lives. Features 3 temperature settings, auto shut off function, and easy to clean surface.
14. Soft Touch Pens with Motivational Quotes
Pen is the one office supplies that doctors constantly need. Whether it's for writing prescription, filling in forms, or taking notes, pens come in handy for them. And, of course, these colorful pens will brighten up their days.
15. Ashes of Problem Patients Coin Bank
Your doctor, his colleagues and patients will find this ceramic jar amusing. He can use this to store candies, coins, paper clips or other small office supplies.
(Related article: Funny Gifts for Doctors)
16. Spa Day Candle by Sweet Water Decor
When you need to release stress. Let's play your favorite music, lit this candle, have a warm bath and leave the stress behind. This is your spa day.
Show Appreciation to Doctors
17. Precious Moments I Am Thankful For You Figurine
We couldn't find a better way to express how thankful we are than sending this cute little angel to the doctor.
Most doctors can't live without caffeine. Let them make their favorite coffee with this smart programmable coffee maker. Make a preset for brewing coffee in anytime. It will dispense hot coffee into the insulated travel mug. Just grab and go with delicious coffee in hand.
That concludes our list of best appreciation gifts for doctors. Thanks for reading.
More Gift Ideas for Doctors: