We take on the challenge on finding the best gifts for dad who says he wants nothing. When your dad seems to has everything and he claims that he doesn't need anything, you can still surprise him with a thoughtful gift that he really wants. We searched through the internet and came up with 22 gifts for every type of dad. Our list include practical and cool stuff approved by men. These presents are affordable and they are pretty useful for dad. Read on to discover what to buy for dad who doesn't want anything.
Best Gifts For Dad Who Doesn't Need Anything
A small desk gadget that makes one of the best gifts for dad who says he doesn't want anything. This heating plate keeps your dad's coffee hot at all times while he work. It is suitable for coffee, tea, hot cocoa, and even candle wax. We love its waterproof design and automatic shut off feature. You do not have to worry about overheating if you forget to turn it off.
How's this apron useful to dad? It makes the grilling season extra fun when friends and families see him wearing this. It is a quirky gift to make dad laugh this summer.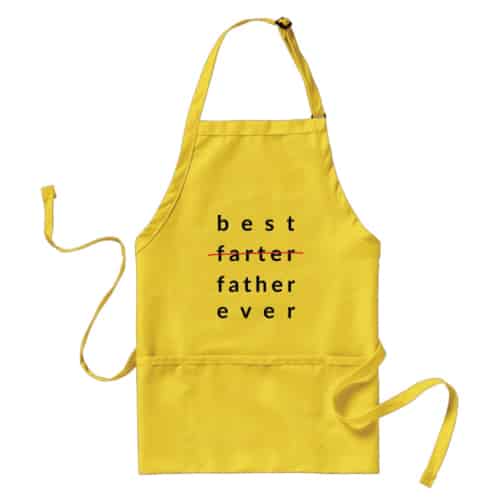 3. PhoneSoap UV Cell Phone Sanitizer
We should practice good hygiene during this pandemic time. We spend a lot of time with our phone daily. It's important to keep it clean to prevent it becoming the breeding ground of germs and bacteria. Help dad to disinfect his phone with this advanced UV light sanitizer. This device uses powerful UV-C light to remove 99.99% of germs. Simply place your phone into the device and let it work while charging your phone.
4. World's Best Dad Ever Multitool
If you have a dad who wants nothing for Father's Day, give him this special 10-in-1 multitool. It is made of solid stainless steel and wood that's engraved with "Thank You for Helping Build My Life". A practical and sentimental gift for dad.
Who doesn't enjoy a good laugh? Even the dads who already have everything need this joke book. This book contains more than 500 hysterical jokes, puns and one-liners. We bet your whole family would enjoy the jokes.
6. GoSports BattleChip Golf Cornhole Game
When dad can't hit the golf course, let him take a swing at home. This is an exciting new game that combines golf and corn hole. It is easy to learn and fun for all ages. Place this at the backyard and have fun competing with your families.
7. I-Box Dawn Qi Wireless Charging Alarm Clock
Dad who wants nothing would appreciate this modern alarm clock. Wake up happy to his favorite radio station and mobile phone fully charged. The LED display is dimmable. You can adjust the brightness to avoid bright lights during the night.
Also, this alarm clock can be doubled as wireless speaker. The rich bass and advanced stereo lets you enjoy enhanced sound performance.
When your old man is still the man, the legend, and the myth. Get this mug to make him smile this Father's Day.
9. Comfier Back Massager with Heat
When dads work so hard for the family, they deserve a good massage. Give him this awesome back massager to relax after a long day at work. It is built with flexible shiatsu massage rollers to perform bi-directional kneading massage with adjustable speed options. It also features infrared heat therapy to provide a warm massage to further ease tense muscles on your neck, shoulders, and back.
(Related reading: 30 Stress Relief Gifts for People Who Need A Little Self-Care)
10. Old Lives Matter Whiskey Scotch Glass
One of the best gifts for your old man. This whiskey glass looks sleek and it has a heavy base. It is added with humor perfect to celebrate Father's Day with your elderly dad.
This whiskey glass also makes a great gift for grandpa from kids.
Express your love to dad this Father's Day. Show him that you care by giving a meaningful gift in the form of family photo.
Looking for a good practical gift for dad who wants nothing? This beautiful storage tray will help dad to keep his desk clutter-free. It has six compartments in different sizes to fit your every need.
13. Papa Knows Everything Tumbler
Something funny and practical for your papa. Because your papa knows everything. And, when he doesn't know, he makes stuff up really fast.
14. Chillbo Shwaggins Inflatable Couch
A fantastic gift for dad who loves the outdoors. Whether he is going to the beach, camping, or hiking, this inflatable couch lets him lounge in maximum comfort. It is easy to setup and fits up to 3 people.
A compact fridge for dad to place in his man cave so that he can has his cold beer in hand.
16. Gecko Cityscape Adhesive Cell Phone Card Holder
If your dad is a minimalist guy, he will love this phone card holder. Slim, sleek, and convenient. This double-pocket card holder is designed to hold your cards and cash securely without extra bulk.
17. Novelty Chocolate Bar Socks
Even when your dad said he wants nothing, an additional pair of socks is always useful. And, if he loves chocolate, this "chocolate bar" will make him happy.
(You might be interested in this article: 20+ Best Gifts for Food Lovers)
For the dad who takes his health and fitness game seriously. This single serve blender is light, powerful, and portable. Make smoothies and shakes wherever and whenever you want. It is rechargeable using USB and what we love most is its self-cleaning feature.
19. Gimars Home Office Lap Desk
When dad spends too many hours working at home in 2021. This ergonomic lap desk will be very useful to him. It is sturdy and large enough to fits up to 17" laptop. Also feature a comfy wrist support, non-slip mouse pad, phone slot and tablet slot.
20. Peak Velocity Men's French Terry Hoodie
When your dad says he wants nothing, he could still use a good hoodie. Keep him comfy with this full-zip hoodie made from 100% cotton. It is soft and fits well to men's body.
21. Hatteker Men's Hair Clipper Barber Kit
Every man needs a good grooming kit. When your old man claims that he doesn't need anything, give him this solid hair trimmer made with high carbon steel blade that stay sharp to perform high precision cutting. This hair clipper also has long battery run time and adjustable taper lever for easy blending and customized cutting lengths.
22. BOPAI Business Laptop Backpack
Replace his old workbag with this stylish backpack. Waterproof, super slim design, neat style. This backpack is also super light. Dad would definitely love its multiple storage pockets, anti-theft hidden zip pocket, and travel-friendly back sleeve that could easily slide over the luggage handle.
That concludes our list of best gifts for dads who want nothing. Thanks for reading.
More Unique Gifts for Dad: