Get this year's coolest Halloween costume ideas for teen girls here. We have brought together 25 super cute and easy-to-wear costumes that teens really want. Dress up, take on a different persona, and stand out among your peers.
You can also team up with your friends in wearing matching group costumes to impress the other teenagers in town. Also, these costumes for teens are non-sexy, parents approved, and appropriate for school.
Take a break from your daily school outfits and let these costumes transform you into the character you always wish to be. Have fun wearing these Halloween costumes to school or Halloween parties you are going to attend this spooky season.
Check them out now!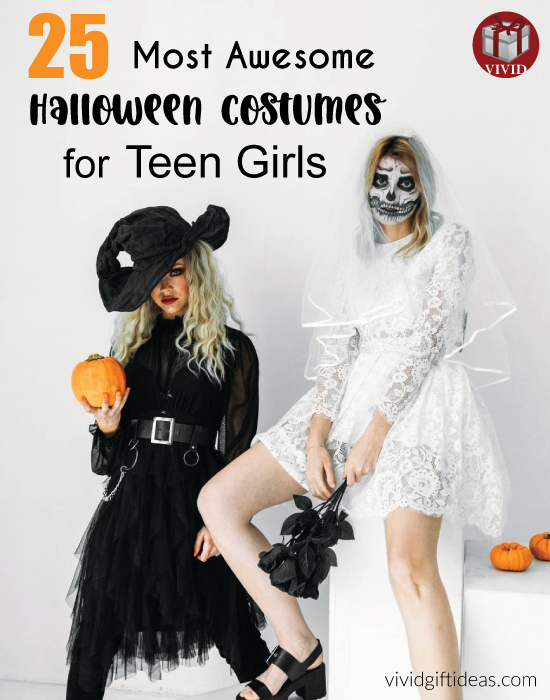 Best Halloween Costumes For Teens 2022
Skeleton – the icon of Halloween never goes out of style even for the year of 2022. However, we don't want to be a regular skeleton. We are young and fun, playful teenage skeleton. Let's add some colors to our bones and glow among the dead and other scary creatures this October.
2. Candy Machine Dress Costume 
Candy and chocolates are best Halloween gifts for kids and adults. When creepy and ghastly look is not your style. Why not turn into a nostalgic gumball machine that bring back those happy childhood memories? This is one of the cutest Halloween costumes for the girlie girls.
3. 101 Dalmatians Cruella Teen Costume
For the teenagers who enjoy Disney movies. This Disney-inspired costume will make her happy. It's time for a change this year, discard your princess outfits, and transform into the most stylish villain who rules the fashion world.
4. Kill Bill Beatrix Kiddo Outfit 
This is not a fancy Halloween costume but it has some teen appeal. The color is eye-catching and the material is flexible. This is definitely a comfy costume to wear to school and even the whole day.
Slip into this yellow jumpsuit and feel the power. Be Beatrix Kiddo and be the deadliest woman in the world.
5. Double Rainbow Twinning Group Costume
This rainbow costume is so simple and appealing. Wear it with your friends and bring happy vibes to those around you.
6. Cheshire Cat Halloween Costume
Another Disney inspired costume purr-fect for the teenage girls. Do you ever wish you can appear and disappear whenever you like? Well, dress up as Cheshire Cat for the day. You can't literally vanish into thin air, but you can constantly smile, prank, and enjoy the chaos your classmates create.
7. Rainbow Unicorn Adult Costume
Unicorns are for people who believe in magic, they are not just for the little girls. Let your teenager spark her look this holiday. Wear this rainbow dress, purple wig and gold horn to enchant everyone in her magical kingdom.
8. Mario Onesie
Whether she is a gamer or not, this Mario onesie is an awesome costume teens really want. It has a relaxed fit and quick button-up design. Who would pass up the opportunity to wear a hassle-free onesie that doesn't sacrifice the Halloween spirit?
9. The Wizard of Oz Dorothy Cotton Dress Custom Outfit
School-appropriate Halloween costume — Dorothy from The Wizard of Oz. Be the sweet, naive, young girl that everybody loves. You only need this plaid dress, a pair of white socks, a pair of red shoes, and some hair braiding skill.
10. Halloween Bat Wings Costume Dress
You can never go wrong sticking to the basics. Pumpkin and bat is so on-theme for Halloween. If you are looking for a comfy piece that you can wear and re-wear for multiple times, look no further than this bat pumpkin batwings costume. It's super easy to put on and fits well for any body shape.
11. Scooby-Doo Daphne Purple Dress
This is a decent Halloween costume for teens approved by parents and teachers. It is easy to wear, non-revealing, and appropriate for school.
12. Minecraft Creeper Classic Women Costume
For the geeks and Minecraft players, you don't wanna miss to be a pixelated building block in the real world.
If you miss traveling and flying to different places, dress up as a flight attendant. Grab a few girlfriends to form a cabin crew. Have fun pulling your luggage around and have a safe landing from one party to another.
You can also doll yourself up as the sweetest fairy from the fantasy world. Wear your floral crown and sprinkle some magic dust wherever you go.
Because what teen doesn't love fries? Here's another teen-approved Halloween costume idea that can be paired with your burger and other food-themed friends.
Another easy wear Halloween outfit loved by teens. Have your teenage girl transform into the mythical sea creature with this mermaid bodysuit. She will become not just an ordinary mermaid, she will be a pretty mermaid with legs that can walk freely on the land.
17. Colonial Women Prairie Costume Dress
The colonial lady look is proper and elegant. It is also school appropriate. Wear this lovely floral dress, bonnet, and shawl to create the complete traditional-look.
Perfect for the elephant lovers in your life. Your teenage girl will enjoy putting on this elephant onesie. It is plushy, soft, and warm to keep her cozy in the chilly October nights.
Turn into a badass pirate by wearing a corset-look dress topped with a pirate hat.
20. Sailor Moon Japanese Anime Costume
If your teen is a lover of Japanese anime, she will enjoy dressing up as a Sailor Moon. It comes with the dress, glove, socks, neck ribbon, headband, and bowknot.
21. Pineapple Cozy Costume Dress
Your girl will be impressed by how easy and cute this pineapple costume is. It is a hoodie dress with side pockets. This dress is made of quality material. It will keep you warm in the spookiest day of the year.
22. 80s Party Retro Sports Wear
The '80 are back! If your teen is a fitness enthusiasts. She will look abs-olutely amazing in this sports outfit.
We know she can't take a day off from workout even when it's Halloween Day. Get this vibrant sports outfit to show off her passion in workout. The color of this outfit is so bright and intense. She will enjoy the fun 80s vibe this outfit brings.
Calling all pink lovers! If you want to dress up in all pink for this special day, you can't go wrong dressing up as Elle Woods from Legally Blonde.
24. Naval Officer Uniform Suit
Welcome everyone on board by dressing as a cruise ship captain. Ahoy! Take charge of your ship and set sail for a fun voyage.
25. Rockford Peaches Teen Costume
Sporty and cute Halloween costumes for teenagers. If you wish to be a professional baseball player, you can be one of the member from the 90's TV film, A League of Their Own.
That concludes our list of 25 this year's best Halloween costumes for teens.
Get more Halloween costume ideas:
20 Halloween Costume Ideas Teen Girls Love | Top 10 Non-Sexy Halloween Costumes for Teens | 10 Awesome Halloween Costume Ideas for Teen Girls | Halloween Costumes for Tween Girls Aged 9-14 | New Halloween Costume Ideas for Teen Girls