Discover creative Halloween costume ideas for a group of three or four people. Also included: two ideas for duos. Are you planning to dress up with your friends in group costume this Halloween? Here are 10 awesome group costumes for you and your friends. These costumes are unique, cool and cute perfect for both girls and guys.
Cute Group Halloween Costumes for Girls
For girlfriends who are close. Guy friends are OK too — you just need to be more creative or open minded. We'll start off the list with the costume recommendation for a quartet – a group of four.
Let's become the furry creatures from Sesame Street, namely Cookie Monster, Big Bird, Elmo, and Kermit the Frog. Dress up in these colorful and fun costumes with a group of girlfriends. Looks adorable and not revealing. Great group costume for teens and tweens.
2. Emoji List
If you are planning to dress up with both the guys and girls, you can opt for these emoji theme costumes. Simple-looking and easy to wear. Available in more than six facial expressions.
3. Mermaids
Be a stunning group of mermaids, swim through the Halloween party beautifully. Pair this mermaid costume with shiny jewelry and gorgeous hairdos for a glamorous touch. You girls are going to steal the limelight anywhere you go.
Another cool group costume idea for Halloween. Pick your favorite color, team up with a group of friends, and party in a colorful style.
This crayon pack is also work-appropriate. Dress up together with your co-workers to have more Halloween fun in the office.
5. Unicorn Onesie from Kigurumi Halloween Costume 
Unicorns are majestic. This Halloween, transform yourselves into a herd of magnificent unicorns. Spread your magical powers to brighten up the night. This plushy unicorn bodysuit is soft and comfortable to wear. These costumes are suitable for a group of teenage girls who aren't afraid of a little attention. Bonus point for these costumes:- you can wear them as your pajamas when Halloween is over.
6. Betty Lou 50's Diner Waitress Costume
Twinning with your best friend — retro style waitress costume that looks cute and sweet.
7. 50's Diner Waiter and Waitress
Hit the party with your friends dressing up as waiter and waitress from the 50's. This style also works great as a couple costume. Check out this article for more Halloween duo costume ideas.
8. Sailor Moon
Show your girl power! Sailor Moon is here to fight against the villains and save the solar system. Six pretty sailor uniform to choose. Girls are going to love it! Perfect for trios who love anime — particular the Sailor Moon girls. Seek out two more Sailor Moon uniforms to form a quintet!
Ready to fly? Here are three chic flight attendants to assist you.
Get two other friends to complete the rock, paper, scissors game. Convenient design, comfortable to wear. A school supplies trio — if you re-imagine the rock as a paperweight.
11. Medieval Ladies
Become the elegant ladies from the medieval time in these fabulous dresses.
12. Powerpuff Girls
Become the famous superpowered trio from CN.
Blossom and Bubbles and Buttercup
13. The Incredibles Family Costumes
Costumes for a family of five. Fans of the Pixar superhero animated film will want to pay extra attention to this. An incredible combo of matched costumes for dad, mom, daughter, son, and an infant.
Mr. Incredible + Mrs. Incredible + Violet Incredible + Dash Incredible + Baby Jack
That concludes our list of Halloween group costumes. Thanks for reading.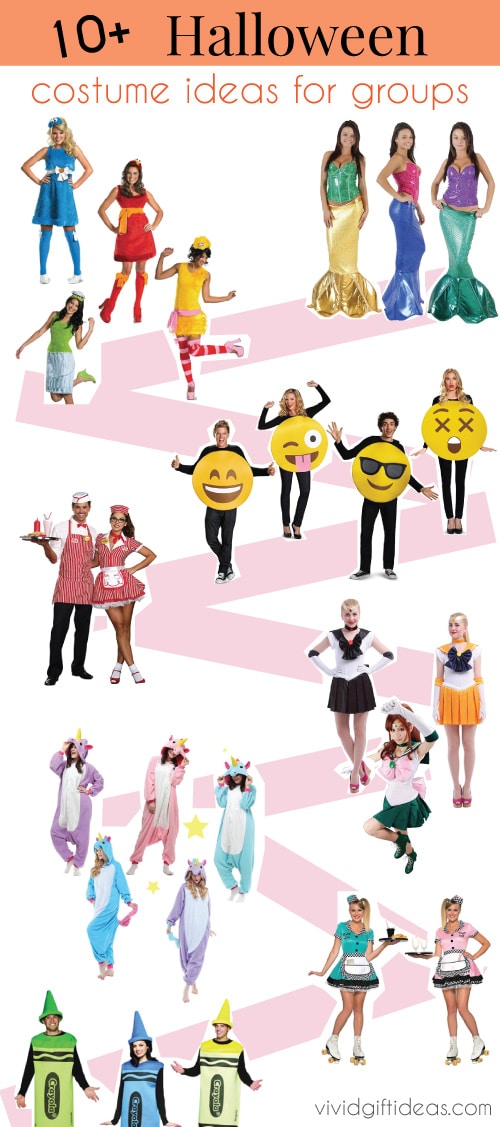 Related Halloween Articles: