Surprise your long distance girlfriend on special holidays to keep your connection alive. Long-distance relationship is challenging, you can't be there physically for her all the time but you can always warm her heart with a little gift. Express your love and care by sending a thoughtful long-distance relationship gift to her. Attach a cute card or a note filled with a heartfelt message will make your gift extra special.
What's the best long distance relationship gift to touch her heart? Here we have brought together a list of 28 sweet and sentimental long distance relationship gift ideas suitable for special occasions like Valentine's Day, your girl best friend's birthday, or Christmas.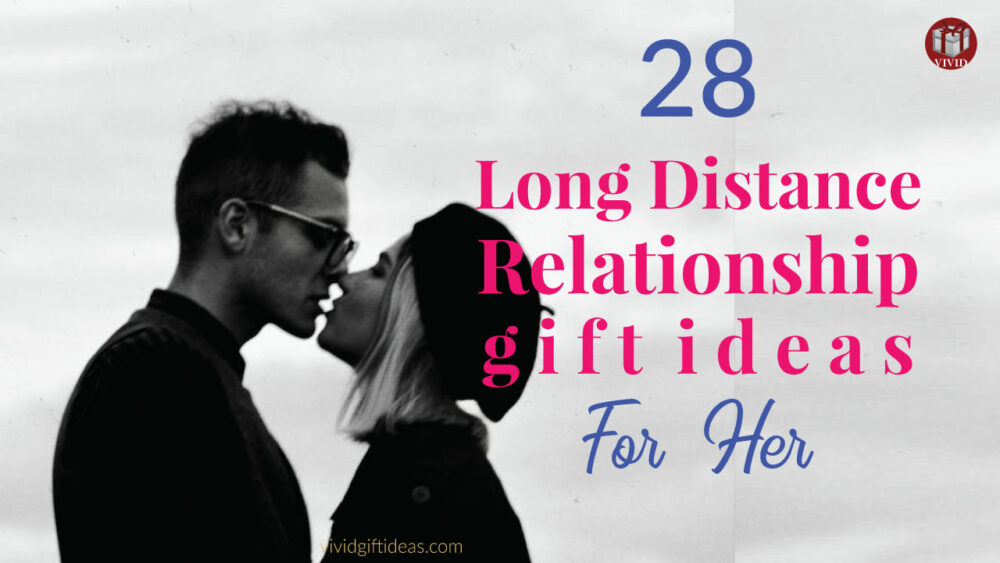 Best Long Distance Relationship Gifts For Her
1. About Us Fill in the Love Book
If you want to give a meaningful present for your long distance girlfriend, this fill in the love book is an awesome choice. It is designed with simple fill-in prompts to help you create your own special book of love to touch her heart.
2. Long Distance Relationship Bracelet Set 
A thoughtful long distance relationship gift loved by women. This set of two matching bracelets lets your S.O. knows exactly how you feel even if you are far apart. One for her and one for yourself. You are the compass in each other's life.
3. Stir Your Tea & Think of Me Spoon
Make your bae thinks of you when she enjoys her favorite cuppa in another city.
Surprise your long distance girlfriend on Valentine's Day with this cupid bow heart-shaped neon light. It looks super cute and sweet in any room. Your girl will be so in love with it and also you, of course. 😉
5. Long Distance Relationship Couples Picture Frame
If this is the first time you are celebrating Valentine's Day with your girlfriend, give her a personalized gift in the form of a beautiful picture frame with a photo that carries special memories.
Because love is all and the long distance doesn't matter.
7. Love You More Jewelry Holder
Distance won't stop you from loving her. Yeah, you definitely love her MORE as written on this trinket tray.
We know it is more content sleeping in your lover's arm. When you can't do that, make sure she can still sleep comfortably. Give her this beauty sleep set containing a satin pillowcase, a matching satin eye mask, and a volume scrunchie. They are really soft and smooth. Your girl can now wake up to naturally beautiful hair and youthful skin.
9. Therapeutic Personal Massager
A magical want to spice things up and have a little fun in the bedroom. Give your partner a deep massage, make her feels good even if you are miles apart. This powerful massager has long battery life and it is also water-resistant. 8 levels of intensity and 20 different patterns to "lift her up" from afar.
10. purlisse Watermelon Face Sheet Mask
Give her glowing skin in just 15 minutes. This sheet mask is quick and easy to use. It contains watermelon and other beneficial botanical ingredients. It provides deep nourishment to your face.
11. Pocket Hug Token
A small sentimental gift that can be easily sent via mail no matter how far she is. And now your GF can get a hug from you wherever she goes.
A great way of sending hugs and kisses to your partner who is far away. This mug will always remind her that she is loved.
13. INSMY IPX7 Waterproof Shower Speaker
For the girl who loves singing in the bathroom. This mini speaker blasts out loud and clear sound even under showering noise. It has a wide Bluetooth connection range and a built-in mic for hands-free calls. And, now you can continue your long-distance conversation even if she is having a shower.
14. I'll Be Back I'll Be Waiting Puzzle Keychain Set
This is a small gift that carries a big message. Promise your S.O. you will be back to her.
A vintage wood decor with a heartfelt message. The love quote will melt her heart.
16. Moon Lamp
Tell your bae "I love you to the moon and back" with this moon lamp. It has two color modes and a dimmable function. It is a lovely room décor that she will be over the moon for when she turns it on at night.
17. Daniella's Candles Jewelry Candle
Mail this amazing candle to your girlfriend. It is a gift that gives twice the happiness. It fills the room with aromas of freshly picked lavender. Plus, she will find a cute ring inside.
18. Knock Knock Why I Miss You Fill in the Love Journal
Another popular long distance relationship gift approved by many couples. There are 120 pages with easy prompts to guide you in pouring out your heart toward your girlfriend who lives far away.
19. Willow Tree Lots of Love Figurine
This figurine is carefully hand-carved and hand-painted. It carries the sentiment of love and care.
20. Red Heart Heartwarmer Pillow
A heartwarming Valentine's Day gift for your girlfriend. You can't give each other a real hug from afar but you can send her this comfy heartwarmer pillow. This pillow conforms to any part of your body and it's filled with whole buckwheat seeds. She will find comfort in the hot or cold therapy "hug" from this pillow.
21. Michael Kors Bracelet & Watch Set
Surprise your long-distance girlfriend on her birthday with this gorgeous jewelry set. The watch looks so pretty in rose gold and we love the tiny blings around the case. Also, let's not forget to mention the dainty heart link earrings that serve as a reminder of your love.
22. Long Distance Couples Matching Necklace Set
Matching couple accessories is one of the best long-distance relationship gifts for her. Wear this necklace and be reminded that your loved one will always be there for you.
23. Long Distance Relationships Wine Glass
And yes, this is exactly what you are thinking right now.
24. Rose Pouchong by Fortnum and Mason
You can also mail her some delicious food. If she is a tea drinker, treat her with this gourmet rose tea. It tastes smooth and fresh with a hint of rose.
25. Inspirational Journal Notebook
This chic notebook is embossed with an inspirational message "you can do anything". It is perfect for the girl who moves to another city to pursue her dreams.
26. Insulated Commuter Tumbler by Studio Oh!
Cut down the use of the disposable plastic cup, use this stylish tumbler instead. It has a double-walled design suitable for both hot and cold drinks. Drink your favorite coffee from this tumbler and good things will happen!
27. Pastel Velvet Scrunchies Set
Hair scrunchies are loved by every girl, not just the VSCO girls. Get them in different colors for your bae.
28. Vera Bradley Signature Cotton Little Hipster Crossbody Purse
Made from 100% cotton with vibrant patterns, this purse is very light and comfortable for your S.O. to carry her daily essentials.
That concludes our list of Best Long Distance Relationship Gift Ideas For Women.
Check out more of our Long Distance Relationship Gift Guides: