Make the first Valentine's Day with your boyfriend extra special. Whether you are fresh into a new relationship or have been dating for a few months, this is the perfect time to get him a unique gift. What's the best first Valentine's Day gift for him? Show your bae that you care by picking something meaningful.
Here's a list of 18 awesome ideas to surprise him this Valentine's Day. From funny to romantic gifts for men, something inexpensive and practical for everyday life, to a classic Valentine's Day gift. Browse through to find the right present to celebrate your first Valentine's Day with him.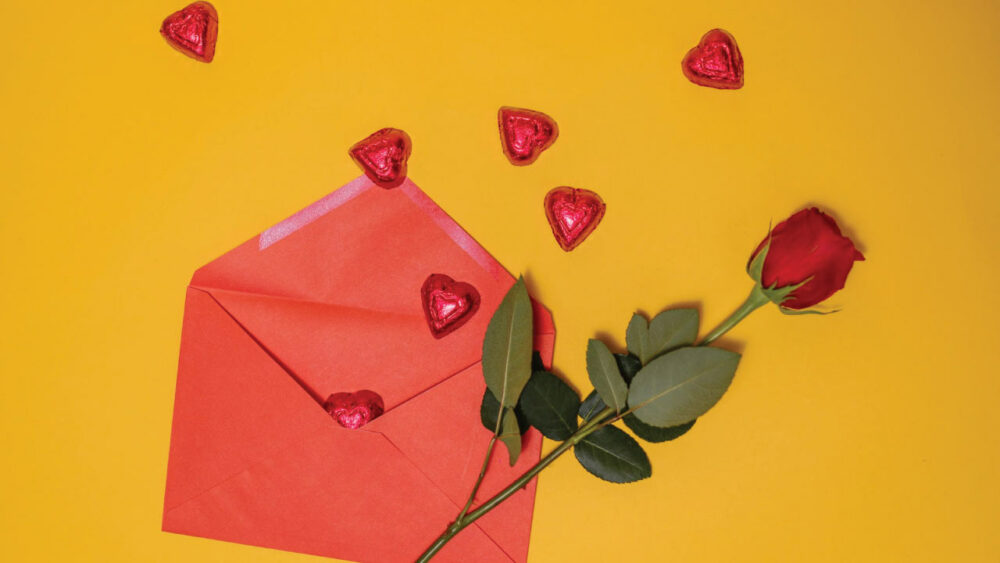 First Valentine's Day Gifts for Him
1. DreamsEden Affectionate Couple Sculpture
This artistic cast iron sculpture depicts the love and affection between two lovers. It is beautifully handcrafted to give a warm feel to any room. It is a truly romantic gift to celebrate your first Valentine's Day with him.
2. Funny Keychain for Boyfriend
Fill your first Valentine's Day with lots of laughter. Get him a funny Valentine's Day gift like this keychain. It reads "I hope your day is as nice as my butt".
Another good gift to celebrate first Valentine's Day. The big heart is perfect for expressing your love to him.
Be sure to get something special to celebrate your first Valentine's Day together. Let's feed your bae with extra love ❤️❤️❤️ every time he has his meal.
5. Happy Valentines Day Engraved Rock
Something small and simple to celebrate Valentine's Day. This little black rock is engraved with a sweet message to express your love. Your boyfriend is definitely going to love it!
6. King Queen Matching Couple T-Shirts
Celebrate your first Valentine's Day by going for a romantic date wearing a matching couple outfit. Does this sound sweet enough for ya? 🥰
(Looking for his and hers couple gift ideas? Read here for 20 Cute Matching Bracelet Sets for Couples)
7. Lucky to Be in Love Picture Frame
Give him a personalized Valentine's Day gift in the form of a beautiful picture. Insert a memorable photo together to make this an extra sweet Valentine's Day gift for your boyfriend.
Give a gift that keeps on giving on your first Valentine's Day. This box contains a deck of cards with 100 date night ideas to bring romantic sparkles and love to your relationship.
9. Socksmith Significant Otter Socks
When you are in a new relationship, you might not want to spend big on buying a luxury gift. Getting a thoughtful gift that costs less will make him equally happy. We recommend these super cute otter socks. Seeing these adorable creatures holding hands and floating on the water together makes us go "aww".
We know it's expensive to send something big if your boyfriend is at another city. So why not get a card and write down your thoughts? Fill it heartfelt message and make it a thoughtful Valentine's Day gift for your long distance boyfriend.
11. FIZILI Men's Wrist Watches
A stylish watch for men under $25. Features an ultra-thin dial, sleek black face, with a matching black stainless steel band. This watch looks simple, modern, and professional. A fantastic watch to wear with casual and formal attires.
12. Beechmore Books Ruled Notebook
If you are looking for a non-cheesy Valentine's Day gift for him, this unique cork print journal notebook makes an excellent choice. Features vegan leather with ivory papers inside. Perfect for your bae to write down whatever is in his mind.
When you are in a new relationship, you want to stay in touch with your bae all the time. Help him to charge his phone quick so that you guys can non-stop texting and calling each other.
14. Vaschy Vintage Backpack For Men
If your boyfriend is a high school or college student, a good-looking backpack will be useful for everyday use. This vintage style backpack is made of water-resistant polyester material with leather trim. It has a spacious compartment, padded sleeve for a laptop, and multiple pockets for easy organization.
15. Fun Burger Socks
What do guys want for Valentine's Day? If your S.O. is a foodie, feed him with delicious homemade food. If your cooking skill is like 👎, then surprise him with these burger socks. This box contains two colorful pairs of burger socks that resemble a delicious well-seasoned burger.
16. Levi's Men's Washed Cotton Military Jacket
If he is a guy that doesn't bother to shop for new clothes, now is the right time to help him pick some new clothes. Upgrade his wardrobe with this awesome trucker jacket. It is comfortable and it looks cool. This jacket has six functioning pockets, a hidden zipper, and snap closures.
An inexpensive Valentines Day gift under $20 that he will appreciate. This specially formulated shave cream gives men effortless glide when they shave, leaving the skin feeling astonishingly smooth without the burning sensation.
18. Chocolate
If you want to stick to the sweet tradition of Valentine's Day, get him a box of chocolates. Of course, you can pick any chocolate from your local store, but we suggest getting something fancier. A box of gourmet handcrafted chocolate with assorted flavors will definitely win his heart.
That concludes our list of First Valentine's Day Gifts for Him. Thanks for reading.
More Valentine's Day Gift Guides for Him:
Guy Who Has Everything | Long Distance Boyfriend | For Him Under $20 | Teenage Boyfriend | Surprise Gifts For Him