Halloween is all about the decoration, costume, and candies. If you're looking for some costume ideas for a teen or tween girl that are fun but not revealing, this post is for you. Below is a list of tween girls Halloween costumes that are cute, creative, colorful and fun to wear. They have awesome details and amazing colors loved by pre-teens and teenagers. Dress up and transform into the character you always wanted to be and make this Halloween a frightfully delightful night.
Check out these 15 tween Halloween costumes for girls below.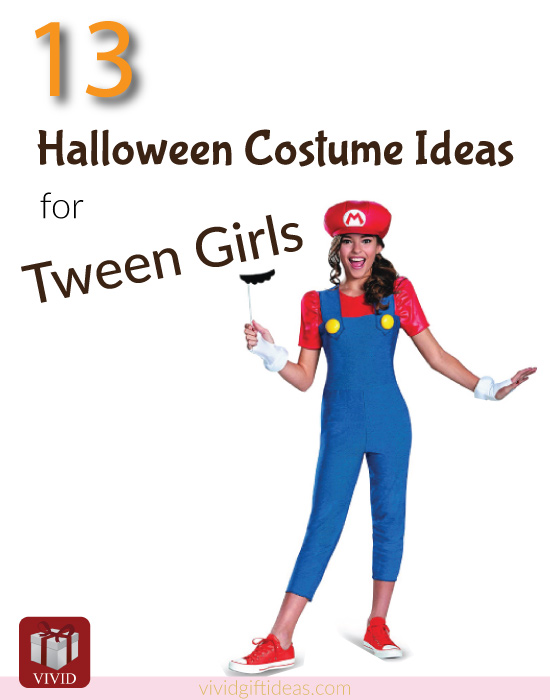 Check Out These Tween Girl Halloween Costumes
Transform into Mario and enter the world of video games. Wear the plumber jumpsuit, glove, and hat. Then, sets out on a quest to save the princess and free the Mushroom Kingdom.
This Mario costume has rich colors that make you look outstanding in the crowd. It is made of stretchy fabric for a fitted jumpsuit look. It is one of the cutest Halloween costumes for tweens.
Hey there, I am a giant candy jump out from the trick-or-treat bucket. I am sweet, I am cute, I am here to party with you.
(If you like everything spooky, be sure not check out this article for Halloween lovers.)
This girl is killed after winning the homecoming queen title. Somebody stabbed her in the head. She is wearing a shiny blue gown with a sash that reads "Drop Dead Gorgeous". She will come to crash any party on Halloween night.
This monster costume is another amazing Halloween costume for tweens. It is so fluffy and so pink. Girls will go crazy over it!
Dress up as a magical sea creature who can sing beautifully and swim freely in the ocean. Be a lovely mermaid who catches the attention of the world.
If you are dreaming of becoming a mermaid, you will love this gorgeous mermaid costume. It is made of good quality fabric with a mesmerizing blue hue. It also has pretty details to make you look wonderful.
For tweens who love black. Transform into the monster bride who looks cool, scary and beautiful at the same time. Black and white outfit featuring stitch pattern top, tutu skirt, glovelets, patterned footless tights and veil.
7. Cool Cat
Meow! Let's become the hippest kitty in the town this Halloween. Features black and neon green tutu dress, footless tights, cat ears headband, furry tail and boot covers. It looks awesome on tweens.
8. Narwhal
Turn into an adorable narwhal with this onesie. It is soft and plushy. Keep you warm and looking cute all night.
Also available in pink, purple and light blue.
9. Justice League Wonder Woman 
Be a superhero from the Justice League, be the powerful Wonder Woman who fights against villains. Wear the cute dress, red cape, gauntlets, and gold tiara. You are ready to rescue the world.
10. Flower Fairy
If your tween girl wants to be a fairy this year, this flower fairy costume is perfect for her. This sweet little fairy is from the secret garden full of mysterious flowers. She is wearing a forest green dress made of leaves and flowers. She has wings to fly around the garden.
11. Alice
Transform into the classic character of Alice from Alice in Wonderland. Go down the rabbit hole, enter the Wonderland and create a world of your own this Halloween.
12. Neon Skeleton Halloween Costume
This funky punky skeleton is here to fill the night with colors. She looks vibrant and fun.
13. M&M's Chocolate 
Simple, colorful and fun Halloween costume for tween girls. This bright colored tank dress makes you look like a M&M's chocolate. Get two other friends to wear together, and form a milk chocolate trio.
(If you are interested in dressing matching costumes with friends, check out these 10+ Halloween group costumes)
14. Belle, Disney's Beauty and the Beast
Become Belle – the girl whose courage and kindness helped lift the curse placed on everyone in Beast's castle, including Beast himself. Her beauty is unparalleled.
15. Moana, Disney
This Moana costume consists of a top and skirt. Accessories are not included. See how far she'll go as she sets out on the ancient quest of trick or treating. I think if her dad dresses up as Maui, that'll be really cute. You can get this costume from Party City.
That concludes our list of Halloween costumes for tween girls. Thanks for reading and have a happy Halloween!
More Costume Ideas for Pre-teens and Teens: