It's important to recognize your team's efforts and reward them with thoughtful staff appreciation gifts. Why do we need to get employee appreciation gifts? Why is it there are more and more companies celebrate the National Employee Appreciation Day? Research shows that employee satisfaction is strongly related to their productivity. A happier employee has better job performance than a dissatisfied worker.
Therefore, it is important to take care of your employees. Show some love to the people who work with you every day. Recognize their contributions, show your gratitude, and give them some rewards to boost employee morale.
Employee Appreciation Day falls on every first Friday of March. This year, get something awesome and creative to celebrate the day. Shower your workers with appreciation. If you need fun employee appreciation ideas, read on to discover.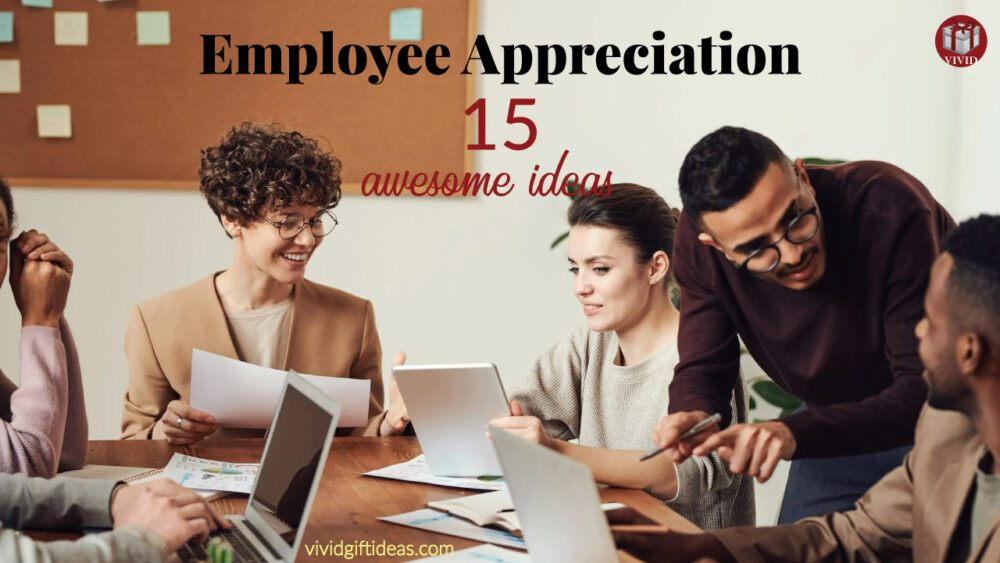 Best Employee Appreciation Gifts
1. Inexpensive appreciation gift for staff — Funny Inspirational Keychain
Acknowledge their effort, make everyone on your team smile with a little appreciation gift. This keychain is engraved with a funny message. It will definitely keep your staff motivated.
2. Say thank you with flowers — Crystal Sunflower Decor
Giving fresh flowers is a classic thank you gift. However, fresh flowers will wilt. This Employee Appreciation Day, give your staff one stalk of crystal sunflower. It catches the light and looks really pretty on the desk.
3. Small employees appreciation gift — Colorful Motivational Quote Pens
You can also help them to stock up the office supplies. These colorful pens are great for increasing employee morale.
4. Staff appreciation gifts — World's Best Employee Mug
Show that you care. Make your employees feel appreciated with this mug. It reads "Thank you so very very much! I'm filled with gratitude and great appreciation."
(Or you can also make them LOL with these 17 Funny Mugs For Work)
5. Remote employee appreciation gifts — Cat Paw Mouse Pad
Get creative with the rewards. Impress the cat lovers in your team with this cute paw mouse pad. The pink beans are squishy and soft. They comfortably massage your wrist when you work.
6. Employee recognition ideas — You Are So Appreciated Notebook
Employee appreciation gift under $10 — A beautiful notebook to show your employees how thankful you are of their contribution.
7. Motivational Scented Soy Candle
Make a big impact on employee motivation, tell everyone on your team that they are awesome. This candle smells fresh and uplifting. It is great for creating a warm and cozy ambiance.
8. Personalized appreciation gifts for staff — Customized Initial Shine Dish 
Not all employees are the same, make them feel special this Employee Appreciation Day. Give each of them a unique monogram catchall tray. The tray looks chic with the gold letter. It brings an elegant feel to any desk.
9. Fun relaxation ideas at the workplace — Mini Zen Garden Sea Life
Stress affects job performance and decreases the productivity of a worker. It's wise to give your employees a break. The easiest way? Let them escape to the blue ocean, play with the sea animals & sand to melt away the stress every time they need a break in the office.
(Read ➡️ Stress Relief Gifts — 10+ Funny Adult Coloring Books)
10. Desk upgrade with Shark Shaped Pencil Holder
The workplace doesn't have to be all serious and dull. Help them to add a little cuteness in their cubicle. A hungry shark to eat their stationery — it will make them smile.
11. Practical office gift —  Gift Card
Handing out a gift card worth $20-30 is one of the best gifts for workers. It saves you time and hassle. It also gives your employees the freedom to choose what to buy.
12. A short weekend getaways
Let your team members vote for their favorite spot and plan a company trip together.
13. Actually thank a coworker in person
It's important to show sincerity. Saying thanks in person has a better impression than saying it over the phone or in the email.
14. Sending thank you notes for a job well done
Thank you note is not dead. It still works wonderful for getting your gratitude message across.
15. Long lunch
On Employee Appreciation Day, you can treat them to a nearby restaurant. Talk, eat, and have fun. Encourage your staff to voice up and make their inputs on ways to make the workplace a better place.
And, that concludes our list of 15 fun employee recognition ideas.
More Employee Recognition Gift Ideas: