Looking for lovely cat gifts for people who are mad over cats? Here we have handpicked 15 purr-fect cat ideas for cat lovers.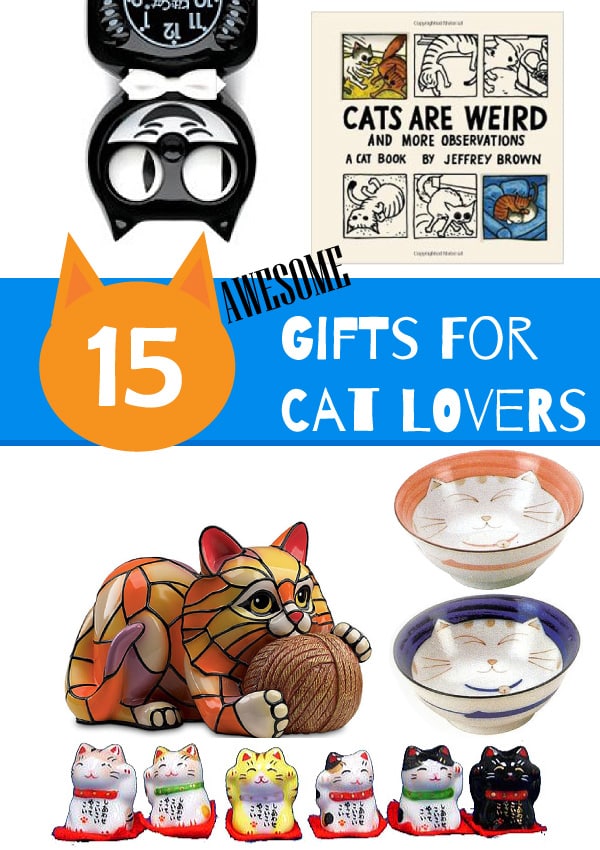 Cat Lover Gifts [Quick View]
Gift Ideas for Cat Lovers
1. Cat Ceramic Art Tiles
This cat tile is a hand-painted, glazed ceramic decorative art tile. It comes with a pre-attached packing that enables it to be hung on the wall. It is a well-crafted piece for cat lovers.
2. Indigo Cats with Sequins Scarf
Another great gift idea for cat lovers. This authentic silk art scarf with lovely cats designed by Laurel Burch is gorgeous and lively. Good quality, rich colors, great length. It feels elegant and luxurious.
3. Smiling Cat Bowl
Cute Japanese noodle bowl made of porcelain. Perfect size for soup, salad, rice dish, and ramen.
4. Classic Black Kit-Cat Clock
5. Cats are Weird and More Observations
6. Mini Maneki Neko Japanese Cats Set
Adorable tiny little money cats that bring 5 kinds of lucks. They are well painted with an attractive glossy finish. A purr-fect gift for cat lovers.
7. Decorative Cat Pillows
You can also get this artistic decorative pillows for the cat lovers. They add a whimsy style to the living room. These cat pillows are colorful, nicely detailed, and comfortable.
8. Cat Decorative Art Wall Decor
This is a print over antique dictionary page with cat design artwork. The image is printed directly on recycled paper. A beautiful handmade print suitable for hanging in any room.
9. Spotted Cats Tote Bag
Beautiful canvas tote with a black background and vibrant colored cats. It is cute, light-weight and sturdy. This bag comes with one zipper pocket on the inside. It is a fun bag to use every day.
10. Handmade Black Cat and Full Moon Pendant
This gorgeous piece of the handmade pendant is an artwork by California Artist Laura Milnor Iverson. The details of the black cat gazes at the luminous full moon is simply stunning. It comes with a black ribbon, ready to wear.
11. "The Cat's Meow" Vinyl Lamp
Stained glass style cat lamp inspired by Louis Comfort Tiffany's artistry. This lamp is hand-assembled in high-quality translucent vinyl and infused with vibrant color that glows when lighted. A remarkable decor piece for a cat lover's home.
12. Crazy CAT Lady Ceramic Coffee Tea Travel Mug
Make her smile with this colorful ceramic cat travel mug. This mug has a lid with two openings for sipping. It is microwave and dishwasher safe. A cute addition to a cat lady's kitchen.
13. Cat on a Quilt Jigsaw Puzzle
1000-piece jigsaw puzzle by artist Doug Knutson. It is made in an eco-friendly way by using soy-based inks and recycled board. It is challenging and fun to put together.
14. Chester The Cat Teapot
This whimsical teapot is hand painted with raised details. It can hold 37 oz of beverage. It is great for brewing delicious tea or as a tabletop display.
15. Cat Print Apron
---
Cat Gift Guide
Cat Lovers (I) / Cat Lovers (II) / Cats / Crazy Cat Ladies / National Cat Day / Stocking Stuffers
Cat Stuff
Mugs / Necklaces / Sweatshirts / Watches / Printable - Quotes