Here are this year's best Valentine's Day gifts to surprise the special man in your heart. Give a thoughtful gift to keep the romance going this February. Whether you are shopping for your boyfriend, fiancée, or husband, our list got you covered with more than thirty Valentine's Day gifts loved by men.
These cute little surprise gifts are perfect for couples in a long-term relationship, married for years, or just started dating a month or two ago. From something romantic and sentimental, to practical stuff and non-cheesy gifts for your bae, we've got something right to surprise him this Valentine's Day.
Read on to discover what your favorite guy really wants for V-Day. A list of 35 awesome ideas that make the best Valentine's Day gifts to surprise him.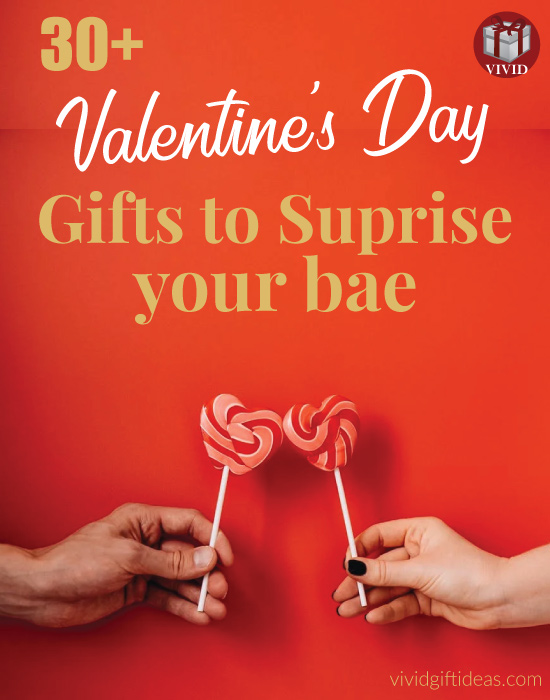 [toc heading_levels="2″]
Surprise Valentine's Day Gifts For Him
1. A Love Journal: 100 Things I Love about You
There is no sweeter way to surprise your bae with a personalized gift filled with your love. Take a moment to fill in the blanks in this journal to make it a heartfelt keepsake that your S.O. will cherish for years.
2. Personalized Engraved Wooden Watch
This Valentine's Day, give your boyfriend a sentimental gift to make him feel the extra love. This is a beautiful watch perfect for this occasion.
It is made of renewable bamboo wood that is lightweight and feels comfortable on the wrist. Each piece has its own unique grain and it is engraved with touching love message on the back.
3. You're My Favorite Cardio Workout Beer Glass
Be sure to get a unique present to surprise him on Valentine's Day. This beer glass is designed with naughty stick figures in hot action. It is etched with hilarious words that read "You're My Favorite Cardio Workout."
4. Couples Love Quote Wooden Photo Frame
Send your thoughts across the miles, show your love from afar. A memorable picture that captured the moment you spent together will cheer your long-distance partner. And, this picture frame with reassuring words makes an even better Valentine's Day gift for your long distance boyfriend.
5. Couples Bucket List: 101 Fun, Engaging Dating Ideas
How to surprise him in a creative way? Get fresh date ideas and expert dating advice from this book. Strengthen your relationship, build intimacy, and make great memories by exploring different activities.
6. I Forking Love You Dinner Fork
Another awesome way to surprise him on Valentine's Day. Treat him with a delicious homemade meal, serve it with this fork, and it will make his heart beats a little faster.
7. White Cat Couple Porcelain Mug Set
This one is for the cat lover. We love everything from its lovely cat design, the stunning color, to the gold trim, and the little heart-shaped tray.
8. Prisoner of Love Men's Boxer Shorts
We know he will love this pair of shorts because his heart is chained to you.
9. Love You with All of My Bo*bs Card
When you are running out of budget and still want to give a little surprise for him. Why not give him this card? It sure is a funny Valentine's Day gift to bring a smile to his face.
10. Hand Casting Kit with LED Lights Glass Dome
Another Valentine's Day surprise for him that's romantic and meaningful. Have fun creating your own hand sculpture at home.
11. Kama Sutra Intimate Getaway Kit
One of the hot ways to surprise your boyfriend — get on a romantic getaway, try some sensual fun to spice up your relationship.
Valentine's Day Surprise Ideas For Boyfriend
12. Boyfriend Gifts from Girlfriend – Travel Tumbler
This is a fun Valentine's Day surprise for your high school boyfriend. The words on the tumbler are eye-catching and hilarious. It has double wall insulation to keep your bae's coffee warm for hours.
13. Couples Questions Game
A thoughtful Valentine's Day gift for boyfriend. Because playing this couple card game will level up your bond.
These thought-provoking intimacy cards will help you understand more about your partner, feel closer to each other, and reignite the spark in your relationship.
14. I Couldn't Pick A Better Boyfriend Guitar Pick
Something small and cute for your guitarist boyfriend. It also makes a nice first Valentine's presents for boyfriend.
When your favorite guy fill your life with so much love, he just won the "best boyfriend of the year" award in your heart.
You can also get the same mug for the best husband of the year.
16. Ramen for Beginners
Your college boyfriend will appreciate this cookbook containing more than 70 mouth-watering ramen recipes. The recipes are easy and packed with umami. It contains step-by-step instructions for a simple ramen to a more complex, slurpy bowl of comfort.
17. 3-in-1 Wireless Charging Station
This is a practical stuff that men really want. Save time and space by charging three tech gadgets simultaneously.
18. ROTOT Gym Duffel Bag
He will love this lightweight duffel bag suitable for gym or a short weekend trip. The trapezoid shaped main compartment is roomy enough hold your clothes and sports accessories. The mesh front pocket makes it dry quick for wet towels, sweaty jerseys or soaked swimming gear.
It also has a built-in shoe compartment and side slip pockets for extra storage.
19. HoMedics Shiatsu Deluxe Neck & Shoulder Massager
Pamper your boyfriend by giving him a deep massage whenever he needs. Help him to relieve stress and muscle tension with this portable heated massager.
Features four powerful massage nodes and ergonomic design to fit the contour of body. It relaxes your body and de-stress your mind.
Valentine's Day Gifts For Husband
20. To My Husband Sentiment Keychain
This is a cute little surprise gift for your husband. This Valentine's Day, express your love, show that you care even though you are married for years. Get him this keychain with love message to make his heart flutter.
21. Best Husband Ever Mini Multitool
This is a functional V-Day gift your husband actually wants. It is a mini tool that combines hammer, nail claw, pliers, cutter, knife, screwdrivers, and bottle opener into one.
22. Questions for Couples Journal
Something thoughtful for your significant other. This guide helps you to dive deep into your partner and grow closer to each.
23. Acacia Wood Catchall Tray
For your husband to keep his desk organized. It is great for catching wallet, watches, accessories, keys, and coins.
24. Badass Husband Morse Code Bracelet
A simple and cool bracelet for your spouse because he is a badass husband.
25. Estarer Men's Leather Briefcase
A good-looking vegan leather briefcase that he will love. Slim design with padded compartment and multiple pockets for storing laptop, cellphone, pens, cards, books, and water bottle. This bag looks stylish and smart for the working professionals.
26. DAVID ARCHY Men's Fleece Plush Robe
Your husband will love this plushy robe. It provides a super soft and smooth wrap for him to lounge comfortably all day long.
27. DmofwHi Gooseneck Electric Kettle
This kettle with elegant gooseneck spout provides precise waterfall flow at all pouring angles. Whether he enjoys making tea or pour-over coffee, this quick-boiling kettle will become his new favorite.
28. 2-in 1 Dumbbell Barbell Weight Pair
When your man is into sports and fitness. Getting this versatile dumbbell-barbell set will impress him. It comes with 12 weight plates to let him customize the weight to sculpt his muscles.
29. CUSIMAX Electric Indoor Grill
Another popular gift loved by men. We know that many men love grilling and BBQ, why not get him a electric grill? With this portable indoor grill, he can have fun grilling anytime he wants no matter how hard it snows or rains outside.
Cute Little Surprise Gifts For Him on Valentine's Day
30. Love Code Bracelet
Because V-Day is the perfect day to celebrate love. And, you can't go wrong by gifting this bracelet as a Valentines gift for your teenage boyfriend.
31. Skullcandy Push Ultra True Wireless In-Ear Earbuds
If you are looking for a cool tech gadget to make your techie guy happy. This pair of earbuds by Skullcandy is an awesome choice.
It features 40 hours total battery, moldable hooks for unshakable fit, waterproof technology, and rapid charging.
32. Gamers Never Die Socks
When your bae loves gaming so much, this pair of socks will definitely make him laugh.
33. Men's Memory Foam Slippers
For your S.O. to walk comfortably at home. This is the best slippers with high density memory foam and moisture wicking wool-like lining to keep your feet warm without sweat.
34. Massage Oil Candle
Another little surprise Valentine's Day gift approved by men. This aromatherapy candle is great for relaxing couple massage that lead to steamy nights.
35. Carian's Bistro Chocolatier Luxury Chocolate Gift Box
Chocolate is a popular V-Day gift. Give a sweet surprise to him in the form of gourmet chocolate by Carian's Bistro Chocolatier. This box contains 20 pieces Europe's famous chocolate treats made from finest ingredients loved by many.
That concludes our list of Valentine's Day Surprise Ideas For Him. Have a memorable Valentine's Day with your bae. Thanks for reading.
More Valentine's Day Surprises For Men: