Give a funny gift to your boyfriend this Valentine's Day. Because happy couples always laugh together. We want to make our special someone happy on a special day like Valentine's Day.
Maybe you are dating a guy who has a great sense of humor, maybe your dude needs a good laugh, or maybe you just want to spoil your boyfriend. This February 14, get a funny Valentine's Day gifts for him.
Surprise him with a little something that's added with a sense of humor. Make him smile, make him laugh. After all, Valentine's Day is not just about sweet, cheesy, and romantic stuff.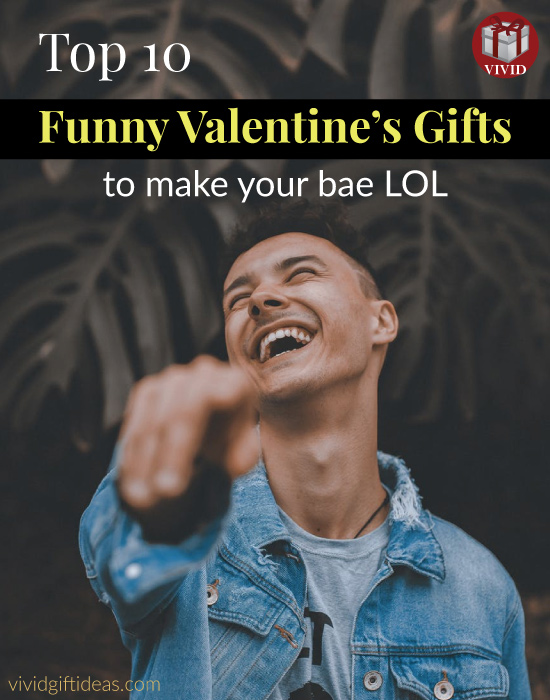 Funny Valentine's Day Gifts For Him
1. You're My Favorite A-hole Funny Keychain 
Your bae has a special place in your heart. You have been through ups and downs. You share happiness, you shed tears together. Although he is a little annoying at times, he is still your favorite guy in the world. This February, show him that you care. Get him this unique keychain to let him know that he is your number one. This is a very funny Valentine's Day gift that your boyfriend will love.
It's the season of love. Grab the opportunity to cast a love spell on him. Fill the night with extra romance. Play some music, have a nice dinner, and completes it with a glass or two magic potions.
3. Made With Love Sandwich Bags
This is an inexpensive Valentine's Day idea suitable for high school students and even for adults. Feed him good food, make your bae feel loved. On February 14, make him a special sandwich and pack his lunch with kisses.
4. Making Love Potions: 64 All-Natural Recipes for Irresistible Herbal Aphrodisiacs
Recipes added with a sense of humor and extra spices to nourish a relationship. Make love potion for your lover. Bring extra heat into the bedroom. Learn from the easy recipes to make natural massage oil, bath blends, tonics, and other sweet treats to share with your boyfriend.
5. And I Will Always Love You Insulated Tumbler
A red tumbler for the one that you love most. This tumbler is double-walled to keep beverages hot or cold for hours. It's best for your boyfriend to enjoy his favorite coffee when he is working. It serves as a constant reminder of your love.
6. Maad Romantic Novelty Toilet Paper
You sure love him very much. Inside out, from head to toe, and… what else to express that amount of love?
"I love the sh*t outta you!" — Confess to him in a hilarious way with this roll of toilet paper.
This is a competitive world. You don't want to be an average girlfriend. We must strive to be the best girlfriend. How to be a good girlfriend? The easiest way is to be a supportive partner who always got his back, even when his back itches real bad. LOL
8. The Man The Legend Boxers Shorts
It's Valentine's Day, it's the perfect time to recognize the man and also the legend. This comfy boxer shorts will definitely make your boyfriend chuckle.
9. Nice Bonus Card for Boyfriend
If he is a guy who has everything or he said he wants nothing for the special occasion. This card makes one of the best gag gifts to keep your bae laughing.
Something a little cheesy and funny for the hopeless romantics. This gorgeous morning mug says "I'm yours. No refunds." It has an attractive marble design and gold foil lettering. A fun way to tell your S.O. that you want to be with him forever.
That concludes our list of 10 best Funny Valentines Day Gifts for Boyfriend.
Find out more awesome Valentine's Day gifts for men: