Discover creative couple costume ideas for Halloween.
See here for unique Halloween Costume Ideas for Couples. We have brought together a list of 7 matching costume set for couples. From cute and funny, to eerie and ghastly, these costumes gonna make you stand out from the crowd.
Scroll down to discover now!
Matching Halloween Costumes for Couples
Let's start with stunning European aristocracy style. Features dramatic white and gold collared petticoat dress for The Lady Venetian and matching jacket, pants, mask for the gentleman.
Shiny, flashy, and outstanding!
Have lots of fun this Halloween in this funny wine and cheese couple costume. Looks super cute on boyfriend and girlfriend. Gonna win you lots of attention.
3. Ghost Ship Captain and Pirate
Girls, you can be a flirty ghost pirate with him becomes the evil captain. Set sail for a scary sea voyage and conquer the Halloween night.
4. Playing Card Couples Costumes
The King and Queen of playing card pack. Lively, colorful and amusing!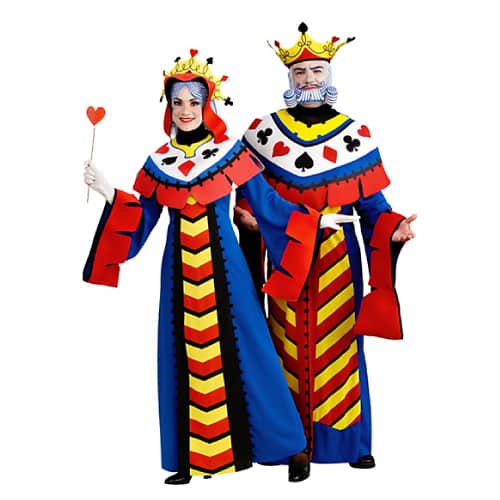 Lovely tooth fairy and giant tooth, the perfect match for each other. This set of costumes is comfortable and easy to wear. For couples who wanna look cute and sweet together.
6. 1970's Disco Fever Couple
Travel back to the 70's, transform yourself into a smoky hot Disco Queen and stylish Disco King. Rock your body and party all night.
(Looking for work-appropriate Halloween costumes for work? Team up with your coworkers in different colors and have a great disco night, or is it disco day, at work.)
7. Bavarian Bar Couple
We have come to the end of the list of 2015 Halloween Costume Ideas for Couples. The last idea is the Bavarian theme. Guys, you can dress up as Bavarian Guy with the lederhosen, pullover shirt, hat and knee socks. While your girlfriend can dress up as a sexy Bavarian Maid.
(This set can be reused on Octoberfest)
That's the collection of Unique Halloween Costumes for Couples. Thanks for reading.
Follow us on Pinterest!
People say two is better than one, which is true, but sometimes the more the merrier! If you're going to a costume party as a group of friends, be sure to check out these matching group costume ideas in this article.