Find the best anniversary gifts for boyfriend here. The past year has been a sweet and memorable year for both of you. You are stepping into another great year hand in hand. Why not find an anniversary gift to celebrate this special occasion with your bae? If you're not sure what to get for your boyfriend, get inspiration from this list of anniversary gift ideas below. These 30 gift ideas are perfect for guys. There are men's accessories, grooming, home decor, book, and more stuff that he will actually use.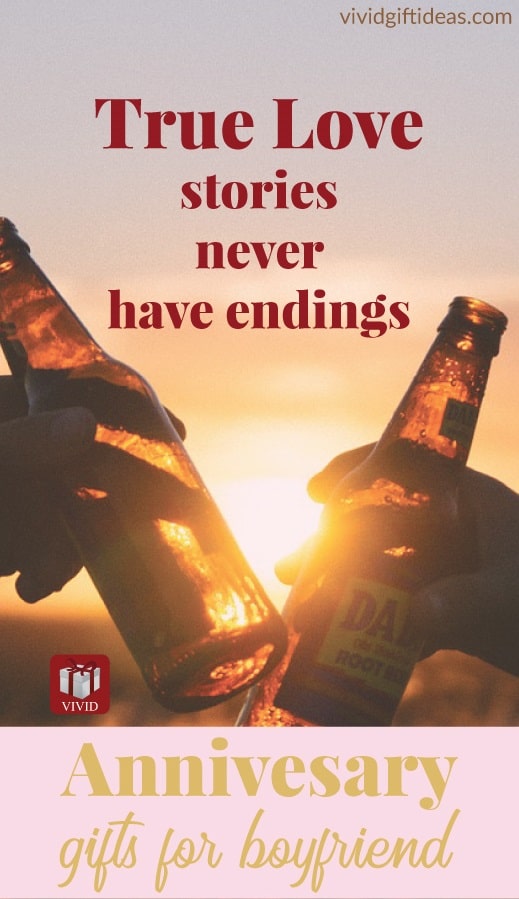 [toc heading_levels="2″]
Best Anniversary Gifts For Boyfriend
For your one true love that is always there for you. This poem is nicely worded, meaningful and sentimental. It is a beautiful poem to express love and affection. Written by poet Genie Graveline, enhanced with the lovely watercolor graphics. It makes one of the best anniversary gifts for him.
Sentimental anniversary gift for boyfriend — a small coin token for him to keep in his pocket. It is made of metal, engraved with love quotes on both sides. The front side reads "Love You More" and the reverse side is engraved with "XO", which means hugs and kisses.
Love is beautiful. Don't feel shy to express it. Say it out loud, tell him how much you love him with this wooden box sign. Black and white with distressed paint design. Vintage style perfect as a desk decoration or wall decoration.
Cute Matching Couple Stuff – Anniversary Gift Ideas for Couples
4. French Kiss Elephant Couple Keychain
Your relationship with him is just like this lovely elephant couple. You love each other very much and are always so sweet together. Get him this keychain to celebrate the anniversary. May you be like this adorable elephant couple, always loving and always kissing.
Artistic mug set to mark your anniversary. Finely crafted with romantic sentiment. When you place the mugs together, they form the perfect kiss. This mug set comes with coordinating spoons that can be kept neatly in the slotted handles.
6. Always and Forever Couple Leather Bracelet
Couple-themed jewelry is awesome for anniversaries. This pair of matching bracelets looks stylish on both guys and girls. They are made of high quality European genuine leather, with a strong magnetic clasp. The bracelet for men reads "his always" and the bracelet for women reads "hers forever".
The bracelet for men reads "his always" and the bracelet for women reads "hers forever".
7. Couples Double Sleeping Bag
For those of you romantic lovebirds who love curling up together on chilly nights. Whether you're camping in the woods or cuddling under the stars in your own backyard, this queen-size sleeping bag in a heart-shaped design will be useful to you. It is extra-large for two adults to sleep comfortably. You can also use the double zipper to transform it into two separate beds.
It is lightweight, compact, and waterproof. Keeps you cozy and warm in the spring, summer, fall, and even near freezing nights.
Funny Anniversary Gifts for Guys Who Have a Sense of Humor
Awesome sunny side ups perfect for enjoying the hot summer days. Huge and amazingly fun. Keep you floating in style.
9. I Didn't Fart Funny T-Shirt
Wanna get something funny for the anniversary? Why not pick him this t-shirt with a hilarious statement. Black and white design with a bold statement that reads "I didn't fart, my ass blew you a kiss". It definitely will make both of you laugh every time he wears it.
Confess to him with this dog tag keychain. Look at the message engraved on it. It is super honest, you know he will totally love it.
11. Log Jam Beaver Comical Boxers
Naughty gift for your guy. Cotton boxers with a hilarious graphic featuring a beaver stuck in log jam. Funny and cute. Your boyfriend is gonna love it!
12. You Turn Me On Boxer Shorts
Something romantic to warm up the night. Stunning red boxer shorts that say "you turn me on". Funny graphic with lip print pattern. Fun shorts to make him smile.
These boxer shorts is made of 100% cotton. It is soft and comfy to wear.
Anniversary present for your guy who loves cooking. This yellow apron adds more fun when he is cooking or grilling. Eye-catching style perfect for the Best Cook Ever, oops… I mean the Best Cook Ever!
Couple's Love Journals
14. I Choose You: A Couple's Journal
A cute book for you and your partner to spend some time together every day. It is an interactive book for reconnection and recognition. It invites couples to self-document why they choose each other every day.
15. Why You Make Me Smile Fill In The Love Journal
Get creative and make your own romantic keepsake journal for your boyfriend. This little book has simple fill-in-the-blank prompts. You can easily fill in your thoughts. You don't have to be a poet or a good speller, don't sweat it, just be the real you and write down what you really think.
This is a great journal that you can personalize and make it uniquely yours for your love one.
16. Together Forever Couple Wine Glass Set
This beautiful wine glasses perfect to celebrate the anniversary with your other half. Made of fine quality glass. One for yourself and one for him. Toast to many happy years to come!
Fashion, Accessories, and Grooming
17. Stuhrling Original Men's Monaco Watch
A classy timepiece for men. Features a clean design that looks neat and sleek. This watch has brushed finished black dial equipped with a chronograph, complete with stainless steel case and matte leather band.
The basic chronograph has an independent sweep second hand; it can be started, stopped, and returned to zero by successive pressure on the stem. The other chronographs use additional complications and can have multiple independent hands to measure seconds, minutes, hours and even tenths of a second.
A luxurious-looking watch at an affordable price.
18. All In One Hair Grooming Kit
Every guy needs a proper grooming kit. Here is a fantastic set with multi-functions. The trimmer is powerful and cordless. It comes with 6 attachments for close shaving, trimming, detailing and styling facial hair. Full trimmer, detail trimmer, nose trimmer, beard and mustache trimmer, micro shaver, and body trimmer are included.
Full trimmer, detail trimmer, nose trimmer, beard, and mustache trimmer, micro shaver and body trimmer are included.
Men accessories like a tie, cufflinks, belt are another good options. Your boyfriend will appreciate this set of heart cufflinks. It features a simple style that matches well with any shirt. It is shiny and elegant. He will definitely love carrying your love with him to work and other important occasions.
20. Fossil Graham East West Messenger Bag
Tech-smart messenger bag for the modern guys. Spacious, fashionable and practical. Made from lighter-weight fabric, stitched together with rich leather trim. It has multiple pockets and compartments to store your stuff neatly. A great-looking bag to accompany your man to work, class, and any other places he wishes to go.
21. Recipe for Men Antiperspirant Deodorant
You can also get good quality men's skincare like face wash, facial moisturizer, aftershave, shampoo to pamper your boyfriend. He will appreciate this award-winning antiperspirant deodorant with outstanding 24-hour control. Alcohol-free, ultra-mild formula to neutralize bacteria for long lasting odor control.
This deodorant glides on smoothly and dries quickly. It is light, non-sticky, non-staining. An effective deodorant loved by many men.
22. Herschel Supply Co. Men's Johnny Zippered Pouch Wallet
A compact zip-around wallet with convenient interior card slots. Slim, light, practical to use. Great for your man to carry multiple cards, bills, and coins.
Audio Music Equipment for Men Who Are Casual Music Lovers
23. Symphonized Wraith 2.0 Wood Wireless Headphones
Guys love tech gadgets. You can get powerful headphones for him to enjoy good music. Symphonized wireless headphones have outstanding sound quality with luxurious built handcrafted from real wood. Wood has unique acoustical properties, it provides the best sound reproduction. These headphones are carefully handmade from the best pieces of wood to bring out top-quality acoustics and surround you with high-fidelity sound.
The padded ear cushions are specifically designed for maximum comfort and noise isolation. The headband is adjustable to fit your size. It can be folded for easy storage.
24. Vinyl Player: ION Audio Max LP Turntable
The all-in-one turntable with built-in stereo speakers for you to enjoy the warm vinyl sound loud and proud. From analog to digital, you can share your prized record collection with friends by converting the golden oldies to digital files.
This turntable also features a headphone output for private listening. It looks elegant in the glossy piano-black finish.
Food and Beverages: Coffee, Beer, Whiskey, and/or BBQ Lovers
25. Weber Smokey Joe Portable Grill
If your boyfriend loves the outdoors, he cannot miss having a good electric smoker. This portable grill by Weber is a wonderful choice.  Features 14.5-inch diameter cooking grate with triple nickel-plated, porcelain enameled coating to prevent rust, and glass reinforced nylon handle to easily remove the lid when needed.
This grill heats up fast and even, it is sturdy and is able to fit a decent amount of steaks and burgers. Perfect portable grill for cookouts, tailgate parties, and car camping.
A set of four chilling cubes for guys who love playing poker and drinking cold liquors. Made of FDA-approved grade stainless steel. These cubes chill drinks fast without watering down. Cool-looking and functional. Suitable for beer, whiskey, wine, scotch and more.
This cool mini fridge is another awesome anniversary gift for men. Compact size perfect to keep snacks and beverages fresh in a small room like his men cave, study area, or the office. Retro-inspired appliance with modern technology. Energy-saving, quiet, works well.
Tasteful Decor for Boyfriend's Home and Office
28. Day Clock Marble
The helpful clock with large lettering that you can read from far without squinting your eyes. It is easy to read from all angles, day and night time. It tells time, the day of the week, date, and period of the day. You can set multiple alarms with alarm reminder. Minimalist design, great for any room.
29. Steel Balance Lovers Swing Deccor
Simple and sweet-looking decoration for any desk. The couple is holding hands, sitting in the stainless steel swing. They can swing steadily. When you are feeling bored at work, watch them swing slowly.
30. For Coffee Lovers: MiniPresso Portable Espresso Maker
For coffee enthusiasts to enjoy their favorite coffee anywhere, anytime. This portable espresso machine brews quality espresso with ease. It is hand-operated without the need for batteries and power supply. The intuitive operation with clear instructions given helps you to make rich and flavorful coffee with foam. Amazingly convenient and nice to use when you are camping, traveling, going to work or even just staying at home
That concludes our list of best anniversary gifts for boyfriend. Thanks for reading.
More Anniversary Gifts For Him: