In this article, we have rounded up 30 college graduation gifts for girls that are actually useful. We know that most college graduates would appreciate cash or gift card as graduation gift. They have student loans to pay off and they are moving into a new chapter in life. Money is important to them. But graduating from college is a big milestone in life. Your college graduating daughter, girlfriend, or BFF deserves something more celebratory.
Help them to commemorate this time, start a new job, and transit into adulthood with ease. With graduation season fast approaching, it's time to plan on what to buy for her college graduation. Here are 30 meaningful, functional, and practical stuff they can use after college. Read on to find out this year's best college graduation gifts for her that are useful.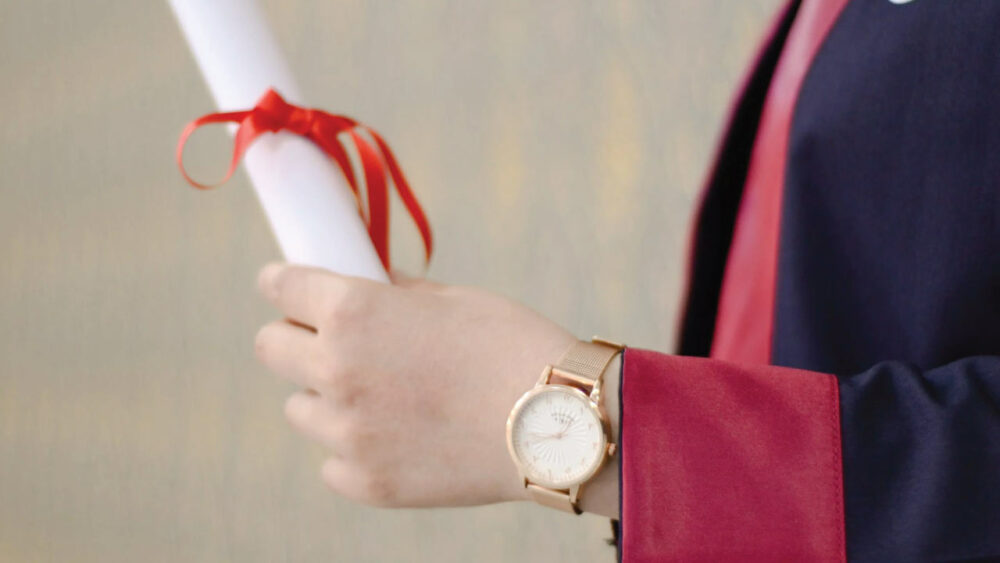 Useful College Graduation Gift Ideas For Girls
1. Congratulations Graduation Compass Arrow Necklace
Surprise her with a meaningful gift to commemorate her graduation from college. This stylish necklace is designed with a golden arrow representing hopes, goals, and moving forward in life.
2. Sassy Graduation Wine Glass
Something functional for the college grads. It's time for your graduate to say goodbye to the red solo cup. Welcome to the adulthood. Ditch the cheap plastic cup and sip your wine from a proper glass because you are now hotter by one degree.
3. Invicta Angel Collection Watch
Watch is a classic college graduation gift for girls. Your daughter will be happy to receive this fine watch by Invicta. Features a graceful design with sparkling blue crystal dial. The perfect combination of rose gold and navy blue adds an extra luxurious feel to this watch.
Be sure to get a thoughtful graduation gift that she can actually use when she starts a new job. This rose gold faux leather padfolio is an excellent choice. Smart design, sophisticated styling, professional looking. It has a business card pocket, pen loop, refillable notebook, and a zippered outer pocket to store your phone, keys, and other essentials.
5. Graduation Quote Picture Frame
For your friend's graduation so that she can reminisce about the good old days with this photo frame. Give her a personalized graduation gift in the form of a memorable picture with her.
6. Go Confidently in The Direction of Your Dreams Keychain
An appropriate graduation gift for your friend that's small and meaningful. This keychain is perfect for someone who is ready for a new adventure. It comes with a compass charm and an encouraging quote to motivate her to pursue her dreams with confidence.
7. Women Professional Laptop Briefcase
A useful gift for college grads. Once your daughter is graduated from college, she will be entering the real working world. You can get her a good bag that she can actually use everyday. This laptop briefcase looks stylish and professional. It is crafted with eco-leather, reinforced with padded soft foam. The multiple compartments inside makes sure she has ample room to store her laptop, documents, and other business essentials.
8. The Mindful Twenty-Something
As a recent college graduate stepping into real adulthood, she will experience major life changes. There are so much going on in life. Starting a new life can be stressful. Give her this book to help her making important life decisions with confidence. Learn the mindfulness skill, cultivate compassion, and manage life's challenges in a calm way.
9. Precious Moments Believe in Possibility Snow Globe
Be sure to get a special present for her graduation. This beautiful snow globe is perfect for the occasion.
10. Sparkle Like A Unicorn Mug
Unicorn is not too old for the big girls. This unicorn mug with colorful sparkles will remind her to keep shining after graduation. The cute design and uplifting message will cheer her up every morning. A practical gift college graduates can really use post-graduation.
11. American Tourister Moonlight Hardside Luggage
Another functional gift that college graduates can really use. New adventures await. This spinner luggage is the perfect companion for her future getaways and business trips. Features eye-catching print, effortless 360 degree wheels, durable construction, and expandable deep compartment to allow your girl to pack more items.
Keep her adult workspace neat. These gold wire organizers are useful for storing papers, letters, pens, and other office supplies.
(Related article: You might also love these 20+ Gold Office Supplies & Desk Accessories.)
13. Americana Elite Maxi-Matic Retro Personal Blender 
Becoming an adult means you should take good care of your body and start eating healthy. Make healthy smoothies and breakfast shakes with this powerful blender. It is easy to operate and looks nice in the kitchen with the retro design. It comes with a mason jar bottle and a sports bottle for you to enjoy your delicious creation on the go.
14. Pandora Jewelry Forever Pandora Cubic Zirconia Earrings
One of the best college graduation gift ideas from parents — a fancy jewelry to mark this momentous moment. Splurge on timeless earrings that she can own forever is totally worth it. We love these dainty circular earring studs embellished with cubic zirconia diamonds. They look really shiny, simple, and elegant.
An inexpensive college graduation gift that she will find it really useful in real life. Like many adults, she will need to drink a cup or two coffee during work. This coffee warmer will keep her coffee warm for hours while she is working. It has two temperature settings, waterproof design, and auto shut off function after 4 hours.
16. Natural Crystal LED String Lights
If she is moving to a new place post-graduation, you can get her something nice for her adult apartment. Home appliances and home decorations are useful to them. This amethyst string lights made from real stones will add some gorgeous sparkles to her room.
17. Vera Bradley Signature Cotton Weekender Travel Bag
Another useful graduation present approved by recent college grads. Whether she is going for a short trip or the gym, this lightweight duffel bag will become her new favorite. It is spacious with multiple pockets to organize your stuff. It also has an adjustable strap and trolley sleeve at the back. What we love most is this bag comes in a variety of unique patterns.
18. Mirror Surface Digital Alarm Clock
A minimalist, modern decor for her new apartment. This alarm clock makes sure she never wakes up late for her first job. It has a large LED display with dimmable function. You can also use it as a mirror when it's dimmed. This alarm clock also has two USB ports to allow users to charge two different devices at the same time.
More people are working from home in recent years. She will appreciate this adjustable laptop stand when she works from home. It is sturdy and easily adjustable. You can set up your work station anywhere you like; in the bed or on the couch. You can also make it your stand-up desk when you feel like you are sitting too much.
Business card is an essential item when you are socializing and building network in the business world. It is important to carry your cards whenever you are attending meetings, conferences, and other business events. Keep your cards properly in this slim card holder. It is made of vegan leather and easily fit into your pocket.
Another gift college graduates really want. This foot massager will take away the soreness and tiredness from working long hour in the office. It creates oxygen bubbles with heat to promote blood circulation. The massage rollers with dotted nodes offer a deep kneading massage to help relieve stress and improve your sleep quality.
This bag will remind your graduate that the sky is the limit. So don't stop dreaming and keep working toward the goals.
23. Glow Recipe Avocado Melt Retinol Eye Sleeping Mask
Recent college graduates starting a new job face many challenges. Sometimes they have to stay up late to complete their tasks. They will appreciate a good quality eye mask. This avocado mask is gentle yet powerful. It can fight fine lines, brighten, and depuff the under eye area. Use it before sleep to reignite the sparkle in your eye.
24. Desk Organizer Eyeglasses Holder
This ceramic organizer adds a touch of style to your space. The size is perfect for keeping makeup brushes or pens. It is also useful for keeping your reading glasses at hand.
Add lovely smell to her room, this candle comes with an inspirational message to brighten your graduate's day.
26. The Republic of Tea Caramel Vanilla Cuppa Cake
If she loves to drink tea, this delicious caramel vanilla dessert tea will become her new favorite. The smooth black tea tastes so yummy with the sweet flavor like the Southern yellow cake with caramel vanilla frosting.
(If you are a tea lovers, don't miss this article for tea lovers. )
27. Werktough Home Repair Set Toolbox
Give your daughter a practical gift that she can use post-graduation. She is entering the "real world" and moving into her own apartment. Living on your own seems exciting but it comes with challenges. She will need these tools for putting together her new furniture and make some small repairs when things broke.
Therapeutic salt lamp for her adult apartment. The salt crystals are hand mined from the Himalayan mountains. It gives out soft glow with relaxing effect. You can also use it as aromatherapy oil diffuser by dripping a few drops of your favorite essential oils onto the salt rocks.
29. 101 Questions You Need to Ask in Your Twenties
Another good gift for college graduation. This book is super useful for recent college graduates and people in their 20s. It offers readers guidance on adulting and wisdom through major life questions.
30. Seuss-isms! A Guide to Life for Those Just Starting Out…and Those Already on Their Way
The collection of brilliant and witty quotes by Dr. Seuss will keep her motivated in her new post-graduation life.
31. Gift Card
An additional gift card is highly appreciated. Most college graduates need funds. Moving, furnishing apartment, starting a new life involve quite a bit of money. So, if you can attach gift card to her college graduation gift, we are sure she will be very happy to receive it.
More Practical College Graduation Gift Ideas: