What are the appropriate gifts to get for your boss? Looking for the perfect gift for a boss can be tricky. Let us help you to score some points with your manager on a special day, like your boss's birthday, Bosses Day, and Christmas holiday. You want to maintain professionalism. You don't want to pick a gift that comes off as cheap. You also don't want to seem like trying too hard by picking a gift way too expensive. Here are 12 thoughtful gifts for your boss to get the message across on the special gifting occasion. Scroll down to discover 12 Best Gifts for Your Boss, including awesome gifts for male bosses and unique gifts for female bosses.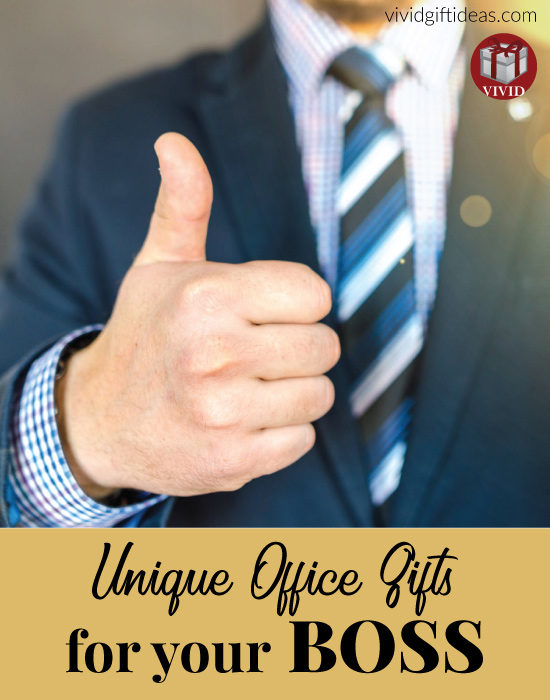 Perfect Gifts For Boss (Male & Female Bosses)
1. Rose Gold Globe Tabletop Decor
This elegant globe decor is a tasteful office gift you can get for your boss. The globe is made in stunning rose gold color and the map is printed in metallic gold. It is a modern and stylish piece to decorate the workplace.
(If you like chic office decor in rose gold, check out our list of 27 Rose Gold Office Supplies & Desk Accessories)
Get a feline friend to accompany your boss at his/ her desk. When things get pretty stressful, scratch the cat. It is a Zen office decor perfect for cat lovers. Drawing on the sand and rearranging the pebbles will help clear the mind.
3. Totally Flexible Funny Saying Box Sign
Say it with sass. A hilarious wooden sign for the boss who is kind of rigid. This gift will make him/ her laugh.
Because a personalized gift never goes wrong when it comes to giving a gift to your boss.
An all-white glasses holder that looks cool on any desk. It has a solid weighted base to hold your glasses securely.
A minimalist desk accessory suitable for male and female boss. This well-designed storage box is made in the shape of a traditional toolbox for people to organize their everyday items from makeup to office supplies. It is made of birch wood with metal drawer. Available in three sizes to fit any spaces.
7. Local Woman Named Best Boss of the Year Mug
When you have a wonderful boss who deserves to be recognized as the best boss of the year.
(The same design is also available for your best male boss here.)
See also: 17 Funny Mugs: Mug Collection For Work
8. Sh*t My Boss Says Coloring Book
This hilarious coloring book is a fantastic gift for the boss going away, birthday, or as a Secret Santa gift for boss. It is filled with profanities, ridiculous quotes, and adult language.
(Also check out: 10+ Best Funny Adult Coloring Books to Reduce Stress)
9. Travel Jewelry Organizer Case
A beautiful organizer roll to store your necklaces, rings, earrings, and other small accessories when traveling. Compact and functional. Suitable for a female boss who is always on a business trip.
10. Funny Wine Glass
For your boss who is a wine lover. Make her laugh after a long day of work. Sip a good wine and relax. Because punching people in the face is illegal.
11. Baker's Edge Nonstick Edge Brownie Pan
When your boss is good at baking and brownie is her favorite. Get her this brilliant brownie pan. The unique zigzag-shaped pan allows her to bake brownie like a real boss. Because of the special continuous design of the pan, every piece of the brownie she bakes will be crisp like brownie edge. No more fighting for brownie edges. Every piece is a winner.
12. Chilling Whiskey Stones Gift Set 
A beautiful gift at an affordable price. It contains eight pieces of whiskey stones and a pair of crystal glasses.
13. Bacon Rose Bouquet by The Manly Man Company
Be creative and up your gifting game. Earn bonus points by treating your boss to this box of sweet roses. These are not the fresh roses that your male boss won't appreciate. These are delicious thick-cut bacon roses slow-cooked with maple and brown sugar. Dipped with rich dark chocolate, the taste of this bacon jerky is taken to another level. Yes, these bacon roses are so flavorful your boss might ask for another box.
More Gifts for Boss:
Bosses Day gifts:
Christmas Gifts for Boss:
Follow our Pinterest for more office gifts.