National Best Friend Day falls on June 8th. On this day, don't forget to celebrate with your best friend by spending time and giving them a small gift. Because best friends are special people in our life, we want to give them something unique that she will treasure for a long time. In this article, we have brought together 16 fun-loving, meaningful gifts for best friends. Ranging from home decor, friendship keepsake items, jewelry, to office supplies. These gifts are cheap and thoughtful. Read on to see our favorite National Best Friend Day gifts below.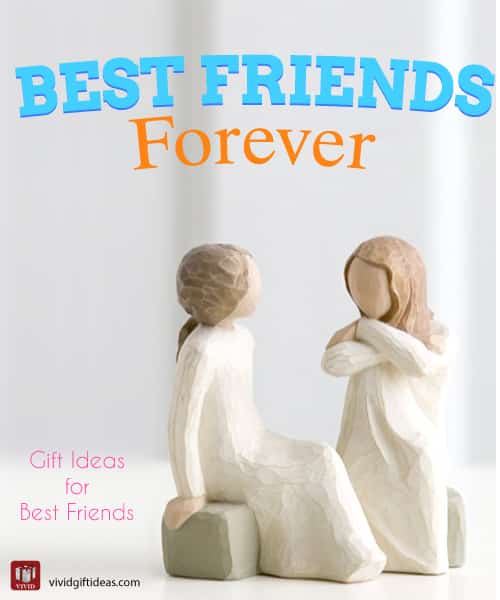 Meaningful Friendship Gifts
1. Willow Tree Heart And Soul Figurine
Let's start our list of Best Friend Day gifts with this artsy figurine that depicts the close bond between two best friends. It is hand-carved by artist Susan Lordi from her art studio in Kansas City, Missouri. This figurine is crafted with the highest level of details and it looks flawless from every angle. It looks great as a home decor for the living room, bedroom, or hallway.
2. Matching Friendship T-Shirts
It's fun to wear a matching outfit with your bestie on National Best Friends Day. Dress up like twins and show your friendship to the world. Make everyone jealous with these matching shirts that have an arrow pointing to each other that says "She is my best friend".
3. Good Friends are Like Stars Picture Frame
For a friend who is staying far away. Print out your favorite photo and insert it into this wooden frame. Surprise her on National Best Friends Day because nothing is better than a great photo that captures your friendship.
(This photo frame also makes one of the best gifts for a friend who is moving away.)
4. Best Friend Quotes Jewelry Dish
Help your friend to place her jewelry and other loose items. This gold-trimmed ceramic dish features a beautiful friendship quote that reads "If friends were flowers, I'd pick you".
5. Hey Friend, I Wrote a Book About You
One of the best personalized gifts for best friends — create a meaningful keepsake book for her. Show her your love, tell her what's in your mind by completing the playful prompts in this book.
Because girls adore cute mugs. A black cat-shaped mug with gold leopard print is hard to resist.
7. Matching Socks
How about getting two pairs of matching socks and wear them together on the same day? It is such a great and cheap idea to celebrate National Best Friend Day.
7a. Mermaid Socks
This pair of knee-high socks is super cute. It has an ombre fish scale design the looks vibrant and colorful. It is also available in other magical colors.
7b. Novelty Saying Drama Llama Socks
If your best friend is a llama lover, you can get this cute sock for her. She will love its fun and funky design with the llama sayings "no drama llama".
8. Positive Thinking Quotations in a Jar
Give your girlfriend a jar of inspirational messages. This jar contains more than 30 slips of colorful papers that feature quotes that not only lift her mood but also help her to relieve stress. A simple and thoughtful gift to bring a smile to your BFF this National Best Friend Day.
9. My Very Best Triple Star Good Friends Necklace
Another awesome gift for friends who are staying miles away. This rose gold necklace has a triple star charm that looks simple and dainty. It comes attached to a card with a meaningful message that reads "Good friends are like stars. You don't always see them, but you know they're always there! I'm so thankful to have you in my life!"
10. Beautifying Botanicals Daily Beauty Tea by The Republic of Tea
Treat your tea-loving friend to this delicious blueberry lavender tea. It is a caffeine-free herbal blend that contains rooibos, organic lavender, blue butterfly pea flower, blueberry, and hibiscus. Sip and nourish your skin from the inside out. This tea promotes collagen-production and improves your skin complexion.
11. Sweet Water Decor Motivational Pen Set
Our favorite motivational gift for girls — a set of 3 metal pens to give you motivation throughout the day. These pens are nicely weighted and the colors look so pretty.
12. Keep Calm and Have a Cupcake Beaded Bookmark Book
A cheap gift that your cupcake-loving friends will adore. This pink paper bookmark reads "Keep calm and have a cupcake".
13. Friendship Jewelry
Best friends are important people in our life. You do not want to just give them anything, you want to give them something nice and meaningful. Friendship jewelry like friendship ring, friendship bracelets are a great present for your BFFs. This Ying and Yang friendship necklace set represents the friendship between the two; with each other, everything is balanced and complete. A pair of cool-looking necklaces that your BFF will cherish.
14. Friendship Mug
14a. Good Friends Mug
A wonderful mug made of ceramic perfect for your good friends. Features black matte finish with a beautiful friendship quotes. It is suitable for both male and female friends.
14b. Best Friend Mug
Another friendship mug that grown-ups can get for their best friend. It has a graceful design with sentimental wording and lovely colors. This mug is made of ceramic and it has a large capacity perfect for morning coffee.
15. Beach Flip Flops
This good-looking beach sandal is another fantastic stuff you can get. It is lightweight, and very comfortable to walk on. Get one for her, one for yourself, and plan for a trip to a sandy beach paradise. We are sure this will create an unforgettable memory for a lifetime.
16. Movie Night
Invite your besties to come over for a movie night. Watch a nice movie, have popcorn, chit chat and sleepover are one of the best things you can do with friends. The Sisterhood of the Traveling Pants is a great chick flick that girls would love to watch over and over again. It is about the strong friendship of 4 friends and their stories of growing-up adventures. An excellent movie that is heart-warming and entertaining.
That concludes our list of gifts for best friends to celebrate National Best Friends Day. Thanks for reading.
More Gifts for Best Friends:
---
Follow us on Pinterest!