It is said that a smile is the best makeup. Thanks to the great dentists around us, we are able to smile beautifully with our pearly white, healthy teeth. Dentists deserve a nice gift from time to time; whether it's for their birthday, dental school graduation, Christmas, or National Dentist's Day. So, what's the best gift for dentists? We are here to show you 16 unique gifts for the dentists in your life. These special dental-themed gift ideas are also perfect for dental hygienists, dental assistants, and orthodontists.
Scroll down to discover now!
Best Gift Ideas for Dentists
1. White Tooth Dental Enamel Pin
This dentist pin is the ideal gift for a dentist or dental student and is personalized with DDS etched in gold plating. This dentist pin is the perfect accessory to wear on scrubs, uniform, or a white coat to make a fashion statement.
For anyone who works in a dental practice. This keychain will surely make them smile.
3. Local Woman Named Best Dentist of the Year Mug
If you are looking for inexpensive and meaningful gifts for dentists, this mug makes an excellent choice. The design looks cute. It is definitely one of the best dentist appreciation gifts.
(Also available for male dentists)
A whimsical pair of earrings for the female dentists and dental hygienists. It is perfect for her dental school graduation, birthday, or any other special occasion.
Yes, this distressed-painted wood sign is the perfect dental office décor.
Brace yourself for the funniest dentist jokes. Get this to make your dentist LOL.
Make them feel special. They are no ordinary boss, they are the floss boss!
8. Set of 4 White Tooth Planter Pots
These tooth-shaped planters are decorative and cute for the dental office.
9. Dental Life: A Snarky Coloring Book for Adults
Let our dentists color away their stress. We know flossing, cleaning, drilling, and pulling teeth can be exhausting.
10. Novelty Tooth USB Flash Drive
Teeth play an important part in a dentist's life. When they have important documents to store, let them store in a tooth.
11. Funny Dental Tooth Crew Socks
Everyone wears socks. Why not dress up their feet with a lot of white teeth? This will definitely make them happy.
Awesome-looking and useful office supplies for the dental assistant.
13. Dentist Mug
This is exactly what your dentist would love to tell you.
14. Gold Teeth Pendant Necklace
This dental charm necklace is gold and sparkly.
15. Dentist Necktie
For your young man's dental school graduation. This tie looks stylish and professional. The design of the teeth is subtle and classy.
16. Custom Initial Dentist Charm Keychain
This keychain makes a fantastic gift when your bae is a dentist. It features an inspirational dental quote, a personalized initial charm, and a tooth charm.
These are our best picks for dentists. If you know any other cool dentist gifts to add to this list, let us know by commenting below.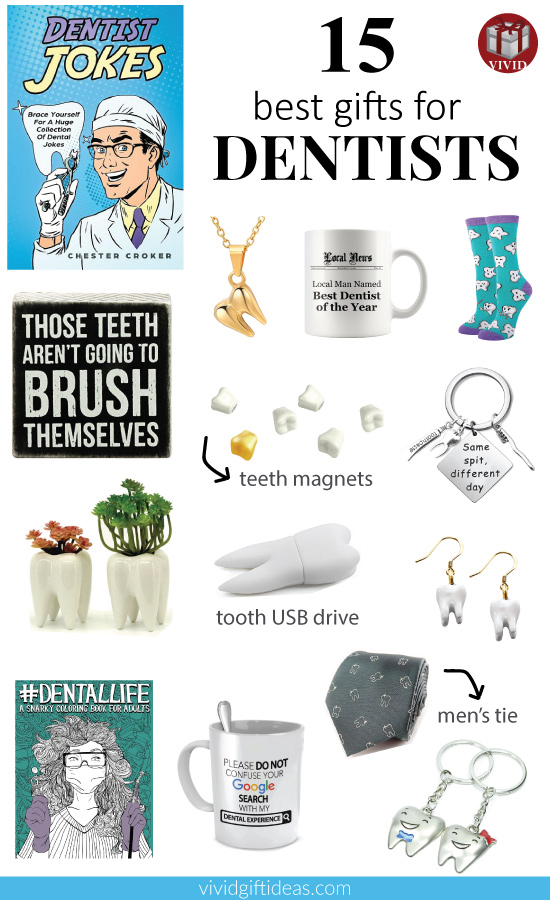 More Gift Guides by Occupation: