Her 40th birthday is coming soon. Wanna get her something nice and memorable to celebrate? See below for a list of gifts for 40th birthday. These gifts are handpicked by us especially for the women turning into 40. The gifts recommended are fabulous and functional, match for the ladies who step into their 40s.
Read on for 40th birthday gift ideas for women.
New! Click here for Fabulous 40th Birthday Presents for Her
Glamorous designer sunglasses from Prada. Unique style in pretty brown gradient lenses.  Truly standout! 
Visit Prada website for more info.
A beautiful watch that goes well with casual and formal attire. Classic chronograph watch by Michael Kors.  With pretty brown leather band. Sparkly and chic.
Simple and modern oil warmer for the yogis. This oil warmer features three yogis sitting in lotus pose on a stone-look base. In between them, there is a glass tealight candle holder to heat up the oil. The oil plate is made of clear glass. This is a great oil warmer to create a relaxing environment for meditation.
Make delicious cocktail drinks. Comes with glass infusion chambers and infusers made of fine teas & herbs. Recipe and instructions included.
Fun wine glass for her. Hand painted. Cute and detailed painting. Great for wine lovers.
6.   Japanese Zen Garden 
Tabletop Decor (under $10)
A unique decoration with the Zen theme. This is a miniature garden on a square dish filled with white sand. The set contains a Japanese pagoda, three rocks and a rake. Bring tranquility and calmness.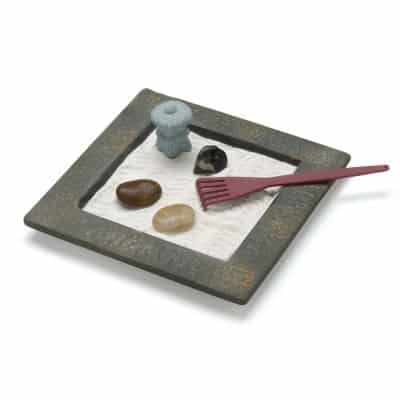 A wonderful kitchenware for she who loves cooking. This simple container can keep herbs fresh for weeks. No more wasting herbs. Simply filled in some water, then place the herbs in tray and drop herb stems in water. This herb keeper by Cuisipro is well designed and the size is large enough to store bulk herbs. Measures 4-3/4 inches in diameter and 9-1/2 inches tall.
Lovely silver locket crafted with lotus flower design. Detailed and nicely crafted. Comes with a chain. A great 40th birthday gift for her.
Skin care with anti-aging properties. Includes 1 cleanser, 1 moisturizer and 1 eye serum. Hydrates and renew skin. Make skin looks firmer and younger. Recommended by many users.
Globe paperweight that is beautifully crafted with a variety of attractive semi-precious gemstones. Nice heavy weight. Beautiful addition to her working desk or bookshelf.
Pretty multi color shoes for women. Fit well, soft and comfortable. Match with working attires, casual dresses and even jeans.
For the ladies who love beach, you can get her this beach bag for under $15. Striking color. Features a small purse kept tethered on the inside, and an outer pocket to store flip flops or other stuff separately. Made from durable nylon mesh, clean well. Nice large size to carry all her beach gears.
That's the 40th Birthday Gift Ideas for Women. Thanks for reading.
——
Follow us on Pinterest!