These are the good gifts you can give to both female and male nurses in your life. 
Nurses are the superheroes in scrubs. They give care, assist, and support their patients who are ill. It is important to recognize the work of nursing professionals. Every year we celebrate the National Nurses Week on May 6th to 12th.
In this article, we have brought together 18 thoughtful gifts to say thank you to the nurses, frontline healthcare workers, and caregivers in your life.
These Nurses Week appreciation gifts are practical and fun. They are the gifts that nurses really want. Whether you are looking for gifts for nurses, RNs, student nurses, or nursing school graduates, these are the perfect gifts to celebrate Nurses Week.
Read on to find out our favorite Nurses Week gifts.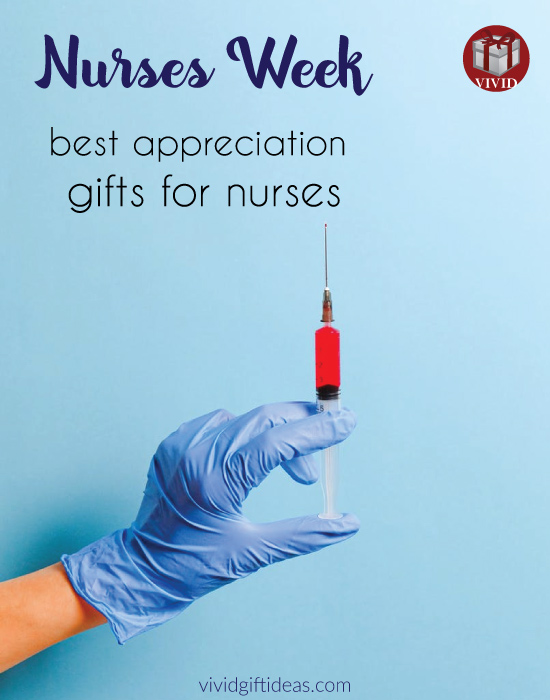 Best Gifts for Nurses
Discover inexpensive and practical gifts for that important nurse in your life.
Nurses spend many hours in the healthcare facility. They need a good cuppa to stay awake. This National Nurses Week, get this cute mug for your favorite nurse. Fun design, large capacity. This ceramic mug is great for your nurse to enjoy her coffee.
The life of a nurse can be stressful. A stress relief gift for nurses like this special coloring book is wonderful. It is filled with 40 hilarious, swear word designs perfect for the nursing staff to color away their stress.
3. To An Amazing Nurse Necklace
Say thank you to the nurse that touches your life with this pretty gold necklace.
Nurses have to carry a lot of stuff to work. Give them a helping hand in hauling her daily essentials. This canvas tote is roomy and durable. It is something practical that she can really use.
One of the best gifts for male nurses. Make him laugh with this cool and functional gift that nurses really want — an elegant ballpoint pen engraved with a humorous statement that reads "Do you want to speak to the Dr. in charge or to the nurse who really knows what's going on?".
3-in-1 function: It combines writing pen with stylus and LED light.
6. Prescription Insulated Travel Mug
Hot coffee, the most useful appreciation gift for nurses, is great when she needs to work a long shift in the hospital. And yes, it is the best prescription liquid that every medical staff needs.
7. Badass Life Saver Jewelry Dish
Because her contribution to the medical field is invaluable she deserves the title of "Badass life saver".
Nurses Week Appreciation Gifts for Frontline Nurse
Frontline nurses and health care workers are working around the clock to care for the patients. They are the superheroes in real life who deserve some appreciation gifts.
This wooden box sign is a meaningful gift to show your appreciation to the frontline nurses and healthcare workers.
She is an angel who gives care and healing comfort to the patients. This angel figurine best depicts the brave and kind frontline nurses who work professionally during the crisis.
10. Alegria Women's Debra Slip-On
They definitely need good nursing clogs for standing all day. This work clog by Alegria that received many positive reviews on Amazon is comfortable and supportive for the feet. The print is so colorful and it surely will lighten up her day.
Practical Gifts A Nurse Really Wants
11. Nurse Definition Water Bottle
Make your nurses stay hydrated all day, get this lovely bottle for your nurse staff this National Nurses Week. It has an attractive design that all nurses love.
12. Heart Beat Design Nurse Compression Sock
A knee-length sock that provides a good level of compression to your feet and legs. It is made of soft material. A practical gift for nurses who always stand and walk for long hours at work.
Bring your own healthy meal in this sleek minimalistic designer lunchbox. Two stackable food storage with an airtight, microwavable and leak-proof feature. It is made in a good size to store lunch. This versatile lunch box is convenient to carry to work.
Funny Nurse Gifts to Celebrate Nurses Week
Caregiving and nursing work is stressful during this health crisis. Something fun and witty will make them feel better. Funny stuff are perfect to make them smile.
14. Funny Shot Glass
Awesome little shot glass under $10. This a small gift to give a big chuckle to your fellow nurse friend.
15. My Quotable Patients Journal 
A nice journal for nursing professionals and healthcare workers to write down their patients' sayings. Features beautifully design pages to record life in the medical field.
Gift Ideas for Nursing Students
Nurse students are trained to become healthcare professionals in the future. This year, some nurse students are forced to enter the workforce early to help fight the disease. They have an important role to play in the medical field. Therefore, nursing students definitely need to celebrate Nurses Week with a gift to give them extra motivation.
A stylish rose gold keychain with inspirational charm for the new RN and nursing school graduates. It makes an inexpensive and memorable graduation gift for daughter.
17. Nurse Scrunchie
This hair accessory will be useful to your nursing student. It looks adorable and it stretches well to tie her hair neatly.
18. Medical Staff Nurse Ball Point Pens
A pack of 10 pens featuring healthcare workers in scrubs. They are really cute and cheap. Perfect for your fellow nurse students and nursing staff.
That concludes our list of best Nurses Week gifts. Thanks for reading.
Follow us on Pinterest!
Related Nurses Week gift ideas: