Looking for gifts to celebrate your anniversary with him? Read here for a list of sweet and romantic anniversary gifts for him. Ranging from men attire, men accessories, to electronics goods and more. These 10 gift ideas are suitable as anniversary gifts for boyfriend/ anniversary gifts for husband.
Let's start looking at the list now! 10 Best Anniversary Gifts for Him.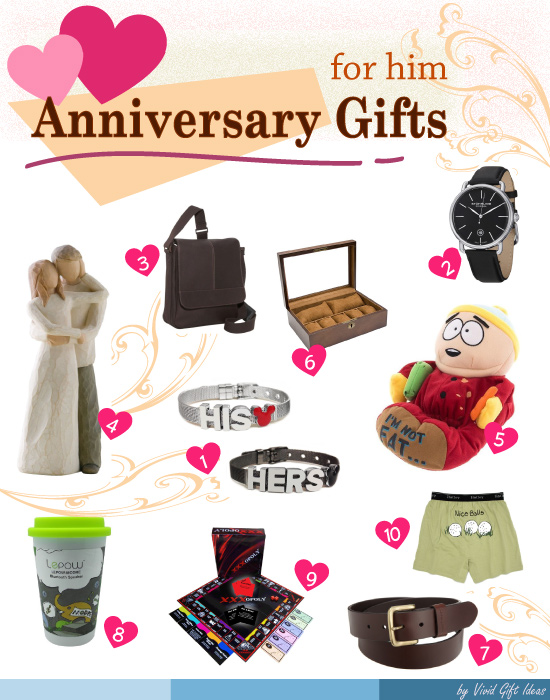 Top 10 Wedding Anniversary Gifts for Men
1. Mug for The Best Husband
There are ups and downs in your marriage. Together you have sailed through the stormy sea. You've never regret marrying him. The past year he has put in so much love and efforts in the relationship. It's time to celebrate anniversary day with your husband. Present this award to him. Make him smile, let him know how much you appreciate his love.
2. His & Hers Couple Bracelet Set
A year well-spent with bae. You are still so in love with each other, why not get a set of matchy-matchy accessories like necklace, ring, or bracelet? His & hers themed gifts are great to celebrate anniversary. This set of Mickey and Minnie inspired bracelet set are perfect for the young couples. They are stylish and cute. Each of the designs looks good on both man and woman.
3. Stuhrling Original Classic Ascot Agent Watch
Most men love black and white stuff. Surprise him with a classic anniversary gift in the form of beautiful timepiece. He will love this elegant watch by Sturling Original. It features a sleek black dial face with a black leather strap. Simple and classy. An excellent timepiece that goes well with any style.
4. Kenneth Cole Leather Messenger Bag
For the anniversary, you can get him a gift that men actually use. Men enjoy luxurious leather goods like wallet, bag and business card holder. This Kenneth Cole bag is a wonderful choice. The cognac color is very much loved by men and the rich leather feels superb. This bag is well-built with spacious compartment and comfy padded shoulder strap.
Other features include: cell phone holder, pen holders, credit card slots, magnetic snap closure.
5. Willow Tree "Together" Sculpture
One of the best anniversary gifts for men. A beautiful figurine to commemorate your special day. It is hand-crafted by artist Susan Lordi from Kansas City. This sculpture is finely detailed and painted in clean colors. Simple with pure gestures, a lovely sculpture to depict the beautiful time you spend together with each other.
6. Men's Wallet
If you are looking for a gift to surprise your man on the anniversary, you can't go wrong with a practical leather goods. This minimalist wallet is another gift that men will appreciate. Replace his bulky wallet with this beautiful full grain leather wallet. It is durable, slim, and beautiful. A solid wallet loved by men.
7. Slippers for Men
Get a thoughtful anniversary in the form of comfy slippers that he can wear everyday. This casual clog slipper allows your S.O to relax his feet after a long day of work. It's added with contoured arch support sole and moisture-wicking lining. It reduces foot pain and make you feel like walking on the cloud.
8. Watch Storage Case
A classic-looking box for him to keep his watches. Featuring 7 removable squeezable cushions. This storage box is made with fine vintage wood finish and a matching lock. It's a gorgeous way to display men accessories.
9. Couplicious Couple Game
Are you feeling playful? You can get this adult board game to play with him. It's a fantastic private entertainment to spice up your relationship. It is filled with romantic essence with some naughtiness. A wonderful anniversary gift that your man can't resist.
10. Love Heart Shorts
When you are thinking of what to get for your guy for anniversary, try to get something romantic. This boxer shorts full of heart pattern is cute but not too cheesy. And, it feels soft and comfortable too!
That's the list of 10 Best Anniversary Gifts for Him. Hope this gift guide helps. We wish you to have a memorable anniversary day with him!
Follow us on Pinterest!