Discover cute Halloween costumes for cats in this article. Find the best costumes that will make your cat too adorable to watch. Cat lovers beware: watch your wallet!
Dear cat owners, do you want to dress up your cat this Halloween and make him/ her looks extra adorable? Here, we have a list of 8 cute cat costumes that are great for Halloween. Read on for the list of cute Halloween Costumes for Cats.
We're writing this for Halloween, but these costumes are perfect for all occasions.
Cute Halloween Costume Ideas for Cats
1. Lion Cat
This Halloween, let your domestic feline pretend to be a big cat. Let him wear this piece and see him roar like a lion.
Dress up as a noble cat is another great costume idea for cats. This tall hat will make kitty looks like a gentleman from wealthy family. A well made pet hat that doesn't fall off easily.
3. Bumble Bee
Your kitty will look super adorable in this bumblebee suit. Yellow and black stripes with a pair of little wings at the back. She will definitely become a big hit!
Cat poise in sailor suit surely looks cute! This sailor costume is one of the best Halloween costumes for cats. Two-piece costume: sailor hat and sailor collar with blue knot.
What about become a ducky that meow? Vibrant yellow ducky that will grab everyone's attention. Soft plushy fabric that is comfortable to wear. Create a wonderful new look for your cat.
For Halloween, you can also let your cat pretend to be a dinosaur. This dinosaur suit is loved by many owners. Made from soft material. It is a good quality costume suitable for small pets.
7. Star Wars Ewok Costume
Cool cat costume based on Star Wars' character Ewok. This piece looks unique and it is easy to put on.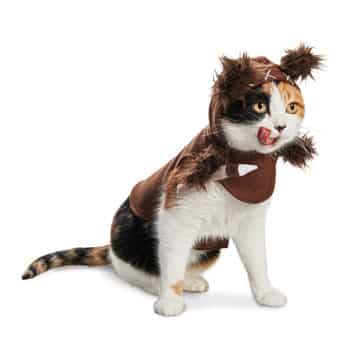 Dress her up like a princess with this pink tutu dress. Sweet daisy and ribbon design at the back. This dress looks pretty on a cat!
That's the list of lovely Halloween Costumes for Cats. Do you like them? Tell us what you think!
Christmas is approaching. Remember to buy a gift for your cats.
Follow us on Pinterest!
Many of us are cat lovers, but some of us prefer dogs. If you're a dog lover who is looking for a cute Halloween costume for your doggies, be sure to check out this article. Be sure to read until the very end because there's matching costume idea for you and your dog.