Discover Halloween costumes for your puppies – old and young (yes they're all puppies no matter what age they are — you know it's true). Dress up your doggies this Halloween in adorable costumes. These ideas are perfect for small to medium-sized dogs.
One of the most enjoyable things to do on Halloween is dressing up. Don't keep all the fun to yourself! Let your dog join the party too. You can do this by getting them one of the adorable Halloween costumes below.
Getting ready for Halloween? Want to dress up your pet dog and need some ideas? Get inspiration from the list of unique and cute Halloween costumes for dogs below. These dog costume ideas are creative and attention-getting, we are sure your pet will be the center of attention this Halloween!
By the way, be sure to check out this gift guide if you're looking for a special gift for your doggie.
Halloween Costume Ideas for Dogs
They will love these ideas for sure!
1. Bat Dog
This Halloween, transform your dog into a bat. You can be a Dracula and bring your bat to walk around the neighborhood. With easy-to-wear headpiece and a pair of wings that flap when he walks. Your buddy gonna be the cutest bat ever!
2. Wicked Witch
Another piece that will attract much attention. Witch jumpsuit with a hat. Puppies look super adorable in this! (Warning: doggie will become wicked, it will get everyone spell-bound and can't stop adoring she.)
This costume runs a little small; it fits better for small dogs.
What about a hot dog? Dressing like this will make your dog looks so "hot" that it will get everyone to laugh.
4. Lion Wig
If you want something simple that both of you will like, try this furry wig. Instantly turn your boy into a lion! Funny and cute. Suitable for big dogs.
5. Sailor Dog
Ahoy! Cute Halloween costume for dogs. Classic blue and white sailor suit. Looks cool and classy. Also, comes with a matching pill cap headpiece.
6. Holy Hound
A dog, a pope, a holy hound. This Halloween, get this for your pet dog and see your little buddy becomes a big hit!
This is a beautiful costume with nice details.
Eye-catching crayon costume for dogs. Colorful and fun. Features Crayola crayon body and crayon tip hat. Vibrant colors, comfy, and easy to put on. Comes in different sizes that fit perfectly on big dogs and small dogs.
8. Bumble Bee Halloween Costumes for Dogs and Owner
Buzz buzz… You can be a papa bee/ mama bee and your buddy becomes a little bee. A sweet combination of bee family for Halloween.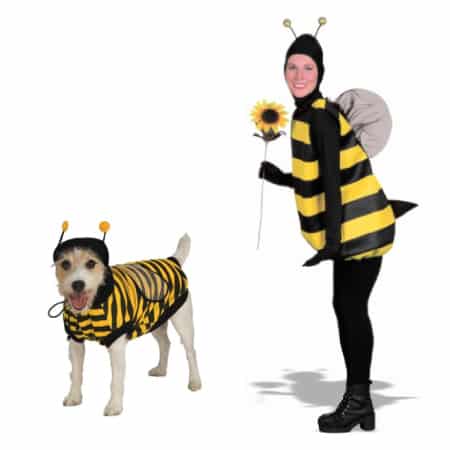 This Bumble Bee Costume for Dogs features yellow and black bee-striped shirt, yellow pom-poms antenna headband and mesh wings.
Match costume with your dog with this lovely bee jumpsuit for men and women. Black stretchy hood with antennas, mesh wings at the back and stinger at the bum. Roomy, stretchy and comfortable to wear. Buy here: Bumble Bee Adult Costume. A must-have costume for dog lovers.
That concludes the list of Halloween Costumes for Dogs. Arent's they cute? Thanks for reading.
Follow us on Pinterest!
Dogs are amazing creatures, but some of us prefer cats. This article will satisfy your quest to find the best costumes for your cat this Halloween.