Discover fun Halloween Gifts for Boyfriend here. We have brought together a list of 7 cool gift ideas with Halloween theme. They are simply the best Halloween stuff that your boyfriend will definitely love!
Scroll down to discover now!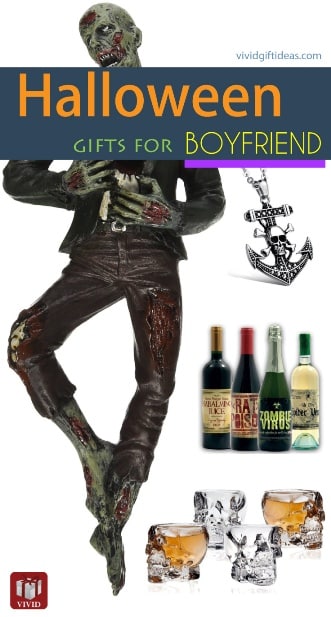 Just-for-Fun Halloween Gifts for Boyfriend
Guys love this skull shot glass that looks spooky and cool. Made of thick, clear glass. It holds 2 oz liquor, has a nice weight and is sturdy. Comes in the set of 4 great for Halloween party.
2. Halloween Wine Bottle Stickers
Whimsy stickers to make your drinks look disgusting and poisonous. Four distressed designs that have that filthy, aged effect. Fits wine and soda bottles. Add some taste of dead to your Halloween food.
3. Pirate Skull Pendant Necklace
This nice pirate skull necklace makes one of the best Halloween gifts for boyfriend. Made from durable stainless steel. The skull and anchor are crafted with fine details. It looks unique and stunning. A stylish piece that he will treasure. Make this part of your costume on Halloween, find out how you can pair your costumes with him from this post.
4. Zombie Cajun Hot Sauce Gift Set
For the food lover, this is the best Halloween gift. Pack of four assorted award-winning hot sauce to make your boyfriend feels HOT. Louisiana style: garlic, jalapeno, habanero, and cayenne pepper.
They are amazingly flavorful, smoky hot, and delicious to compliment any meal.
Also, comes with a book – "The Zombie Cajun Chronicles; A Time to Run".
Super fun Halloween gift to surprise your boyfriend. Make his toilet time "pleasurable". Record a scary message then place it at the toilet paper holder. When user pulls the toilet paper, motion sensor will play the message. Will definitely scare the sh*t out of his pants! LOL
6. Halloween Rubber Duckies
Team of rubber ducks quack for Halloween. Dressing up as ghost, pumpkin, witch, mummy, monster and vampire. They are ready to become your cutest Halloween decoration.
7. Zombie Desk Accessory
This ugly and gruesome zombie pen holder is another great Halloween gift for boyfriend. Cast in resin and hand-painted to play up the gory flesh-eating, hues that wreck havoc with the undead.
Functional and attractive desk accessory that makes great conversation starter.
That's the 2015 Halloween Gifts for Boyfriend. Thanks for reading!
Follow us on Pinterest!