Read here for 7 Christmas Gifts for Husband. From electronic gadget, men accessories, skincare and more. This short guide helps you to select the best present for your other half. Scroll down to discover now!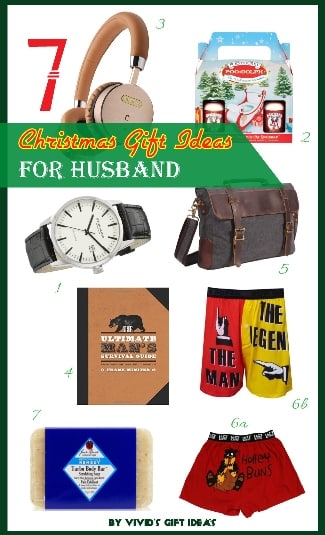 Let's start the list with this classy watch for men by Stuhrling Original. Ivory white face, stainless steel case, rich alligator-embossed leather band. The clean, minimalist design is very much loved by men. This watch looks smart and elegant.
It comes with a easy-to-change brown leather band. A sophisticated watch that makes a great Christmas gift for husband.
Wanna have a good laugh this Christmas? Get this set of 2 fragrant sprays packed in funny box. Made with powerful natural oils to kill the bad odor he creates in restroom. It is a fun and useful. Perfect for the Bomberman in your house.
If you wanna get electronics for your husband, this gorgeous headphones is a decent choice. Sleek design, good quality, beautiful sound. Featuring excellent noise cancellation, adjustable headband, comfy ear piece. Connect wirelessly and enjoy 16 hours playtime to any smart phone/ tablet, even if your device is located at far range.
Good book for him. Written by Frank Miniter. This book teaches guys the skills, attitudes, and philosophies they need to be the ultimate man. Divided into seven sections: survivor, provider, athlete, hero, romantic, cultured man, and philosopher.
Informative, clearly written with the help of catchy illustrations. A fun and interesting read that he will definitely enjoy.
You can also get this versatile bag that he can use as work briefcase or casual everyday bag. Made from durable canvas and saddle leather trim. It is roomy, sturdy and good-looking. Features two compartments, two interior zipper pockets and one zipper pocket at the back.
A stylish bag for men under $70.
6.    Men Wear
6a.   Funny Boxer Shorts
You can also get him cute boxers. The below two pieces will make him thrilled.
For the best cook ever.
Hilarious and naughty. He will laugh for sure!
Men skincare also makes nice Christmas gift for husband. This deep-cleansing soap is a wonderful choice. Contains moisturizing shea butters, energizing blue lotus, and natural lava rock that gently scrubs away dirt. A great soap to make skin clean and refreshed after a hard day of work.
That's the list of 7 Christmas gifts for husband. Thanks for reading. Have a merry Christmas with your hubby!
More Holiday Gift Ideas for Men:
Follow us on Pinterest!