In this blog post, we will be reviewing a Pettsie product targeted at cat lovers and their cats. The said product is a matching pink cat collar and human bracelet. Below you will find our opinion on this unique pet-human accessory — we'll be unboxing, inspecting, and doing actual fitting on our cat and ourselves.
Also, we will be doing a Pettsie collar & bracelet giveaway in November 2018, be sure to have this website bookmarked if you're interested to receive an early Christmas gift for you and your cat for absolutely free! See this blog post to see how you can participate.
Disclaimer: the product under review is provided free-of-charge by Pettsie.
[toc heading_levels="2,3″]
Now Reviewing Pettsie Pet Collars and Human Friendship Bracelets
We came across Pettsie when we were working on the stocking stuffers for cat post. As cat lovers ourselves, we were immediately attracted to the brand's cute collar for cats and matching bracelet for their human. The idea of being able to wear matching accessories with your beloved pet (a cuddly white cat in our case) is heartwarming. So we reached out to Pettsie and they were generous enough to provide a free sample so that we could share more details with our readers.
Talk is dry. Let's get some action going.
Unboxing Pettsie Collar and First Impression
Our collar arrived safely in a small Pettsie-branded box inside a padded envelope. Removing the tapes on the sides of the box and pulling out the inner compartment revealed the collar and bracelet pair that we had been waiting for.
Overall, we find the packaging efficient and convenient — except for the tapes, they feel a little bit awkward and don't look very magnificent in photos. But other than that, we like that the packaging uses recyclable material for both the box and the protective material (paper strips) for the collar in the compartment.
A Closer Look at the Cat's Collar and Bracelet for the Human
Parting the protective paper strips revealed the bracelet and collar in their entirety. That moment didn't last long as I immediately took them out for a closer look — but not before snapping a few pictures.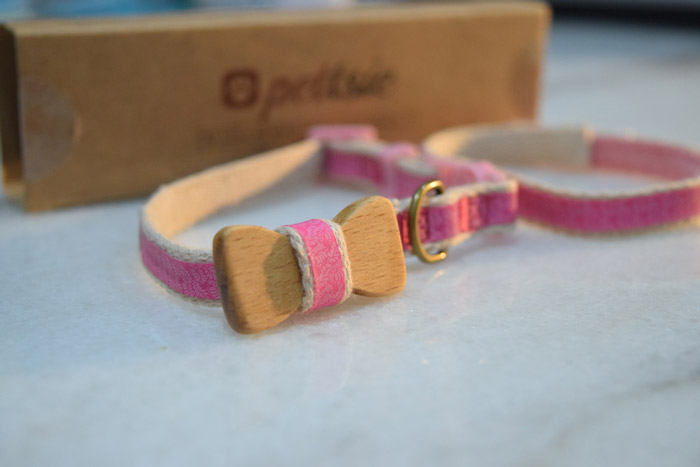 I held up the collar for closer inspection. My first thought was, it was surprisingly light. Sometimes we associate weight to quality — such is the case for jewelry — but when it comes to cat collar, the opposite is true: the lighter the better. Heavy collars burden a cat's neck and shoulder and could deteriorate his posture. The same thing goes for the human bracelet, it's extremely light and doesn't hinder your movement.
Despite its weight, the collar felt very durable. There's no worry that the collar would break apart easily. I haven't really tested it myself, but the strap gave me the impression that it could withstand multiple knife cuts.
The bowtie is made of real wood; both its surface and corners are smooth. Personally, I think the bowtie is the highlight of the collar. It definitely looked great on my cat Chester. In case you didn't see it from the pictures, the pink strap has some interesting patterns on it. It seemed to be nature-inspired — perhaps some kind of tropical leaves — I didn't bother to check with Pettsie but the details are a nice touch.
Trying It On: Comfort and Fitting of Pettsie Cat Collar & Human Bracelet
When we were unboxing and snapping pictures, the noise woke up my little feline creature from his slumber. Normally he would be very curious about this kind of thing but he was still feeling sleepy. We had to carry him from where he was sleeping to the table where we were checking out the collar. Although he showed his normal curiosity once he saw the collar and the box, I would like to still thank him for doing this.
Putting the collar on my cat was a breeze. Also, one thing that surprised us was that he didn't show any sign of discomfort — not sure if he finally got used to wearing a collar or because of the weight of the Pettsie collar — he would normally try to kick it away with his hind legs.
The collar looked great on Chester. It felt fun to wear a bracelet that matches your cat's collar. It brought me this feeling of connectedness to my cat. Whether the cat felt the same connectedness was a whole other story (most probably not, but that's ok — that's just how cats are).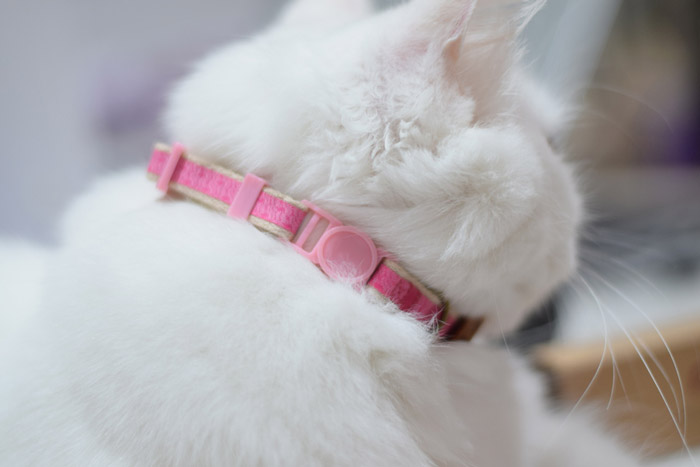 Oh, and the human bracelet is also adjustable. You can loosen and tighten it based on your preference.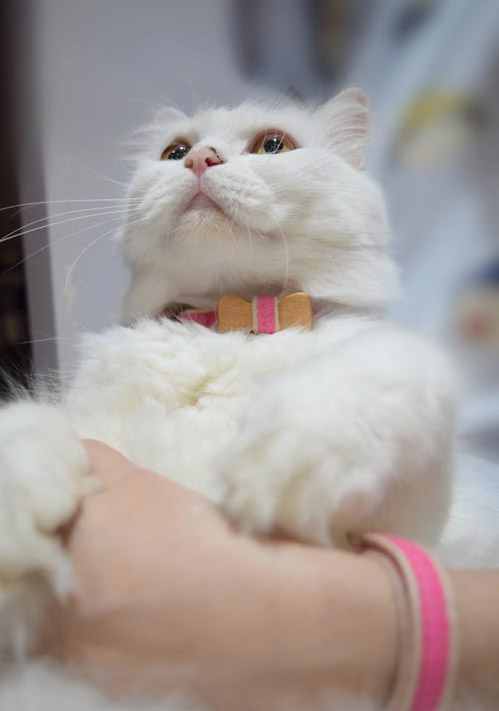 At this point, we had taken a number of beautiful pictures with our cat and we're quite happy about the collar. However, you ask me now what is the biggest letdown of this collar-bracelet combo, I'd say it's the bracelet. The collar is sturdy and cute and has the wooden bowtie, but the bracelet, while sturdy, is a bit simple compared to the collar.
Overall, it is a product worth recommending. You should definitely check it out if you're looking for an excellent Christmas or birthday gift for a cat owner or for you and your cat.
If you're interested, here's where you can find Pettsie products:-
1. Amazon
2. Pettsie.com
Just to reiterate what I mentioned at the beginning of this blog post, we will be doing a Pettsie Christmas collar and bracelet giveaway in November 2018, be sure to have this website bookmarked if you don't want to miss this great opportunity — more details later on!
More Pictures of the Pettsie Collar – Matching Human and Cat Accessory
Below are some additional pictures of the collar and my cat.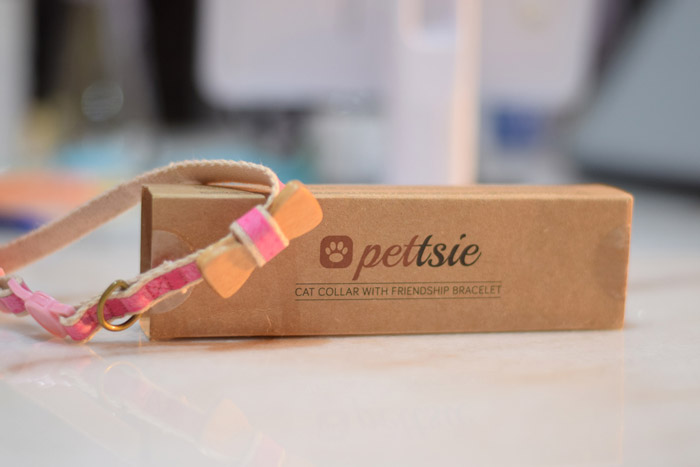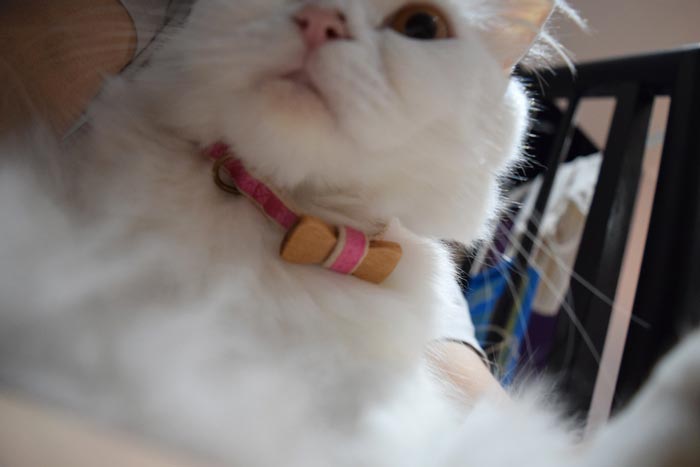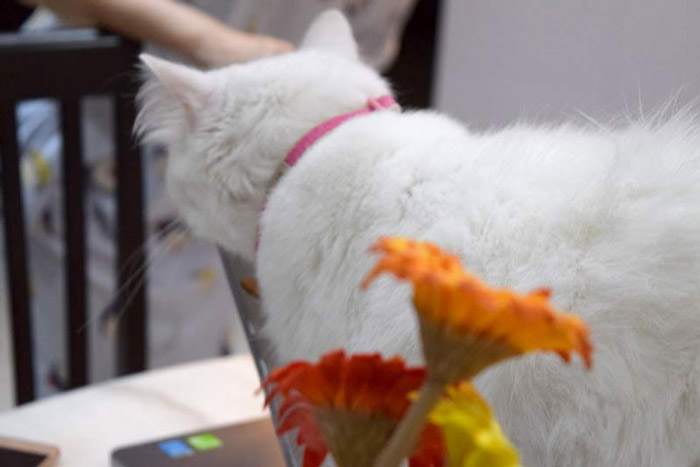 H.