Hi readers, 2014 Christmas is coming in a month time. If you guys are looking for gift ideas for your coworkers, read here for our guide on Christmas gifts for coworkers. We have a list of 7 awesome ideas that are unique and cool. These gifts are inexpensive, all of them are under $20.
Scroll down to discover Best Gifts for Coworkers (Christmas 2014).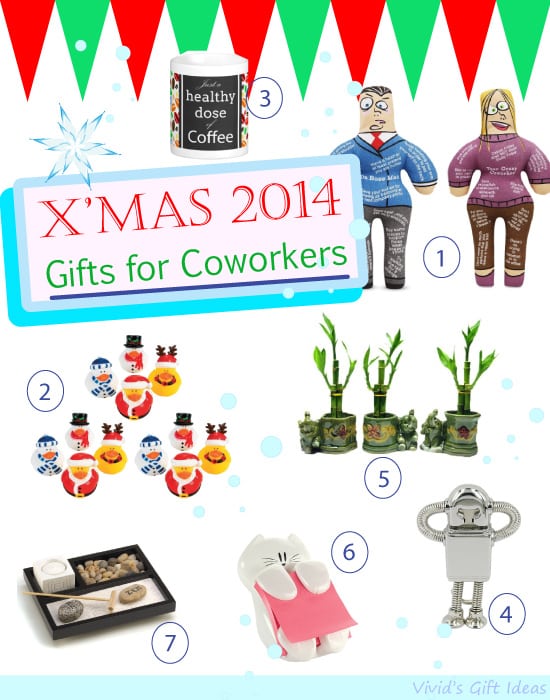 *** Read 2015 Christmas guide for coworkers & employees here.
Uncommon office gift perfect for coworkers and boss. Female and male version. Full of humorous sayings like "your crazy coworker", "da boss man", "prick me", "keep your hands off my ideas" and more.
Creative and funny. These dolls gonna be a big hit in the office!
Rubber ducks in winter holidays mood great for stocking stuffers. Assorted design of Santa, reindeer, snowman and more. Festive and Christmassy.
You can also get this cute mug for your coworkers. With fun design that says "Just a healthy dose of coffee". The colorful coffee beans will bring out positive mood for the day. A wonderful mug that coworker will appreciate.
Playful robot thumbdrive that coworkers will be thrilled to receive. Remove the head of the robot to connect to any USB port. Also attached with a keychain at the back. Practical and cool!
Available in silver and gold. One of the best gifts for coworkers under $10.
(New! Read 2015 Gift Guide for Coworkers and Employees here.)
5.   Plant
Little live plant for office. Place it on the working desk to make the environment livelier. This set of 3 lucky bamboo in elephant vase looks beautiful. Green, fresh and easy to care for. It is believed to bring good feng shui, good wealth and lots of happiness to the owner.
6.   Office Supplies
Office supply that female coworkers will adore. Fill her working desk with this pretty little thing – adorable kitty sticky notes dispenser. Heavy and sturdy; easy for one-hand dispensing.
One of the most loved work desk decoration. A miniature Zen garden kit good for releasing stress on busy days.  A black wooden dish filled with white sand, rocks, candleholder and a rake. Raking the sand will helps clear up your mind. Bring peace and calmness.
That's the 2014 Christmas Gifts for Coworkers. Have a joyful Christmas! Thanks for reading.
Follow us on Pinterest for more ideas!