Look no further if you're looking for a cool tech gift for yourself or your loved ones. We have selected eight super duper cool tech gifts ranging from the wallet-squeezing 65-inch television down to the humble-yet-powerful Google Chromecast. I'm sure you'll find something on this comprehensive list, so let's go!
1. Samsung UN65F9000 Smart LED TV
Say bye-bye to your cash and say hi to credit card debt with this 65-inch monster that is also super thin and very smart. With its ultra high-definition with micro dimming and 120Hz refresh rate, this is some of the best picture quality you will get with the current state of technology. It also has gesture control, camera, and web capability built in (hence the adjective–smart).
2. Sony Smart Watch SW2 for Android Phones
Smart watch is perfect as a gift. Why? Because the best kind of gift is the kind of gift that you won't buy for yourself yet you'd feel excited when you receive it. Your loved ones will be excited to receive the front end of wearable tech gadget as a gift!
3. Bose® SoundLink® Bluetooth Mobile Speaker
Wireless. Speaker. Say goodbye to your last-gen iPhone dock. Stream music from your mobile devices sans wire via Bluetooth with Bose SoundLink. Play music anywhere with incomparable sound quality.
4. ASUS Transformer Book T100TA-C1-GR Convertible Touchscreen Laptop
A tablet that is also a laptop. This 10.1-inch convertible comes with Win 8 and Microsoft Office preinstalled. Great for leisure use.
Running on Android 4.2 Jellybean this quality 10.1-inch tablet from Samsung comes with 16 GB flash memory and 1 GB ram memory (read: good enough for daily use). There are cameras front and back. Its ergonomic design and light weight prevent sore arms.
6. Google Chromecast HDMI Streaming Media Player
We first recommended this Google product in 10 Awesome Gifts for Dad (Thanksgiving & Hanukkah). Basically this little dongle supercharge your television into a Smart TV by giving your TV the ability to stream internet videos. All you have to do is hook up Google Chromecast to your HDTV and connect to the WIFI. Despite not having a special promotion this Black Friday, at only $35, I highly recommend this gift.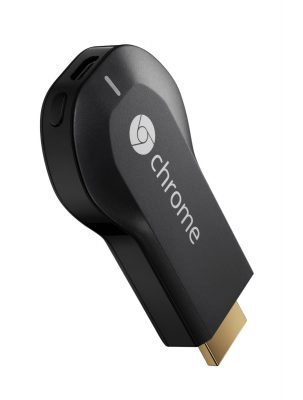 7. Sennheiser CX 300B MK II Precision Enhanced Bass Earbuds
Get excellent voice clarity and enhanced bass without compromising the comfort of your ears with this in-ear headphone by Sennheiser. It is designed to fold flat so you don't have to worry about tangling wire.
8. iHome iHM60GY 3.5mm Aux Portable Speaker
This portable speaker sounds great and adds a distinctive touch to its environment through its bold, modernistic design. It works with all kind of devices through 3.5mm headphones jack.
And there you have it folks, 8 Cool Tech Gifts Black Friday Edition 2013. Stay tuned for more gift ideas from Vivid's Gifts Ideas.
You may also like