Holiday shopping guide for mother-in-law here. Wanna get great gifts to celebrate with the in-laws? Check out our list of 8 lovely Christmas gifts for mother-in-law. These gifts are unique, nice and functional. They also bear a friendly price tag that won't hurt your pocket. Both you and mother in law gonna love it for sure!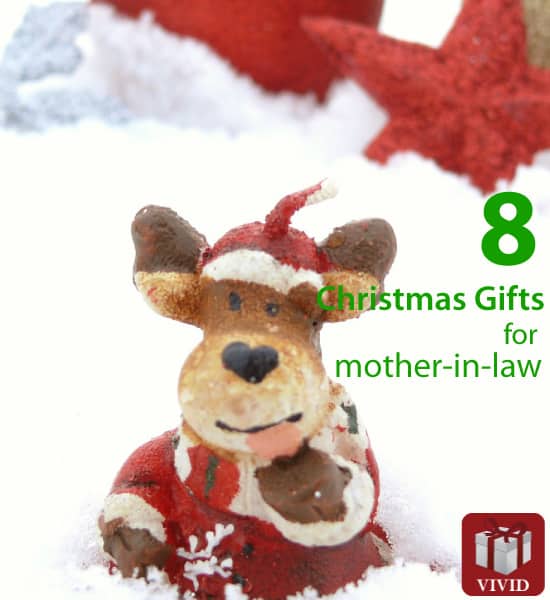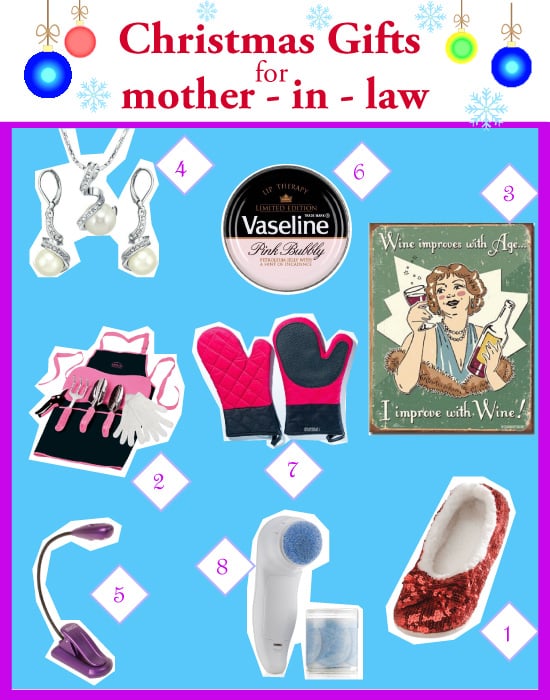 Let's start the list with this pair of metallic red slippers perfect for the holidays. Made from soft pom pom sherpa fleece lining with non skid bottom. Cute style with festive feel. Keep her feet warm and cozy this winter.
Also available in gold, silver, blue, pink and black.
This set of pink gardening kit is great for green thumbs. Includes 7 pieces of frequently-used tools like trowel, narrow trowel, rake, comfy knee pad, pruning shears, apron, and gloves. Good quality, sturdy and sweet-looking. Bring more enjoyment to gardening time!
Next, something fun for your mother-in-law this Christmas. A retro tin sign of a woman holding wine glass. She says "Wine improves with age. I improve with wine! "
4.  Jewelry
Jewelry is always one of the best Christmas present for her.  You can get this gorgeous pearl jewelry set. Includes pendant necklace with a pair of dangling earrings. White pearl accented with sparkly Austrian crystals. They look classy and elegant.
Another beautiful jewelry that she will adore. Unique design of infinity circle that spells out MOM. Shiny silver with clear crystals. It looks simple and stylish.
This necklace comes in a pretty box with sentimental message. (Inexpensive under $10)
A practical gifts for mother-in-law. Mini and powerful light good for reading and making craft. This light has 2 brightness setting, stable clip to secure it on book or any surface, and an adjustable gooseneck to illumine the perfect angle. It provides comfy, non-glaring light wherever she needs.
This portable mini light is Amazon's #1 best-selling book lights.
A small fancy lip balm that she will love. By Vasaline. This luxurious lip balm is enriched with champagne grape extract. It has lovely rosy hue. The delish jelly glides on lips smoothly, leaving lips soft and moisturized.
Also makes a nice stocking stuffer.
For she who enjoys cooking and baking. This fantastic gloves loved by many will be a big helper. Made with 100% food-grade silicone and cotton. It is thick, long and with silicone rib design. It works wonderfully on protecting wrist and hand from heat. The silicone rib secures food from slipping when grabbing. It is in charming red color loved by the ladies. Mother-in-law will definitely appreciate it.
The last item in this list is Neutrogena Microdermabrasion System. With combination of exfoliating crystals and microvibrations, this beauty kit delivers refined skin texture and radiance.
This kit is easy to use. It contains a microdermabrasion applicator, attachment head, rejuvenating puffs, and batteries. Get brighter, firmer and younger looking skin like the treatment result of dermatologist. (Great value under $20)
That's the list of 8 great Christmas gifts for mother-in-law. We are sure she will be very happy to receive it. Thanks for reading. Have a happy Christmas!
Follow us on Pinterest!