Looking for a birthday present for Taurus guys or girls? We have a list of 8 special gifts suitable for the people born in May. Read on for Zodiac Birthday Gift Ideas for Taurus Men and Women.
Gift Ideas for Taurus
This is a cool zodiac sign tile in a wooden frame for the Taurus to show off their Taurus pride. Features a fun bull drawing with the traits of May's star sign. It has fun and striking colors.
2. Emerald Flower Marquise Tennis Bracelet
The birthstone of Taureans is emerald. This elegant flower tennis bracelet makes a perfect present for Taurus women. Feminine floral design featuring 14 oval shape emerald cubic zirconia stones. Brilliant cut, sparkling and eye-catching. A piece of beautiful emerald jewelry at an affordable price. 

3. Emerald Tuxedo Cufflinks and Studs Set
For Taurus guys, emerald theme stuff is also a great idea. If you are looking for emerald accessories for men, this men cufflink set with faux emeralds and rhinestones set in gold is perfect. Elegant design with decent flash and shine for a sleek look. This is a luxe gift he will appreciate.
4. Kenneth Cole Risky Business Messenger Bag
Taurus men also love luxury and expensive stuff. Genuine leather products are top choice for him. This rich leather messenger bag looks stylish. Made of soft, Columbian full-grain leather. Good quality, roomy and sturdy. Suitable for everyday use.
5. Music CD – The Piano Guys 2
Wonderful spa experience, fine dining, classical music will make the Taureans feel happy too. This music CD by The Piano Guys is fantastic. It is filled with many wonderful piano songs that are sophisticated, lovely, and uplifting. Amazing music to create an enjoyable relaxing environment.
6. Calming Zen Fountain
Being the earth sign in zodiac, Taurus men love things that have a connection to his home. Nice looking home and garden décor items work great for them. We recommend this artistic calming Zen fountain. Multiple stones in different colors are stacked together in a wooden box filled with pebbles. The sound of water running through the stones has soothing effect, creating a peaceful scene.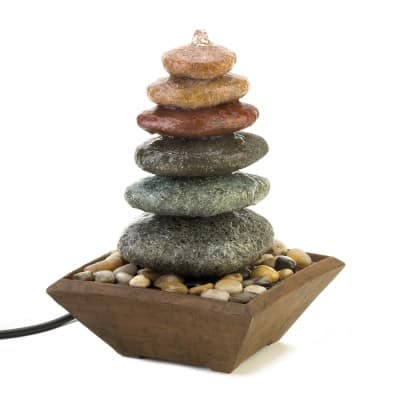 7. Alex and Ani Expandable Bangle Bracelet
Handmade Taurus bracelet that looks simple and fashionable. With an expandable design that allows the wearer to adjust the size. Made with love in the United States and from environmental-friendly recycled materials. Available in Rafaelian Gold Finish and Rafaelian Silver Finish.
8. Turtle Pendant Necklace in Emerald Color  (under $10)
Another piece of pretty jewelry for birthday girls born in May.  This pendant necklace looks cute and adorable. Unique green turtle design with shiny stones and 18k gold finish. It is lead-safe. This necklace comes in a little turtle-shaped gift box.
That's the 8 birthday gifts for Taurus men and women. Thanks for reading.
Related Gifts for Taurus: 
---
Like us on Pinterest!