We have selected some great gifts for him that he will absolutely love when he gets them. If you're looking for 2nd anniversary gift ideas for your dear husband, you might find our list of anniversary gift ideas inspirational. Read on for 2nd Anniversary Gifts For Husband.
Also, earlier in 2nd Anniversary Gift Ideas For Her, we recommended 8 traditional and modern 2nd wedding anniversary gift ideas for wife. You might want to check that out too if you're curious of what we're recommending for the wife.
Plush and absorbent. It feels soft and comfortable. Make him feel the warmth of your love every time after shower with this comfortable and stylish robe by Hugo Boss.
You can also get this beautiful watch for him. Stylish skeletonized dial with sleek black alligator embossed leather strap. This watch looks elegant. It also comes with a brown interchangeable straps.
This cotton hammock is perfect for lounging in spring and summer time. It comes in natural beige color. Hand-woven for lasting durability and true comfort. Fits 2 person. A nice piece for you to laze in style.
Another great cotton anniversary gift for him. Matching T-shirts with simple and fun design. One for your man and one for yourself.
5.   UGG Australia Men's Huntley Denim
Classy leather mix with denim shoes from UGG. Good quality, soft and comfortable. Goes well with any casual looks. Received overwhelming positive feedback from users.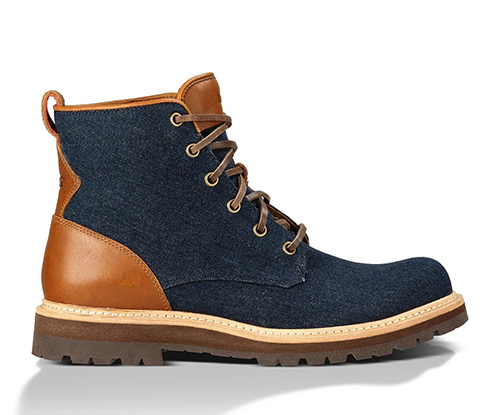 He will be thrilled to receive a portable inflatable cooler. He will be scream like a little girl when his cooler looks like a pirate ship! Fit for use at pool, lake, sea and even rapid stream.
Stylish leather bag for everyday use. By Kenneth Cole New York. Made from 100% rich leather. Smart, cool and spacious. Fits 15″ laptop and other business essentials. Price below 100.
Hilarious item that he will love. Made from 100% cotton. Comfy and proud to wear. Perfect for second anniversary.
Cotton gift. Pajama pants made of 100% cotton by Polo Ralph Lauren. Looks fashionable and feel comfy. With multiple signature ponies print.
This red colored dinnerware with flower design looks gorgeous. It comes with a service for four. Strong and durable. Can last for years.
A unique oil warmer that brings tranquility and aroma into the house. Candle goes in the back, scented oil goes to the top. The buddha is slightly distressed to present an aged effect. It goes well with the living room, bedroom, or even the hallway.
---
And there you have it: 2nd anniversary gifts for husband. Thanks for reading.
Need more gift ideas? Follow our Pinterest!
You may also like: