Choosing gifts for college students could be difficult. College students will love these awesome gift ideas that we have selected for Spring & Summer 2014. Discover now.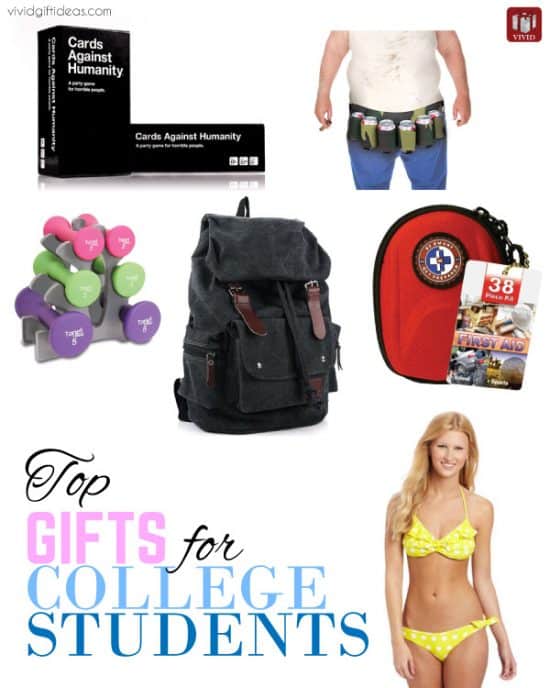 ---
Great for a casual day at the beach. The Hurley Phantom Washed Out Puerto Rico Boardshort features a stylish pleaded design. Beneath its stylish design is the care for environment: 30% of it is made of stretch recycled fabric. Performance water repellency.
Energetic and youthful. There's no better way to say hello to Summer than this gorgeous polka dot bikini. A product of US Polo Assn. This bikini is cute & sexy without showing too much of skin. Other colors available: Tribal Navy
Essential for emergency situations. The 38-piece Medique first aid kit comes in a portable nylon case. Its compact size makes it ideal to keep in your backpack, in the car, or pretty much anywhere.
Contents of Medique 40038
10 bandages (3/8 x 1-1/2-inch, plastic)
10 bandages (3/4 x 3-inch, plastic)
2 butterfly closures, medium
1 first aid guide
2 sterile gauze pads (2 x 2 inches)
2 antibiotic ointment (0.9 gram)
3 alcohol prep pads
6 antiseptic toweletts
2 non-aspirin tablets
A practical and highly functional gift for college students. The JanSport Classic backpack fulfills the storage needs of a college students travelling back and forth to classes. Known for its durability. This backpack has a simple design: a single main compartment and front pocket with organizer for smaller items, which is great for 2-3 textbooks, notepads, and calculator.
A stylish canvas backpack with compartmental design. You can see from its picture above that it has incorporated brown leather into its design, which really adds to it. This backpack is big enough to fit a 14-inch notebook. It has a main bag, two zipper side pockets,front pockets, inner extra three pockets. All that means that you get the flexibility to organize things better.
For most people, college means consuming unhealthy amount of beer and soda (or pop, depending on your location). While we do not encourage this unhealthy habit, we do recommend the beer belt by Big Mouth for its hilarity.
Cool camouflage design. This unique beer belt can carries up to 6 cans of beer or other soft drinks. Its strap is adjustable — to fit up to a size 50 waist.
A gift that needs little introduction. 12 packs of sugar & carbonated goodness.
While a bowl noodle is not for everyday consumption, it is a godsend when there's a blizzard outside and you're all out food. You will not believe how delicious Nongshim Shin Bowl is until you have tried one yourself. It has no MSG added and 0g trans fat. You can get it prepared in 3 to 4 minutes time. Made in USA.
Board games are a great way to pass time for college students. America's favorite board game Monopoly now has an electronic banking system. Just put your Monopoly card into the electronic banking unit and your worth is updated electronically. No one likes to be the banker in a Monopoly game; in this electronic banking edition, no one needs to be a banker!
Dubbed "a party game for horrible people". Have a great time playing this bestselling card game with your friends & family. The game is simple. Each round, one player asks a question from a Black Card, and everyone else answers with their funniest White Card. Hilarity ensued.
Here's a Youtube video showing some folks playing Cards Against Humanity.
Ideal for muscle toning. These hourglass shape dumbbells can be used in many exercises to keep you healthy and fit. Great for when you're too lazy to hit the gym.
Adjustable cast iron dumbbells ranging from 8 pounds to 105 pounds (price varies). Great gift for college students who are looking to build some muscles.
A practical gift to help college students stay organized. With a proper personal organizer, they can keep track of the due dates for their homework, when is their next midterm, or perhaps the interview date for an internship position. PlanAhead Organizer comes with calendar with undated format which means you can start using it anytime of the year. It also has a notepad section which is great for taking down important information. Also featured: pen holder, business card holder, zippered pocket, contacts section. Protected by a durable leather cover.
---
We have shared with you some gift ideas for college students that they will love. The gift suggestions ranged from organizer to beer belt. We hope you're able to find a suitable gift idea from our list. If you're looking for more gift ideas, check out the related posts at the bottom of this page.
Thanks for reading.
Share if you care.
---
You might also like