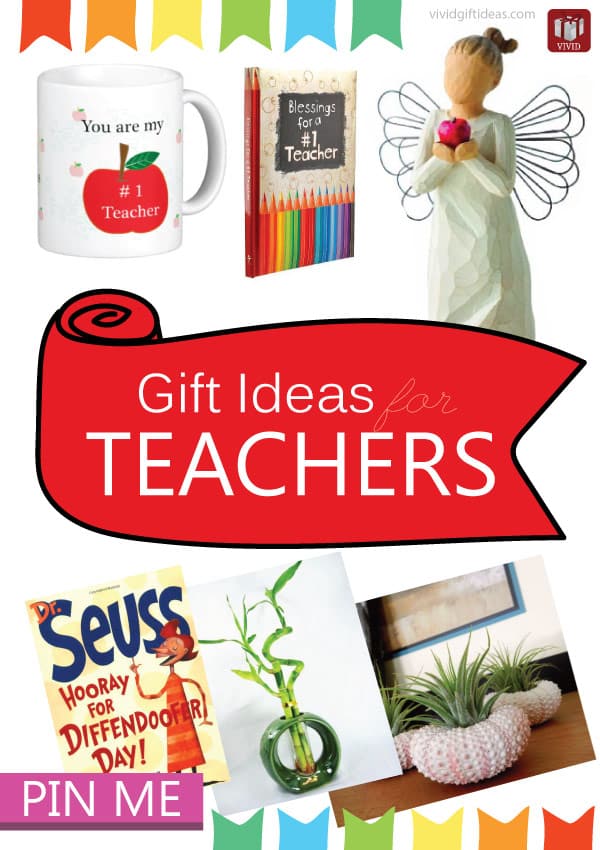 Wanna get a small gift for teacher to express your gratitude this Thanksgiving? Need some gift inspirations? Check out our list below containing 7 great gift ideas for teachers. The teacher gifts here are nice and practical. Teachers will definitely love these gifts!
1.   Small Indoor Plant
2014 Thanksgiving, you can send a pot of small plant to your teacher's office. You can get this gorgeous lucky bamboo plant. Nice-looking, fresh and healthy. The lucky bamboo grows easily and can last for years.
Alternatively, you can get this set of unique Air Plant Tillandsias. Sitting in pretty pink sea urchins, these plants are adorable and charming. They make an appealing decoration on working desk.
Practical 8GB thumb drive for teacher to store her teaching materials. Cool little robots in gold and silver. These guys can pose and play. Fun gift for teachers.
Top gift for teachers. A cute mug that says "Teacher: inspires hearts, opens minds, touches lives". Lovely design of one big and bright apple, multiple little pink apples and lovely swirl as background. Nice size for morning coffee or tea.
Teachers come in contact with many students every day. Good hand hygiene is important. A good hand sanitizer makes an useful gift for teachers. EO Organic Lemon Hand Sanitizer is 99.9% effective against germs. Organic and plant-based, this hand sanitizer contains organic lemon essential oil and soothing jojoba oil. Keep hands clean, refreshed and moisturized.
5.   Good Books
One of the best Thanksgiving gifts for teachers. A wonderful book by Dr. Seuss. This book is about teaching kids how to think, and be successful in "differentdoofer" ways. With whimsy illustrations, this book is fun, entertaining, and educative.
Another great book for teachers. With colorfully illustrated pages filled with inspiring quotes. A book that makes every teacher feel appreciated and blessed.
Teachers open our mind, give us guidance, and inspire us to achieve our dreams. They are great people that appear in our life. This artsy figurine best depicts the greatness of teacher, like an angel spreading wings and holding a red apple. A beautiful figurine that is perfect as teacher gift.
Tea is another nice gift for Thanksgiving. This set of tea sampler is an fantastic choice. 5 excellent assortments of tea and herbal teasan. Delicious with rich aroma. Choose from Earl Grey, English Breakfast, Chamomile Citron, Green Mango Peach, Ginger Lemongrass to fit your mood of the day.
That's the list of 2014 Thanksgiving Gifts for Teachers. These gifts are simple, nice and affordable. We are sure teachers gonna appreciate them. Thanks for reading!
Follow us on Pinterest!