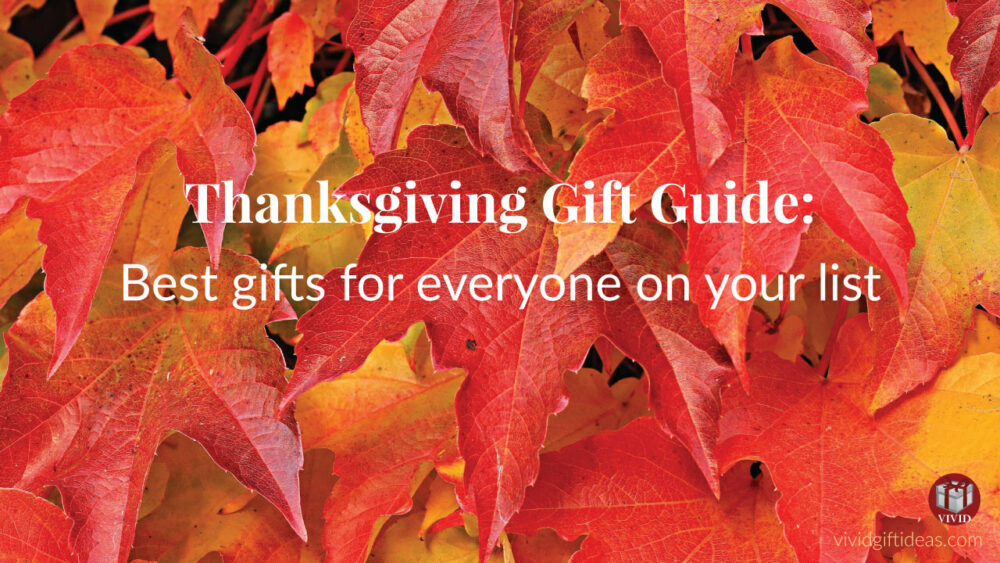 Thanksgiving is a time to gather around the table with your loved ones and share the spoils of the harvest season! Pumpkin pie, mouth-watering turkey, and piles of mashed potatoes are a common sight during this holiday. But more than that, Thanksgiving is about remembering those things and the people that we should be grateful for, during the holiday and all year long.
In that continued tradition, Thanksgiving is a great excuse for gifting! If you have someone who you're thankful for, a thoughtful gift could be just the right way to let them know. The below list got you covered whether you are looking for hostess gift suggestions, Thanksgiving gifts for family and friends, small treats for guests, or something meaningful to express thanks to your teachers, employees, or clients.
Browse our list of 36 of the best Thanksgiving gifts for everyone on your list! And happy holidays!
Thanksgiving Gifts 2022
If there is someone special in your life you are thankful for, this personalized hand-stamped teaspoon would be a great way to tell them so! This stainless-steel teaspoon is perfect for gifting to friends and family on Thanksgiving as a thank you because it has the message "I am thankful for you" engraved right into the spoon! Give it as a thank-you gift or simply to celebrate the holiday season.
2. Handmade Large Glass Pumpkin
This large glass pumpkin by Luke Adams lets you celebrate the season with a mix of traditional wonder and modern style. Each pumpkin is hand blown and signed by the artist and measures 8 inches in diameter. These stunning, one-of-a-kind works of art are perfect for a tabletop centerpiece or as the focal point of any decorative display. This is a perfect gift to give someone who enjoys celebrating the autumn season, or simply loves all things beautiful!
3. Savor
Our favorite hostess gift suggestion – cookbook. This book is perfect for those who need a little inspiration for how to build the perfect assembly of mouth-watering snacks and treats, check out this cookbook with over 100 expertly crafted recipes! This recipe and tip book is from seasoned food writer and journalist Kimberly Stevens and is filled with expert advice and recipes from the likes of Murray's Cheese, Publican Market, Vermont Creamery, and more. This book teaches you how to pair meats, cheeses, condiments, and an array of other options to create the perfect melding of flavors!
Fall is sweater weather, so cozy up with this adorable season-themed knit cardigan sweater! It's orange to match the spooky season and adorned with cute little black cats to really set the mood! The lightweight fabric will keep you snug without being too heavy and the button-up design makes it a perfect pair with any outfit! Wear it to your next holiday party, or gift it to someone who loves the season as much as you do!
(Related article: 30 Fun Halloween gifts for lovers of all things spooky)
It's the pumpkin spice season again. Get this mug to sip on everything nice while enjoying the lovely weather.
6. Personalized Thanksgiving Gift – Engraved Marble Charcuterie Board
Ready to serve up some yummy appetizers before that Thanksgiving feast? Then you're going to need the perfect charcuterie board to do it! This stylish tray comes in your choice of three different shades of 100% natural marble stone and can be custom engraved with the message of your choice, making it the perfect gift for many occasions. You can even add a display stand to show off this beautiful tray when not in use, or upgrade to include either gold or silver brushed stainless steel handles!
7. Flocking Ridiculous Wine Glass Set
For family, friends, neighbors, or your favorite host. Who doesn't enjoy a little bit of wine and laughter with their Thanksgiving turkey? This set of four stemless wine glasses will let everyone at your table sip in style, and the humorous sayings will bring a smile to any gathering. This would be a perfect gift for anyone who enjoys partaking in a little wine with dinner and also loves a good laugh. This set of wine glasses features a friendly flock of flamingos that will have you and your guests saying, "What the flock!"
Pumpkins and leaves are must-haves when you are doing fall decorating. If you're looking for the perfect gift that matches the season and serves a purpose, how about this delicate metal jewelry dish? It's crafted from high-quality pewter and features a gold finish, plus – it's shaped like a maple leaf, making it the perfect gift to match the majesty of the autumn season! This stunning jewelry tray would be the perfect addition to a dresser, bedside stand, living room table, or even in the kitchen!
9. Count Your Blessings Jar Set
How do you keep track of those things you're most thankful for? This Blessings Jar from Mud Pie makes it easy! This cute ceramic jar features a real cork topper and comes with 10 Kraft paper hearts, so you can write your blessing down and store them away. When you need a reminder to be thankful, pull them out and read your reasons to smile!
Give this lovely yellow notebook to your employees and co-workers. It is a simple and small gift that's filled with the spirit of Thanksgiving.
11. Nostalgia Tin Scrabble Game
Gathering for a family feast is a Thanksgiving tradition, but no more so than the games played around the table once the meal is done. This vintage scrabble game comes in a nostalgic metal tin for easy storing and transport and will provide hours of family fun during the holiday season and all year round! The kids will love the experience of playing games together, and the adults will enjoy the nostalgia of playing one of the favorite games from their youth!
12. Feels Like Home
Thanksgiving is all about gathering at home, and this DIY book from Marian Parsons (a.k.a. Miss Mustard Seed) teaches you how to turn your home into the space of your dreams, all on a budget! Feels Like Home – Transforming Your Space from Uninspiring to Uniquely Yours is full of inspiring pictures, practical tips, and easy-to-implement tutorials to help you turn your home into a place that is perfect for you!
(You might also like: DIY Fall Season Thankful Quotes FREE Printable)
13. Pumpkin Cocotte
Make creating those holiday recipes easy and eye-catching with this oven-to-table ceramic dish! The pumpkin design is a perfect addition to any holiday celebration, and because this dish is oven safe up to 572 degrees Fahrenheit, broiler-safe, and even freezer safe, it will make cooking, serving, and storing leftovers simple and easy! Plus, just think how pretty it will look as part of a holiday spread!
14. Gold Flake Floral Resin Coasters
If you need a gift for someone who loves to entertain, especially around the holiday season, consider gifting them this gorgeous set of white floral and gold flake resin coasters! These coasters are handmade and each one is completely unique – featuring an array of dried flowers, leaves, and gold flakes suspended in resin. They will protect your coffee table from the dreaded moisture rings and would make a fabulous gift for any season!
15. Tea Sampler Gift Set by Tea Forte
A gift perfect for everyone on your list this holiday. What pairs better with cool autumn breezes than a hot cup of tea? This sampler set comes in a cute presentation box and includes 10 assorted pyramid tea bag infusers, each handcrafted from whole tea leaves and blended with aromatic fruits, spices, and herbs. This collection is designed to focus on whole-body well-being and wellness, and includes flavors like pumpkin spice, cherry blossom, and warming joy! This tea set is perfectly suited for gifting and matches the Thanksgiving season perfectly!
16. Customized Calligraphy Wine Glass
Give a personalized gift to your hostess in the form of this beautiful stemless wine glass. It features chic leopard print and you can personalize it with her name.
17. 96NORTH Luxury Pumpkin Soy Candle
Set the mood for your Thanksgiving get-together with an enchanting pumpkin frosting-scented soy candle! This would make a great gift for the holiday party host, or anyone who enjoys the scents of the season. This high-quality candle is made from 100% soy wax, features premium cotton wicks, and includes an expertly crafted fragrance. A three-wick candle like this offers up to 50 hours of aromatic pleasure and this one includes notes of baked pumpkin pie, spiced frosting, and warm caramel drizzle! Yum!
The autumn season brings cooler weather, and that means it's time to snuggle up in a soft, cozy blanket like this Sherpa throw from Eddie Bauer! Blankets are the perfect gift for this time of year! They're useful when you need to keep warm and can add a decorative touch to any room when displayed on the back of a couch or chair, or at the end of a bed. This one is reversible, with yarn-dyed cotton flannel on one side and faux shearling popcorn fleece on the other, and is sure to make the recipient happy and warm!
19. Andalou Naturals Brightening Pumpkin Mask
Thanksgiving and autumn are all about everything pumpkin! So, if you have a beauty-conscious friend, consider gifting them this brightening pumpkin mask by Andalou Naturals, so they can glam up in seasonal style! This pumpkin honey glycolic mask cleans, exfoliates, and brightens skin with Vitamin C. Andalou Naturals uses only organic, natural ingredients that are non-GMO, gluten-free, sustainable, and cruelty-free. What more could you ask for from a beauty product?
Here's a unique gift that can keep the little ones busy while you cook up that Thanksgiving feast, and it doubles as a fashionable statement piece for the home! Made by Refinery and Co., this is a 10-piece tic-tac-toe board – but upgraded. It comes in a beautifully crafted, solid wood board with gold-painted pieces that will add a touch of style and fun to any space. This would be a great gift to bring to any Thanksgiving party!
21. Night Light Aurora Projector
Bring the beauty of the Aurora Borealis and a calming atmosphere to any room with this 4-in-1 night light projector! This lamp will fill any space with up to 18 different colors, features an adjustable speed setting, and doubles as a bedside lamp. Plus, there's a built-in Bluetooth speaker and white noise machine, so falling asleep on those chilly autumn nights will be a breeze. Choose one of six ambient noise settings or stream your favorite clips or music using Bluetooth!
Spread the holiday cheer and sending good vibes to people. Because everybody needs good vibes.
23. Wine/ Champagne
24. Wine stopper
Another small gift that's practical to bring to your host along with some good wine.
25. Glass decanter for liquor
26. Fruit basket
27. Conversation starter cards
28. Herb garden kit
29. Seasonal dish towel
30. Wooden serving tray
31. Cute notepads
32. Velvet slippers
33. Fuzzy socks
Another small Thanksgiving gift ideas suitable for everyone on your list. Because it's what you need to keep you feeling cozy this season.
34. Fragrance
Give a bottle of perfume if you are looking for something luxury for your hostess.
35. Seasonal themed stickers
Get turkey or pumpkin themed stickers. It's something small that kids appreciate.
36. Mini soap collection
More Thanksgiving Gift Guides:
For Hostess | For Family | For Friends | For Boyfriend | For Clients | For Employees | For Teachers