Looking for presents for the little ones this Easter? Discover cute Easter gift ideas for kids they will love, ranging from Easter basket to storybook. We're sure you will find inspiration from our list. So what are you waiting for? Check it out now.
New! 2015 Super Fun Easter Basket Ideas for Kids HERE.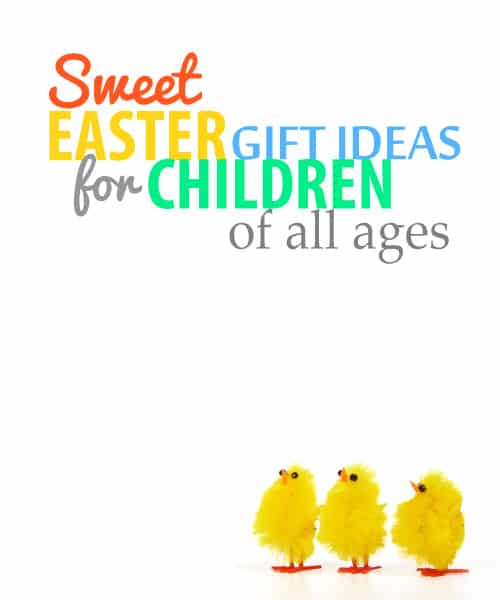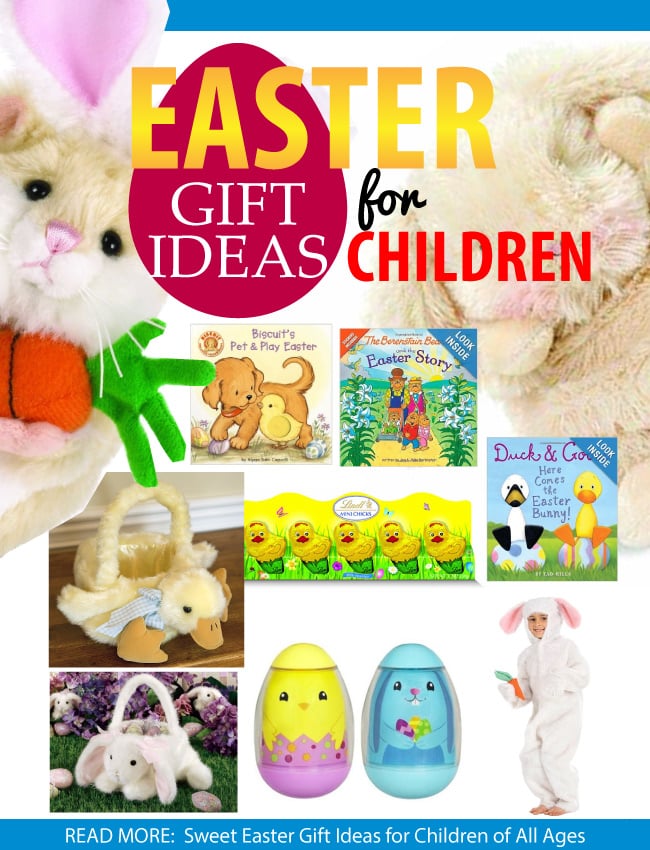 ---
These adorable baskets are perfect for kids & toddlers. Impeccable quality. Extremely soft with no sharp edge. This means that you don't have to worry about the kids getting cuts from their egg baskets. You get two designs to choose from: bunny or duck. Suitable for children of all ages. Do note that this basket is relatively small, so remember to check the sizes before purchasing.
These are some stubborn Easter eggs –they wiggle and they wobble but they won't fall down. Perfect for a creative Easter basket. This cute weeble pack by Playskool comes with not one, but two egg-shape weebles — bunny and chick. Children will enjoy playing with this toy even after Easter!
Rich & creamy chocolate in the shape of chicks. Complete your Easter basket for the kids with this outstanding chocolate pack by Lindt. These chocolates are creatively packaged with adorable images, guaranteed to make the kids scream in excitement when they see it.
So you want to be creative with the kid's Easter basket but you don't want to be too creative? How about a hamster who's pretending to be the Easter bunny? Wearing bunny ears with a big carrot in his hands, this hamster plush toy is innocently adorable. The children will be surprised to find this cute toy in their basket.
But wait, there's more. This plush toy comes with a unique Webkinz World secret code that you can use the online pet game to get special unique items.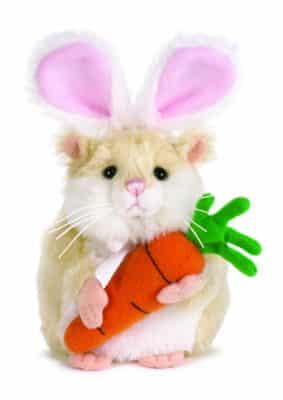 Join Biscuit the puppy in his Easter egg hunt in Biscuit's Pet & Play Easter. Make exciting discoveries along the way: a fuzzy yellow chick, a ladybug in a grassy garden, brightly-color eggs, and finally Easter bunny himself. This board book is a touch-and-feel Easter adventure. There is something for the children to interact with in each spread.
Story by Alyssa Satin Capucilli. Illustration by Pat Schories.
This Easter story starts with 4 goslings Gossie, Gertie, BooBoo, and Peedie dyeing their eggs with bright colors. Afterwards, Gossie hides hers in the grass. Gertie hides her in a haystack. BooBoo hides hers in a pot filled with tulips. And Peedie hides his under a green turtle. A little while later, the goslings are shocked to find that their eggs have gone missing and so they set out for an egg hunt.
This book is full of little details for the kids to discover. Children will love its beautiful and crisp illustrations made with ink and watercolor.
From New York Times bestselling author and illustrator Tad Hills comes Duck & Goose Easter special. In Duck & Goose, Here Comes the Easter Bunny! Duck & Goose are coming up with lots of ideas to find the Easter bunny, but will they succeed? Well it's up to you and the kids to find out!
An Easter story with a religious theme. Created by authors Mike and Jan Berenstain. In The Berenstain Bears and the Easter Story, the little cubs are crazy about Easter candies. Bear Mama, with the help of Bear Papa, tells the cubs the origin of Easter and why celebrate on this festive day.
Hop is a lighthearted animated comedy published by Universal Studio in 2011. In this film, we follow E.B., the Easter bunny's teenage son as he heads out to Hollywood, determined to become a professional drummer. As the story unfolds, the villain of the story gains power that could threaten Easter and it is up to E.B. to save the day.
10.   Flowerpot Frolic Easter Figurine
If you are looking for kids room decoration that goes well with spring season, you can consider this cute figurine featuring a papa bunny and a little bunny hiding in a yellow flower pot with blooming flower. Looks joyful for springtime.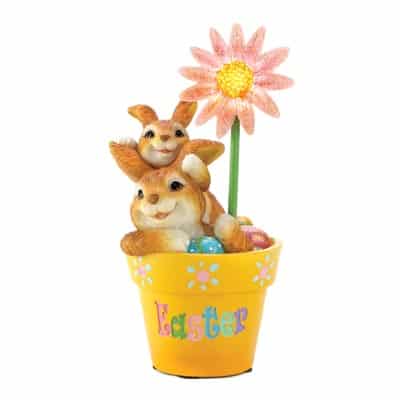 We sneaked this rabbit costume in here because we thought it's adorable. You might not want to get this for the kids though, unless you're looking for ways to make fun of them.
What is more timely than a pair of fluffy bunny ears for the children? They can wear it to an egg hunt & other Easter activities. If you like to take photos, you'll find this to be a wonderful accessory for the kids to wear for a beautiful & festive Easter portrait.
To complete this guide, we have the Rutabaga bunny by Bay Wee Plush. This adorable bunny will make anyone who holds him in their hands happy. Soft and fluffy — he is very huggable. This little bunny has an innocent expression with a shy smile. Little pink nose with faint blush on his little cheeks. Children are going to love and treasure this plush toy.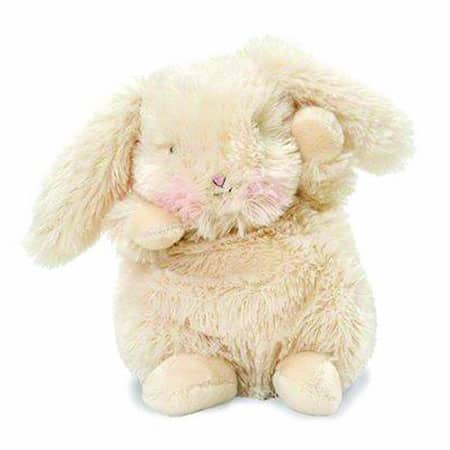 ---
And there you have it: some sweet Easter goodies for the little ones. We hope you're able to find inspiration from our list. Thanks for reading. Share this article with your friends & family.
By the way, feel free to download the pictures from this page and use it on your website and link back to this page.
---
You might also like: