Keep the festive spirit high this St. Patrick's Day. How, you ask? With plenty of shamrock, green stuff, and plenty of beer of course. Decorate your house with shamrock decor here and there. Throw on your favorite green T Shirt or get one from our list below. Organize a party. Raise a toast to celebrate this Irish festival.
To make this festive day extra special, consider getting your friends & family a simple gift to celebrate luck o' the Irish. We don't want you to spend too much on this one, as the money is probably better spent on St. Patrick's Day beers. You will discover that most of our chosen St. Patrick's Day gifts below come with a pretty reasonable price tag.
Without further ado, I present to you our St Patrick's Day gift guide: St Patrick's Day Gifts – Awesome Gift Ideas
---
First of all this shirt is in St. Patty green. So that pretty much makes it a St. Patty apparel instantaneously. You will observe that its the front design features a tuxedo with a bow tie and a flower attach to the side. I'd say it is just formal enough for a St. Patrick's Day party. Wear this tux yourself of present it as a St. Patrick's Day gift.
St. Patrick's Day gatherings require formal attire in general, even for babies. This St. Patricks Day tuxedo for babies serves to meet that need. Soft and cute bodysuit in rich green. Babies love it too.
Now that we have given a chance to the adults and kids to go green. We shall turn our attention to men's best friend — the dog. This lucky-dog t-shirt is designed to not restrict a dog's mobility, all while looking happy and green. Great St. Patrick's Day gifts for your dog. A green shamrock dog shirt that rock!
For the smokers and lighter collectors. This green lighter with shamrock design looks like its ready to serve you. Present this lighter as a token of luck.
Beautiful four leaf clover pendant necklace. A symbol of good luck. Gorgeous & outstanding pendant design. Each of the clover leaves is unique. The recipient will be impressed by this beautiful gift. Great gift for March babies.
6.   St. Patrick's Day Pin & Spin Drinking Game
Play a little drinking roulette and drink a little beer. Fun adult drinking game for St. Patty's Day drinking party. Just pin and spin.
By the way, if you're looking for more drinking games, we have an entire article dedicated to just St. Patrick's Day drinking games.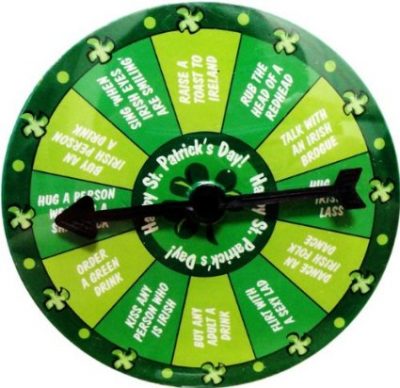 The perfect gift for her who is looking to do her nails with St. Patrick's Day theme. Mini nail polish set in 6 shades of green. Paint nice St Patricks Day nails.
Cute beer money shamrock purse perfect for St. Patty's Day. A fun St Patricks Day gift for kids.
Green & white festive sprinkle mix. Perfect way to make a St. Patrick's Day-themed cupcake, mini cake, brownie, and cookie. Great St. Patrick's Day gift for someone who likes to bake. Certified Kosher.
Make baked goods with the shape of a shamrock with this cookie cutter. Ideal for cookies, brownies, sandwiches, and much more. This stainless steel cutter allows you to cute into thick desserts with its extra-deep sides. Its cushion grip gives you comfortable control.
Shamrock shaped sculpture that brings Irish blessings. At the heart of this sculpture is a poem that says, "May your troubles be less and your blessings be more, and nothing but happiness come through your door". You can switch on and off a light at the top of the sculpture to illuminate it.
Made by artist Lori Mitchell. Shay O'Shamrock is a lively resin sculpture featuring a smiley boy carrying a shamrock by its stem with his right hand and a basket full of shamrocks with his left. The boy is seen in festive attire inspired by St. Patrick's Day.
Inspired by a Christmas classic. In The Night Before St. Patrick's Day, Tim and Maureen caught a leprechaun. But will they find a pot of gold? Find out in this storybook with beautiful illustrations.
Mickey & friends' St. Patrick's Day party is threatened by Pete's shenanigans. It will take some help from a leprechaun and a little luck o' the Irish to get the party back on track. Colorful stickers included for even more St. Patrick's Day fun!
---
St. Patrick's Day could mean different thing for different people. For most of us it is a day for friends and family to spend some quality time together. And perhaps have a beer or two.
Getting the right gift could make this festive day even more special for the gift recipient. In this gift guide dedicated to St. Patrick's Day gifts, we have shared with you some interesting gift ideas. Hopefully you are able to find inspiration from this gift guide.
Share this article.
---
You may also like:
---