Congratulations for spending almost 365 days together as a married couple. It's time to celebrate your first wedding anniversary. Surprise your husband with something meaningful to make this day extra special. Read on to discover more than twenty romantic and thoughtful gifts to celebrate paper anniversary.
As we know, the first wedding anniversary is called the "paper anniversary". Just like a blank paper, the new marriage is like a blank page for couples to fill in. Good and bad times, ups and downs, a married couple writes their new chapter in life together. Traditionally, people get gifts made of paper to celebrate their first anniversary. In this gift guide, we honor the tradition by including a number of paper gifts and several modern options. Scroll down to discover best paper anniversary gifts for husband.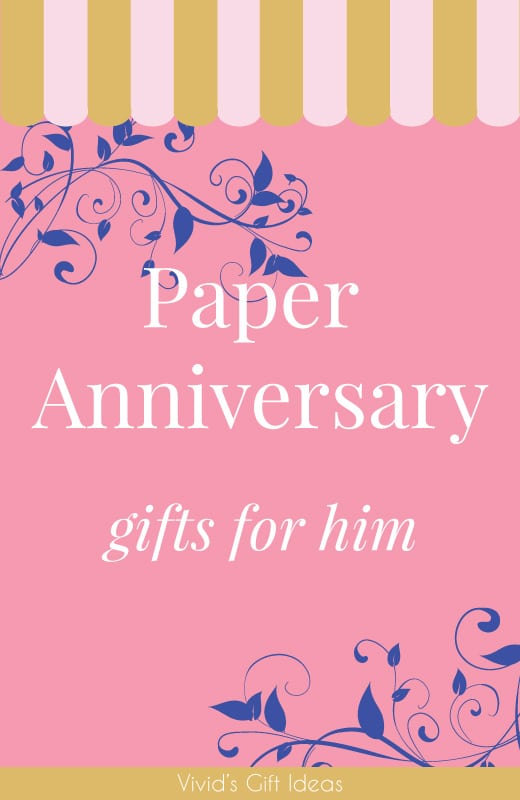 Paper Anniversary Gift Ideas for Men
1. Paper Anniversary Memory Keepsake Booklet
Celebrate your paper anniversary with a personalized anniversary gift. Create a truly special memory book for your husband. This booklet comes with 24 beautifully illustrated pages that you can get creative and DIY with ease. Fill in your thoughts, use the stickers, and make it a unique anniversary gift that preserves memories for years to come.
2. Ravensburger The Earth Puzzleball
If you want to stick to the traditional theme, be sure to get a paper gift to celebrate your first year of marriage. This beautiful paper puzzle globe looks great for home or office. It is perfectly crafted and curved to form a solid globe. And, it's definitely fun to put together.
Looking for a naughty gift for him? Here is an activity book that both of you are going to enjoy. This book is well illustrated to teach you a thing or two to spice things up in the bedroom. Try on the inventive positions and keep the fire burning.
4. Kate Posh Our First Anniversary Picture Frame
You will love this natural wood frame engraved with a meaningful message perfect to celebrate 1st anniversary. Insert a memorable photo to make it a meaningful anniversary gift for husband.
Never forget the romance and passion. Gift him with this artistic figurine that depicts the closeness between a couple and the beauty of love. It is finely hand-crafted and hand painted with lovely details. A perfect gift to celebrate love.
An inexpensive and fun way to celebrate your paper anniversary. Get these 50 coupons to level up your love life. This coupon book contains exciting and romantic ideas for couples to do together. Each coupon is pre-filled with interesting ideas to bring him lots of joy. A sweet gift that your husband can redeem anytime.
7. Love Poem Decorative Plaque
Show your husband how much you care, express your love to him with this vintage wall decoration. It is made of dried pine wood with distressed paint to give it a charming rustic feel.
Planner makes a great gift for paper anniversary. This fine-looking notebook is a fantastic choice. The white marble design with gold lettering is beautiful. And, the thick, lined pages are great for him to jot down whatever he likes.
9. Dayspring Monroe Blue Custom Pens
You can also get a luxury pen to complement the notebook. This gorgeous blue pen set is a wonderful choice. The black ink ballpoint pen glides on smoothly on paper and the pencil has a nice weight that feels solid. Engrave it with his name or add a personal message to make these pens a fancier gift to give on your wedding anniversary.
Warm up the night with this adult board game. It is the private entertainment to spice up your relationship. Sexy, naughty, and a lot of fun. This is an irresistible paper anniversary gift that he really wants.
Another thoughtful paper gift for the first anniversary — an activity book for lovers to sit down and spend some quality time together. This book is broken down into sections with questions for the different aspects of your relationship. Each person answers the questions individually and then compares his/her answers with the other person.
This book will lead to a lot of fun talks and lets you learn more about each other.
Yup, let him know this is how much you love him with this creative paper themed gift.
And, you know he is the best husband ever.
14. Love You Matching Puzzle Keychain Set
Get something small and cute to celebrate this special day. Express your love to your husband with this keychain set. They are made in matching puzzle pieces and engraved with love sayings.
Pure romantics will enjoy this. This fill-in-the-blank book prompts you to say whatever is in your heart and tell him how much he means to you. It allows you to express your love in a different light by answering the deep questions.
16. Shoot for the Moon Beaded Bookmark
A small gift for husband below $3. A paper bookmark with inspirational sayings. It reads "Shoot for the moon. Even if you miss it you will land among the stars."
Good quality ceramic mug for the best husband ever. Black and white design, 11 oz capacity. Perfect for his morning coffee.
18. Oregon Scientific Self-Setting Projection Alarm Clock
Clock is a modern gift for 1st wedding anniversary. This mini and powerful alarm clock will be useful to him. It is a combination of fun appearance and technology. Great features include: (1) projection of time in soft glow on the wall, (2) show indoor temperature, (3) equipped with radio receiver that tuned to the U.S. Atomic Clock, (4) automatic adjustment for daylight saving time and leap year, (5) crescendo alarm with snooze function.
19. Polo Ralph Lauren Men's Vaughn Saddle Sneaker
Stylish shoes by Polo Ralph Lauren. A classic design that never goes out of style. It fits well and comfortable to wear for long hours. This show matches well with any casual wear.
Another cool paper themed stuff to celebrate 365 days together — a gorgeous gold foil stamped art print featuring two adorable giraffes with a gold heart.
21. Subscription to Magazine
Subscription to the magazine that he likes is another good idea. National Geographic, Men's Health, Forbes,  and GQ are few of the most favored magazines by men.
22. Fossil Townsman Chronograph Watch
A beautiful watch is great for celebrating anniversary. He will definitely love this good-looking and functional chronograph watch by Fossil. It features an elegant navy dial with two subdials, stainless steel case, and matching brown leather straps. This is an elegant timepiece that men will appreciate.
23. Filofax Pocket Topaz Filled Organizer
This handsome-looking personal organizer is a wonderful gift for men. Soft leather cover. It comes with leather pen loop, credit card pockets, address sheets, calendar and more.
24. The Unofficial Mad Men Cookbook
For the men who love cooking. He will enjoy reading the fantastic recipes inside this cookbook and be inspired to create the nostalgic food and cocktails from the 60s. This stylish cookbook is packed with fun historical info, interesting food facts and beautiful photos of dishes, old bar, and restaurants.
Cute Mickey Mug Warmer to keep his beverages and soups hot as long as he has access to power. It includes a ceramic mug with a plug-in warmer.
That concludes our list of best gifts for paper anniversary. Thanks for reading and have a happy celebration.
Like our gift ideas? Follow us on Pinterest!