Discover 10 attractive cooking aprons in this article. While the design of these aprons varies, they share two things in common — they're both gorgeous and practical at the same time. Check it out now.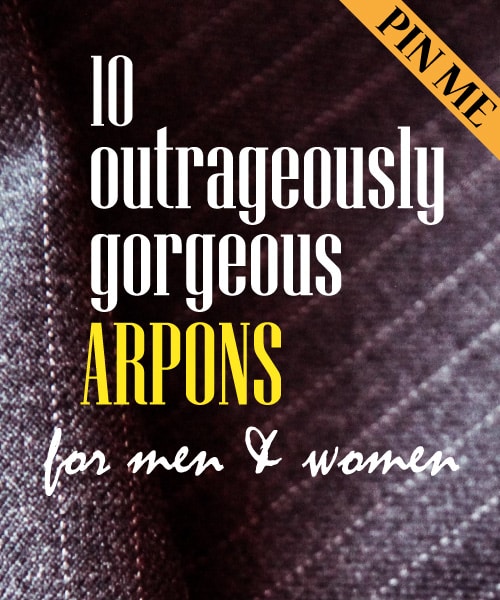 ---
Right off the bat we have Wonder Woman from Justice League. Inspired by its superman counterpart apron which was recommended in Gifts for Boyfriend Just Because.
Flirty red apron with floral & polka dot design.
Vintage-looking apron with rooster pattern.
Yellow & black apron featuring beautiful daisy print. The top half of the apron is yellow in color and ties around the back of your neck. Its waist-sash and bow are black.
Tactical BBQ apron by ThinkGeek looks cool and is actually practical. Yup, the pockets and bags that you see in the picture below are actually functional. With this apron, you can carry your salt, pepper, and other spices with you all the time.
Retro-inspired apron with black and white polka dots. Flare skirt design. Sweetheart neckline with white waist hash. Pocket at the side for your convenience.
Carry beer ammo and culinary weapons of your choice with you while you cook in this hilarious but highly-functional "grill sergeant" apron.
Beautiful, vintage-inspired cherries against light blue background. The cherries are accompanied by faintly-colored leaves which make the cherries especially outstanding. To add to its retro feel, the apron comes with a removable red flower accent.
Show off the pride for your state with this geographic apron by Uncommon Goods. This is the perfect gift for someone who has just moved to a new state.
When it comes to funny aprons, Incredible Gifts really has a lot to offer. We are only sharing with you three of their aprons here, but if you're interested you can check out the rest of them by clicking on the images below. Note that some of their aprons are more inappropriate than the others, so proceed with caution!
---
And there you have it! 10 attractive cooking aprons recommended just for you. What do you think of them?
Send this article to your friends & family!
---
You might also like