Is your boyfriend going away to college in another town or work in another city? You will be missing him a lot and you wanna get him a gift to make him think of you too? We have a list of 8 gifts for boyfriend going away. These gifts are nice, sentimental and will certainly make him love you more.
Read here for 8 farewell gifts for boyfriend.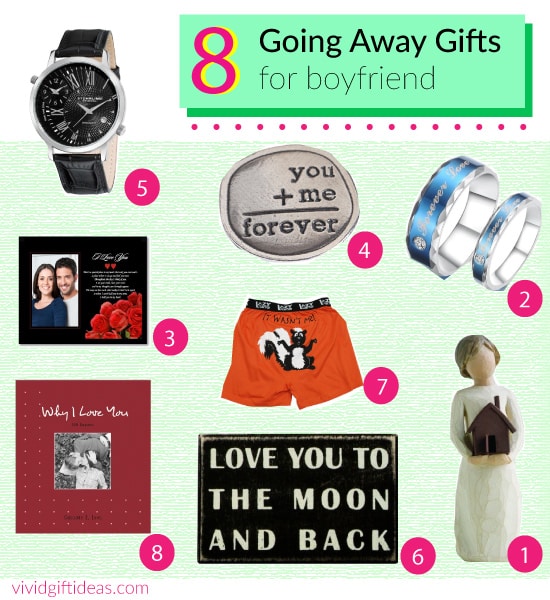 Sentimental Going Away Gift Ideas for Boyfriend That Will Help Ease the Temporary Separation
Remind him of home and the girl waiting to see him. This artsy figurine depicts the greatness of home and family. Artist Susan Lordi from Kansas City hand crafted this figurine beautifully and with highest level of details. It works great as a home decor for the living room, bedroom, or the hallway.
Couple theme gifts are great gifts for boyfriend going away. You can get set of two matching jewelries like pendant, bracelet or ring. This pair of blue rings is beautiful. Made from titanium stainless steel. Engraved with "Forever Love" and accented with sparkly stone. They look unique and cool.
A beautiful photo of you and him + a nice photo frame = one of the best going away gifts for boyfriend. A simple photo frame is good.
If you want to get him something more sophisticated, we recommend printing your photo on crystal like in a crystal photo cube. You can personalize with romantic love message and get them laser engraved on a shiny crystal cube. Photo in the cube is 3D and it looks livelier. Your boyfriend will certainly feel your "present" in the coming long distance relationship. Our readers get 10% off any purchase from in a crystal photo cube with coupon code "VIVIDGIFTS10"
A small coin that reads "you + me = forever". The coin is made of lead-free pewter and its size is perfect to keep in the wallet. This is a sweet and sentimental gift for your boyfriend to carry around with him all the time.
If he is going away to a place in different time zone, you can get him dual time watch. Watch with dual time zone dial will solve the confusion caused by time zone difference. This Stuhrling Original Watch is a classy timepiece that tells time for 2 places. Genuine black leather band, sleek black dial. An elegant watch for men.
If you have a smaller budget, you can get this Casio Dual Time Watch. Modern design, durable black resin band, black dial. Features handy digital display that allows dual-time capability or day-date-and-month calendar. A good watch that is inexpensive at the price below $15.
Another romantic gift for boyfriend going away. Express your love to him with this cute wood sign that reads "love you to the moon and back". This decorative sign can be hung on the wall or left freestanding as a desk decoration.
Don't want him to feel sad for leaving? Get him this fun boxer short. Funny design of a skunk saying "It wasn't me!" on the derriere. 100% cotton knit, bright colors. This pair of boxers will definitely make him laugh.
A wonderful book for couple in love. Captures 100 heartwarming reasons of partners' feeling to each other. Filled with vivid photography and real touching statements. A great book to tell him how much you love him.
That's the gift ideas for boyfriend going away. Thanks for reading!
Like our ideas? Follow us on Pinterest!