Hello there, let's talk about geek gifts for geeky guys today. If you need some cool ideas loved by geeky men, read here. We have brought together a list of 9 awesome items that are unique, fun, and totally geeky. Suitable as Christmas or birthday gift for the geeks and nerds in your life.
Scroll down to discover now!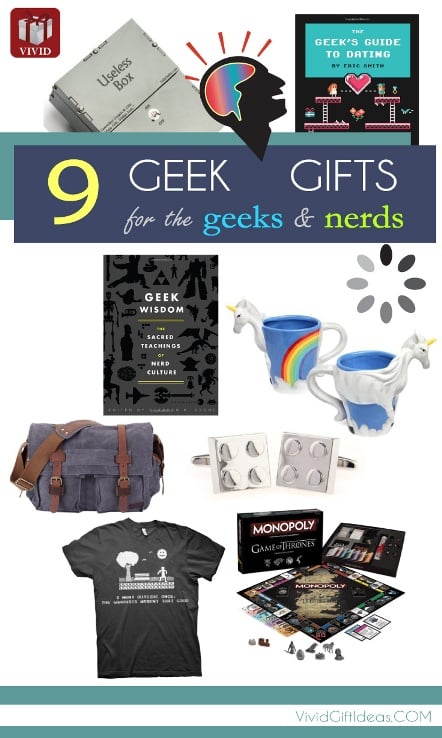 Let's start with this amazing desk gadget called the "Useless Box" aka the Useless Machine or Perpetual Machine. It is a smart electromechanical box that provides endless and useless fun. Users have to assemble it and launch your very own nuclear attack with the box.
Every time you flip the switch on the box, a little finger pops out and turns itself off. Sure it's useless… but it keeps your itchy switch-flippin' fingers busy!
This box makes one of the top geeky gifts for him.
2. Unicorn Mug
Unicorn is not just for little girls. Geeky guys love them too! He will absolutely adore this 3D ceramic unicorn mug. It is large, colorful and eye-catching.
It will be wonderful to kick start your day with delicious coffee in this magical creature.
Another nice gift for geeky guys. Sleek-looking cufflinks with the design of building blocks. It is stylish, solid, and cool.
A good read for geeky men. Written by Eric Smith. This book talks about the world of relationships in a funny and helpful way that geeks would understand. Decode the complicated romantic relationship and love life in an organized and logical approach.
The tips and content are witty, thoughtful and absolutely hilarious!
For the Star Wars fans. This pair of boxer shorts has a nice design and it fits great. Made of 100% cotton, it is soft and comfy. He gonna be thrilled to receive this!
6. Berchirly Vintage Military Messenger Bag
The casual, military style looks old school and nerdy. It has a roomy compartment that fits laptop and multiple pockets at the outside for easy organizing. This bag is made from quality canvas, it is durable and lightweight.
This black and white tee is a fantastic find for gamers. Features funny pixelated graphic which says "I went outside once, the graphics weren't that good".
This shirt gonna be a big hit among the amateur and hardcore gaming guys.
8. Monopoly: Game of Thrones Collector's Edition Board Game
Special edition MONOPOLY game for the Game of Thrones fans. Gorgeous game design with intricate details, elegant hand-sculpted tokens. This capitalist board game looks stunning and it is super fun to play.
9. Geek Wisdom
Last but not least, we recommend this complete quotes and memes book. The Geek Wisdom takes as gospel some 200 of the most powerful and oft-cited quotes from movies, literature, games, science, Internet, and more.
Profound, entertaining, exciting. Makes an incredible gift for nerds and geeks.
That's the 9 geeky gifts for guys. Aren't they cool? Tell us what you think!
Follow us on Pinterest!