This list of 12 Gifts For Fathers Day from Kids are the perfect way to surprise dad. Father's Day is coming soon, it is time for planning something awesome. If you haven't gotten the time to help your kids to make crafts, then pick a cool Father's Day that he will love is not to be missed. We have selected 11 affordable and heart-touching Father's Day gift ideas dedicated to the best dads, all under $30.
Related: 14 Best Father's Day Present Ideas from Kids
12 Best Father's Day Gifts From The Kids
1. World's Greatest Dad Parking Only
Are you feeling proud to be the child of the world's greatest dad? This red and white cute looking metal parking sign is a nice gift for dad. Put it in the garage or the spot where he parks his car to make him proud!
2. Timex Weekender Watch, Black
An elegant watch is another great stuff to get for Fathers Day. This Timex watch tells time with style. Black dial, black strap, white digits display with Indiglo light: timeless design that he can wear for years to come. (This is an inexpensive watch below the price of 30)
Fun stuff for dads who love playing guitar. This guitar pick making kit allows dad to make his very own guitar pick from any thin plastic materials like an expired credit card, gift card, hotel room key card, college ID and more.
Sturdy and easy to use. Create your unique guitar pick at home.
Available in black, white, red, and blue.
4.   Dad Mug
Another great Father's Day present that kids can get for their dad. A beautiful mug with sentimental wording. Vibrant color, nice design. Made of ceramic. Large 17-ounce capacity, perfect for morning coffee or Keurig!
5. French Chef Eyeglasses Rest
The big and pointy nose of this French chef is a perfect place to place reading glasses. He is crafted and painted beautifully. He is an adorable and functional rack for dad who always misplaces his glasses.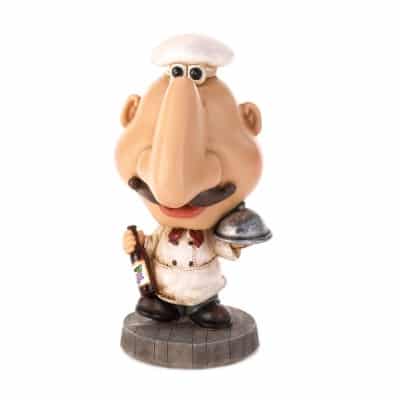 If your dad loves cooking and grilling, he gonna love this apron. Made of good quality fabric, reads "Mr. Good Lookin' Is Cookin'". This will definitely make your dad the coolest man in the next BBQ party.
7. Willow Tree Figurine – My Girls
An artsy figurine that depicts the bond of a father with his girls. Hand carved by artist Susan Lordi from her art studio in Kansas City, Missouri. This figurine is crafted with the highest level of details and it looks flawless from every angle. It works great as a home decor for the living room, bedroom, or the hallway. A nice gift for dad from daughter.
Another awesome dad gift from daughter. An eye-catching shirt with the print of two guns and hilarious writing "Guns Don't Kill People, Dads With Pretty Daughters Kill People".
This unique present is for father who needs some Zen moments to feel peace and relax. This is a miniature garden on a square dish filled with white sand. The set contains a Japanese pagoda, three rocks and a rake. Bring tranquility and calmness. (Low price at $11)
If you are looking for something fun to make him laugh, then you must get this big mug with funny writings. Funky design, colorful. Reads "DAD the final word before mom" at the front, "Dad's the boss, mom said so" at the back, and "You the man!" in the inside.
11. "World's Greatest Dad" T-Shirt
This is the last idea on our list of 2014 Fathers Day gifts from kids. This navy blue cotton shirt will definitely loved by all the world's greatest dads.
That conclude our list of 11 Fathers Day Gifts from Kids.  Check out the below links for more dad gifts gift guide.
---
Like us on Pinterest!