Don't stop the tradition of Easter basket gift giving even though your children have grown up and become teenagers. This April, celebrate Easter Day with your teens by giving them Easter basket filled with their favorites. Read here for 12 Easter Basket Ideas Loved by Teenagers.
MORE EASTER GIFT IDEAS FOR TEEN GIRLS HERE.
New! 2015 Easter Basket Gift Ideas for Teens HERE.
If you want to create a practical and functional Easter basket for your teen, choose a plastic/ rattan/ woven basket that can be reused later as storage container. We recommend this woven storage basket  costs under $10, that is made of durable polypro strapping. Sturdy, easy to wipe clean. Looks modern and beautiful.
This bunny chocolate in golden packaging looks festive. By Lindt, excellent quality chocolate loved by people. Taste rich, smooth and delicious. Great for sweet tooth and chocolate lovers.
Another awesome stuff under $10 that teens would be love to have. A tin of Ouch! bandages come in different shapes and sizes. Colorful comic design. Choose from "OUCH!", "AAARGH!", "OOOW!", "POW", "BAM" and "WHAAM!" to make cuts and blisters less hurtful.
Drink lots of water is important to the health. This high quality, unbreakable water bottles by Nalgene is the best to keep your teens hydrated every day. With their busy schedule for school and other activities outside home for long hours, it is important for them to carry a large capacity and safe bottled water to help maintain the balance of body fluids. Nalgene Tritan is BPA free, suitable for warm & cold beverages, dishwasher safe, and freezable. Its wide mouth makes cleaning and adding ice cubes easy. Comes in a variety of colors to brighten up your day.
Innovative and cute USB phone charger with flexible antennas and movable arms. It has a standard USB port and 4 feet data cable that contains a micro-USB connector to charge any devices with micro-USB port. Andru's eyes light up when charging. Charge your phone fast. It can be doubled as decorative toy.
Teenage boys need deodorant to keep up with their active lifestyle. This bestselling deodorant by Dove keeps underarm dry and reduces body odor that make him feel awkward. Offer whole day protection without irritating the skin. With pleasant masculine scent that is not overpowering. An incredible deodorant loved by men.
It is important for him to have a proper skin care to keep his skin clean and acne free. Nowadays, pampering skin with good products is not for girls only. Lab Series face wash formulated for men is a multi-action foam cleanser that removes excess oil and unclogs pores. Leaves skin clean and clear after washing. Great for sensitive skin too!
8.   Briefly Stated Angry Bird Mens Boxer Shorts
Clothing and underwear work great for Easter Basket. This fun boxers is a great choice. Bright colors with big Angry Bird print on it. Made from 100% cotton with full elastic waistband. The boxers feel soft and comfortable.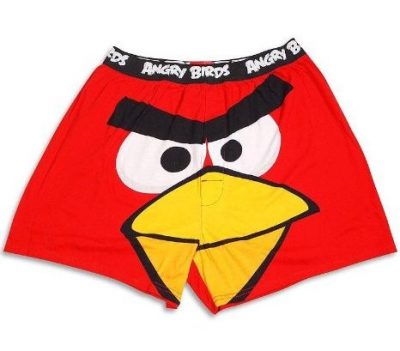 Also available: Batman, Snoopy, & Family Guy boxers
Beach gears are great for teenagers who love hanging out at the beach. Beach towel, sunglasses, beachwear and flip flop are some ideas for you. For teen boys, you can get Kanu Surf Men's Barracuda Trunks (Price under $20). Available in 10 solid colors. Simple design with two side flap pockets. Comes with elastic waist with drawstring, fit well. Made of 100% Polyester. Light and comfortable.
Another beach gear that brings more excitement at the beach. Mikasa Squish beach volleyball with "pillow-soft cover" is user friendly. The special designed cover reduces "sting" when struck. This feature allows users to play for hours without getting red welts on the wrists. Water resistant. Ideal to use at the beach or in the pool.
For teenage girls, you can get this mesh beach bag for under $15. Features a small purse kept tethered on the inside, and an outer pocket to store flip flops or other stuff separately. Made from durable nylon mesh, clean well. Nice large size to carry all her beach gears in one bag.
MORE Easter Gift Ideas for Teen Girls at HERE.
Girly thing for girls. This 3D cupcake shaped memo pad is adorable and functional. 150 'slices' of notepapers.  Measures 3.5 x 3.5 inches. Sweet cupcake perfect for weight-watching teens.
A remarkable self-help book to prepare teenagers to handle pressures and make the right decisions. By Sean Covey, the author of the international bestseller The 7 Habits of Highly Effective Teens. This book talks about the 6 important decisions: the decisions involve getting a good education, choosing true friends, getting along with parents, dating and sex, avoiding addictions, and establishing a healthy sense of self-worth. Entertaining and inspirational. A definite must-read for teens.
---
That's the 12 Easter Basket Ideas Loved by Teenagers. Thanks for reading!
---
You may also like:
---
Like us on Pinterest!