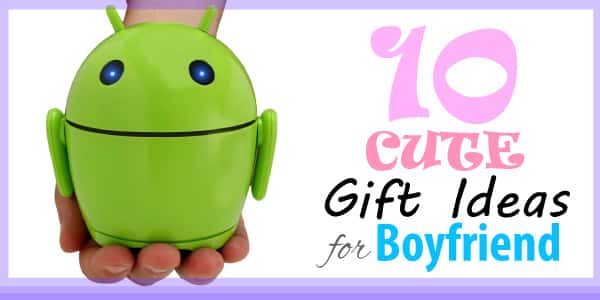 Read here if you are looking for cute gifts for boyfriend. We have a selection of 10 gift ideas for him, ranging from electronics to clothing to book and more. Scroll down to discover all!
1.   Rhodium Funky Bar Code Cufflinks
Beautiful cufflinks is one of the best gifts for boyfriend. This unique bar code cufflinks is best for him when he needs to dress up and be cool. Shiny, fun and eye-catching. An inexpensive cufflink pair under $10.
If you want to get something romantic for your boyfriend, this sweatshirt with Mickey Mouse's hand is wonderful. With cute graphic, this sweatshirt is comfy and nice to wear.
Also comes with a matching "He's mine" version for the girlfriend.
These 3 little happy men are fun and useful bar accessory. One bottle opener, one bottle stopper, and one corkscrew. It is a cute gift for boyfriend who loves wine.
If you want to get something that he can wear, you can never go wrong with a pair of basic-style shoes. This classic slip-on shoe by Vans is simple and stylish. It looks good on guys and easy to match with any casual outfit. Comfortable to wear. Loved by many men.
American flag, patriotic swim shorts perfect for beach activities. This swimming trunks look marvelous on guys. It comes with elastic waistband & drawstring, 2 outside pockets and 1 inside change pocket. Also, suitable for 4th of July celebration.
Innovative and cute portable speaker system with glowing LED eyes and movable arms. Features: 2 Dual Drive stereo speakers that are paired with a Passive Subwoofer. Also, equipped with a long-lasting, rechargeable battery.
Last more than 20 hours of use per charge with continuous audio playback. Powerful, compact, easy to carry around. It can be doubled as decorative toy.
A fork? A spoon? It is both! Spork is a smart designed dining utensil that combines spoon, fork and knife. Convenient for users to pack for lunchbox, camping trip, picnic, and more. Made from non-toxic, strong titanium. It is light and versatile. Perfect for boyfriend who loves camping.
As a caring girlfriend, you should always be there to offer help whenever he needs. Especially at some emergency! With this box of underpants dispenser, you got him covered. Contains 5 pairs of unisex underpants that will fit most adults. A funny stuff that will get him laughs like crazy.
9.   Cute Underwear
Underwear with awesome design makes a great gift for boyfriend.
Vibrant colors. Superman style.
Bold colors, hilarious printing. Will definitely thrill him.
Another funny gift for him. A book good for laugh. This book covers a wide collection of fart definitions with whimsical artwork. Super entertaining, extremely hilarious.
From the book:
Guardian angel fart: a fart that protects you from evildoers.
Boomerang fart: a fart that has somehow returned to haunt you.
That's the 10 cute gifts for boyfriend recommended by Vivid. Do you like the ideas above? Tell us what you think!
Thanks for reading.
Articles recommended for you: