Get the dancer in your life something that they really love this holiday season. Here are lovely dance-themed gifts loved by the adult, teen, and young dancers. More than 20 awesome dance gifts to leave them twirling with joy. These ideas also make great Christmas dance recital gift ideas.
Scroll down to discover best Christmas gifts for dancers.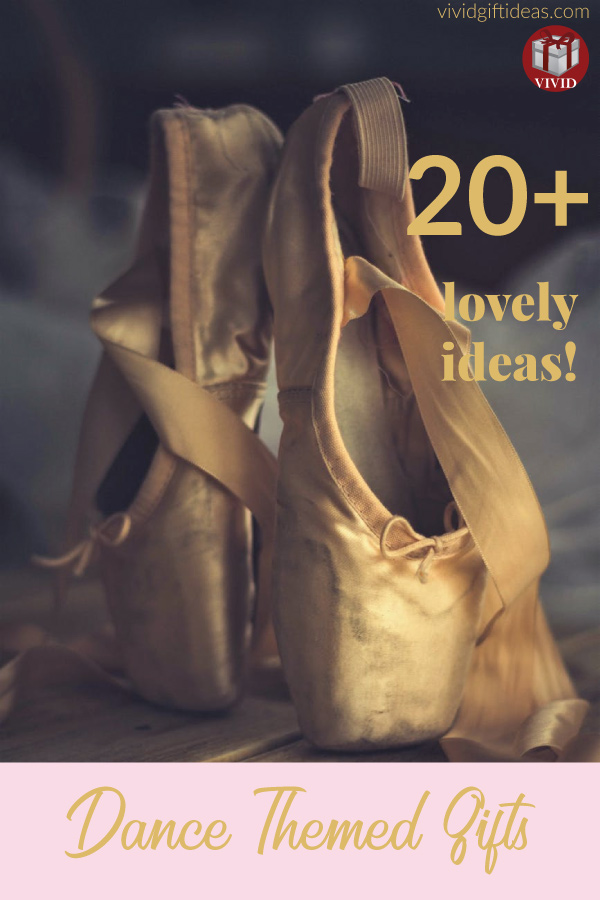 Ballet Themed Gifts for Her
1. Shine Bright Like Diamond Bag
A lovely tote bag to inspire your dancer to "shine bright like a diamond". This multipurpose bag fits her dance shoes, towel, tumbler, and more dance gears. The design is chic and fun. Suitable as dance recital gift for teens.
2. Just Dance Gold Foil Art Poster 
Gorgeous wall decor for her bedroom or studio. It is shiny, eye-catching and inspirational. A meaningful Christmas gift for dancers.
She will also love this simple and sweet-looking necklace. Features a gold star with a delicate gold chain necklace. Perfect for the upcoming dance star.
This holiday season, you can also get this elegant cast bronze sculpture for her. It is carefully handcrafted using the sand casting method. This bronze ballerina looks artistic and graceful.
5. Makeup Bag
An inexpensive ballet themed gift. This is a nice case for your dancer to keep all her makeup and brushes.
6. Anker SoundCore Mini Speaker
She will also appreciate a good quality speaker that plays clear music for her daily practice. This mini pink speaker by Anker is a wonderful choice. It is powerful, easy to carry around, and has a long battery life. Its passive subwoofer ensures a crystal-clear sound and powerful bass.
7. Icona Love Story False Eyelashes
She needs good-quality false lashes for dance competition and performance. We recommend this pair of lashes that seamlessly blend in with one's own lashes and give an amazing length. It is comfy and easy to apply. Reusable up to 7 times.
8. Vera Bradley Preppy Sports Bag
One of the best holiday gifts for dancers — a good-looking and functional dance bag by Vera Bradley. It looks beautiful and feminine. Features a roomy design with multiple mesh pockets inside.
9. AHAVA Softening Butter Salt Scrub
It is important to have a relaxing bath after a long day to relax all the sore muscles. This body scrub will be useful to her. It is filled with concentrated Dead Sea minerals and essential oils great for calming the body and mind.
10. ban.do Work It Out Water Bottle
Another exciting gift for her. This cool-looking tumbler helps keep her stay hydrated and motivated in the classes. Says "after this we're getting pizza".
11. Ballet Dancers Parking Sign 
A special parking place for the ballerinas only. Violaters will stub a toe.
12. Makeup
Help her to stock up the makeup. She will need them for competition and performance. Makeup palettes with different shades are useful as they can be used to create a different look for the different character.
Lamora Exposed Eyeshadow Palette
Elizabeth Mott Contour Kit and Highlighting Powder Palette
Inexpensive Christmas Gifts for Little Ballerinas
For her dance recital or as a stocking stuffer, this pretty keychain makes one of the best gifts for the little dancers.
14. Little Ballerina Round Bag
This mini purse looks great on girls. Your girl will love the soft pink color and the adorable designs of bow and roses. It makes a perfect Christmas gift for little ballerinas.
Who doesn't love a spinning ballerina jewelry box that can play a sweet melody?
16. Dance Journal
And 5, 6, 7, 8. This is how the counting starts for all dancers. She can totally relate to it. An excellent notebook for her to write, draw or doodle.
Make your girl smile with this stylish dance-themed bracelet.
You can also get a dance-themed stationery as a stocking stuffer.
19. Gold Dancing Ballerina Necklace
A charming necklace to reward the kids after a successful recital. The shiny gold pendant decorated with green and red gems looks perfect for the holiday season.
20. Coloring Books
Your little girl will love coloring these books filled with awesome dance illustrations inside.
Last but not least, a beautiful snowglobe suitable for both adult and young dancers. The center features three delicate ballerinas posing in graceful moves. Filled with a fine mix of high-quality silvery and iridescent flakes, it creates a splendid recital shower when you shake it.
That concludes our list of best Christmas gifts for dancers. We wish you a happy Christmas!
See more dance gifts on our Pinterest!