Discover great gifts to celebrate Christmas with military men. Read here if you are looking for ideas to surprise your military boyfriend, military son, or military friend. We have a list of 8 unique gifts to fill his Christmas with warmth and joy.
Scroll down to discover now!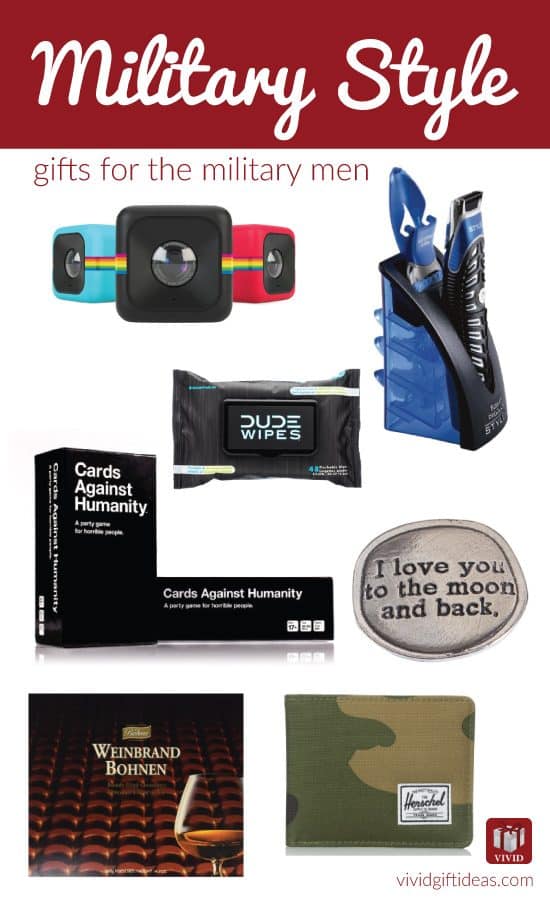 1.   Men's Grooming
Men's grooming like shaver, shaving cream and aftershaves are practical stuff that he will appreciate. Gillette Fusion Proglide Styler is a fantastic styling tool for the face and body. Cordless, versatile, powerful. Its slim design makes it easy to maneuver. Glides smoothly to shave, trim, detail, and clip.
An excellent 3-In-1 body groomer with beard trimmer under $20.
This keepsake coin is a nice small gift for military boyfriend. Handcrafted with pewter, engraved with romantic message. It is small in size perfect for men wallet.
Wallet is another good idea. You can get a fabric wallet that he can wash if it gets dirty. Woodland camouflage wallet by Herschel is stylish and durable. Bi-fold with 6 card slots and bill pocket. He's gonna like it!
Quality chocolate is one of the best Christmas gifts for military men. This brandy filled chocolate by Weinbrand Bohnen makes a wonderful choice. A box of 48 delicious German brandy beans. Tastes rich, smooth and extremely flavorful.
Cool gadget that fits his active lifestyle. A tiny 1 cubic inch action camera to capture his most exciting moments in full HD video or high resolution images. Features 124° wide-angle lens and mounting magnet that sticks to any metal surface.
It is a really small and fun camera to record down your actions while on the move.
Dubbed "a party game for horrible people". Kill dull times at the base by playing this bestselling card game. This is a simple and super fun game. Each round, one player asks a question from a Black Card, and everyone else answers with their funniest White Card.
Hilarity ensued. Will become a big hit among the military guys.
Here's a Youtube video showing some folks playing Cards Against Humanity.
Let him be the king of the throne, hmm… the toilet throne, keep his derriere refreshed with this sanitary wipes. Great for eliminating bad odor on body, pits and other dude purpose. It is unscented and soothing. Men approved!
You can also get this keychain. Reads "God gave me you". Cute and sentimental. A small gift suitable for military son, military friend or military boyfriend.
That's concludes the list of Christmas gifts for military guys. Thanks for reading.
Follow us on Pinterest!