Are you thinking of what Christmas gifts to buy for your college kids? We have a list of 10 Christmas gift ideas for college students here. The list includes Christmas gifts for college girls and Christmas gifts for college guys.
These ideas are unique and cool. College kids gonna be really excited to unwrap them.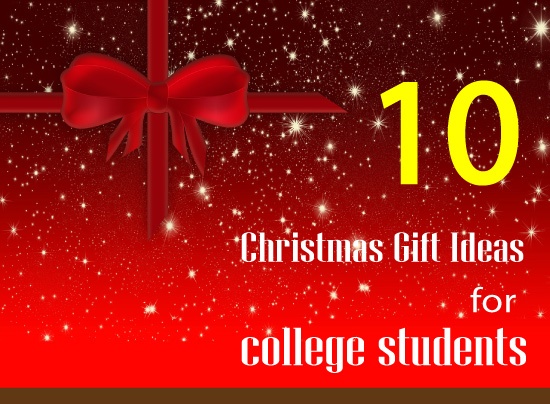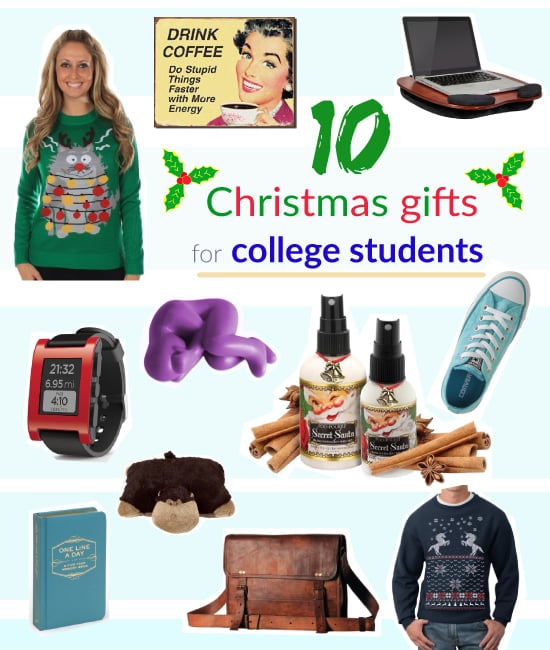 1.   Cute Sweater
Let's start the list with attractive sweaters that college students will love to have. Funny graphic, vibrant colors. Keep them warm and cozy this winter.
Next, call out the secret Santa. He is good at working his magic in bathroom. Gag gift of 3 scented sprays with the objective to naturalize the bad odor he creates in bathroom.
College life is hectic. It can be stressful at times. This stressed Paul makes a nice stocking stuffer for college students. It is made from soft rubber silicone. Squeeze it in palm to release stress.
Also, makes a cute desk decoration. (Gift below $10)
For college guys, you can get this good quality messenger bag. Rich leather, great craftsmanship, solid. This bag is spacious and comfy to carry. Fits 15" laptop, books and other school supplies. He will definitely love this!
For college girls, you can get this eye-catching tote bag. Black and white design with some colors to remind her on "how to become an A+ student".
Textbook, hard drink bottles and hilarious words. 15" height x 15" width. She can carry this bag to class, gym, shopping and more. Will become a big hit among the girls.
This Christmas, you can also get this classic sneaker by Converse. Loved by college girls and college guys for decades, its simple and cool style never goes out of trend. It is made from good canvas and comfortable to wear for long hours. Perfect for college students who walk a lot in campus.
Available in many colors. Additional pair is always welcomed by the youngster.
6.   Caffeinated Drink
College students need caffeine to keep up with their busy life. So, coffee or tea makes a good gift for them. We recommend Starbucks VIA Ready Brew Coffee. It is fast and easy to make. Just add hot water, stir, and there you go, a cup of strong coffee like it is freshly brewed from Starbucks.
Save you time on brewing. This coffee tastes smooth and rich.
For coffee lovers. A retro tin sign that says "Drink Coffee. Do stupid things faster with more energy." Vintage feel. Looks nice as wall decoration.
College girls will adore this little monkey. It is extremely soft and plushy. This monkey can be your girl's new pet or open up to use as small pillow.
Sweet and huggable. Lovely Christmas gift for college girls.
One of the best Christmas gifts for college students – lap desk. It is great for reading, writing and working while relaxing in bed. This elegant lap desk features (1) media slot to hold tablets firmly, (2) grip pad to keep phone from slipping off desk, (3) ergonomic wrist pads, (4) full-sized lap pad at the bottom. It balances well and does not slide off. The padded cushion offers you comfort for wrist and lap.
Expensive-looking lap desk that fits 15" laptop.
9.   Smartwatch
He or she who has active lifestyle would love this watch. Pebble Smartwatch that connects to smartphone via Bluetooth. Designed to make life easier, this watch tells time, displays email, SMS and more on your wrist. Alert user with silent vibration on incoming calls and other notifications like Facebook and Twitter. This watch is compatible with both iPhone and Android device.
Its watchface and apps is customizable to suit your style. Readable in bright daylight or underwater. Tech geeks and sport lovers will definitely appreciate this.
A wonderful journal for her to record the beautiful moments of her college days. With pretty blue cover and a ribbon page marker. 365 daily entries of 5 years. Each page has space to jot down the events of the same day for the 5 years. It allows the young ladies to record her thoughts and special memories that can last for lifetime.
That's the 10 Best Christmas Gifts for College Students. Aren't they awesome? Tell us what you think!
Follow us on Pinterest!