Following our earlier article on Chinese New Year gift ideas (see HERE), today's article is about Chinese New Year decorations. Chinese New Year is all about red, red, and red. You wear red, your house also "wear" red. Remember white and black that represent bad luck is "forbidden" during this season.
Let's check out our list of 2015 Chinese New Year Decorations below. We have brought together a list of 8 decoration ideas perfect for home and office.
New! Read 2016 Chinese New Year Decorations here.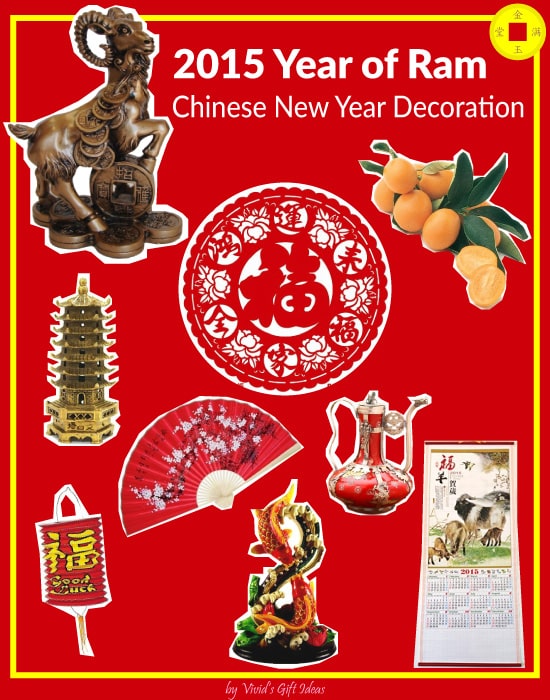 1.   Sheep Figurine
2015 is the Year of Sheep. Sheep/ goat/ ram figurine is the right theme for this coming New Year.
1a.   Feng Shui Goat Figurine carrying and stepping on Chinese coins. Believed to bring good financial luck.
1b.   Cute version: Little Gold Sheep
2.  Chinese Lanterns
Lantern is a must-have decoration for Chinese New Year. Remember to choose red lantern as red symbolizes happiness. This set of 4 paper lanterns look good. Each of them has a good-blessing Chinese word with English translation; Love, Happiness, Longevity and Good Luck.
3.   Kumquat Plant
Kumquat in pot is one of the favorite Chinese New Year decorations. Kumquat symbolizes wealth and prosperity. The golden color of the fruit resembles gold or money. Chinese people like to hang some red envelopes on the tree and place them in their home/ office to boost luck.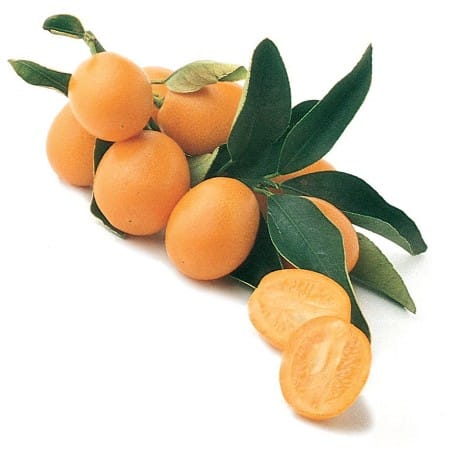 Pagoda can wards off negative Chi and helps overcome difficult task. It bestows its owner with successful career and study luck. This brass pagoda is finely crafted with lovely details. Sturdy and small in size, it is perfect to place on desk.
Set of 6 red and stunning coaster set that looks great to use during the festive season. Inspired by traditional paper-cutting style with elegant peonies and plum blossoms design. Well wishes are written, reads "Peace and happiness for all four seasons".
5b.   Antique Collectible Tea Pot
Unique porcelain tea pot decorated with gorgeous dragons. Handcrafted and hand painted in vibrant red with blossoming peonies. Delicate and elegant.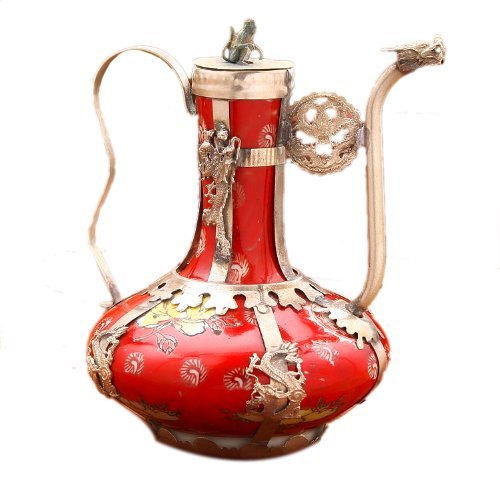 6.   Wall Decoration for Chinese New Year
6a.   Traditional Chinese Paper Cutting – to stick on wall, window, door and mirror.
6b.   Red Wall Fan – with auspicious wordings and plum blossom.
Carp is lucky fish that represents abundance. It is a wonderful feng shui decoration.  These two carps and the wave forms a number  "8" ,  a lucky number that will bring good fortune.
The last item in our list of Chinese New Year decoration ideas. Something that looks pretty and functional – 2015 wall calendar. The scroll is painted beautifully with harmony scene of sheep family grazing grass.
That concludes the list of 8 Best Chinese New Year Decorations. Have a great Year of Ram ahead!
Follow us on Pinterest!