Celebrate your parents' anniversary by getting them a meaningful gift. If you're looking for anniversary gifts for parents, we gave selected some of the best anniversary gifts that are useful, impressive, and will not burn a hole in your pocket. From family tree to olive oil to decanter set to sentimental mug, we're sure you will find the right anniversary gift for your parents from our list.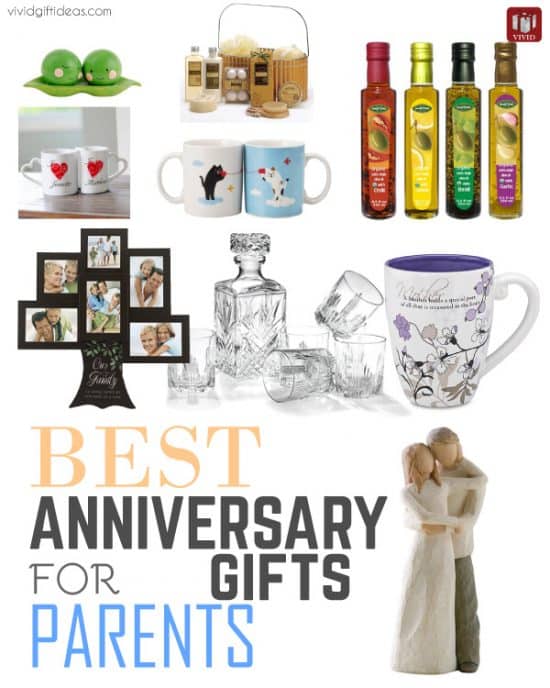 ---
Best Anniversary Gifts for Parents
---
This beautiful decanter set enhances the experience of drinking. Its high-clarity glass elegantly presents the liquid that it contains, be it whiskey or orange juice. Selected by Bormioli Rocco and crafted in Parma, Italy. Included in the set is one whiskey decanter and 6 glasses featuring starburst design. Dishwasher safe but hand wash recommended.
Anniversary Gifts for Parents #2: Family Tree Picture Frame
Bronze Family Tree Picture Frame
Parents will love this gift. Make your parents feel more connected to the family by displaying this beautiful bronze family tree at living room, bedroom, kitchen or the hallway. There are 7 openings in different sizes for you can to pick the most memorable pictures to fill in.
Our Family Tree Great Woods Frame
On the other hand, if you're looking for something that looks for simple and modern-looking. Consider this wooden family tree by Malden. Its elegant, minimalist design makes it go well with most living rooms. It does come with 6 photo frames which should be plenty for most families. Remember to check the sizes before buying this gift.
Hand carved by artist Susan Lordi from Kansas City, Missouri. Every Willow Tree sculpture have a special meaning. For parents' anniversary, we recommend Willow Tree Together, which is made for those who have found their true partner in love and life. Willow Tree Together features a couple in love embracing each other in a romantic way. This figurine arrives in a gift box.
A sentimental & touching poem dedicated to mom & dad for their love and contributions. Original poem by Genie Graveline. Beautifully written, enhanced with delicate watercolor graphics. Note that this poem print does not come with a frame.
Make your parents' anniversary extra special with this spa gift basket. With this spa set, your parents can have a great spa experience at home with each other's help. A great gift to keep them closer. What's in this gift set? 6.7 fl. oz. shower gel and body lotion, 2.9 fl. oz. body scrub, 4 bath fizzers, 1.7 oz. bath crystals in a bag, loofah, mesh sponge, wooden bath brush, puff, and bamboo basket.
Great for cooking and drizzling. Mantova's infused extra-virgin olive oil is healthy and flavorful. Mantova takes its pride being 100% Italian. From picking fresh olive to bottling & testing — the whole process is done in Italy. There are four flavors in this mixed pack: garlic, basil, chili, and lemon. Its beautiful bottle design makes it a impressive gift with the first sight.
Something hilarious for your parents' anniversary. A wooden sign that reads "I love you with all my butt, I would say heart, but my butt is bigger". Distressed paint, vintage style.
Small gift for parents' anniversary – cute two peas in a pod salt & pepper shaker set. They are magnetic so they'll always stick to each other. A great gift to bring different & fresh energy into the house.
Anniversary Gifts for Parents #9: Couple Mugs
Use it, keep it, or display it. Mugs are a conservative but highly versatile gift. Get your parents a pair of matching mugs on their anniversary.
Couple Cat Mug Set – Adorable mug set featuring two cats talking to each other while standing on a cloud in the sky (presumably).
Personalized Heart Mugs – Couple heart mugs that you can personalize for your parents. This extra service does cost a bit more. But for that extra cost you get to put your parents' names on the mugs, making it truly unique.
Mom & Dad Mugs
Well-designed mugs with beautiful floral & natural design, complete with sentimental quotes for dad & mom. Mark My Words Dad Mug has an olive green color scheme with patterns of leaves on the outside. And it says, "Dads brighten our smiles, our hearts, our world" on the mug.
On the hand, Mark My Words Mother Mug's design makes use of floral patterns and has a purple color scheme. The quote says, "A mother holds a special part of all that is treasured in the heart."
---
And there you have it: best anniversary gifts for parents. In this gift guide we have shared with you some anniversary gift ideas that parents will love. Hopefully you're able to find inspiration from this list.
Share this gift guide with your friends & family.
---
You might also like