We have 30th anniversary gifts for men here. 30th anniversary is a big milestone in marriage. Celebrate with your husband, toast to the great 30 years and more wonderful years to come. Choose unique 30th anniversary gifts with our collection of traditional pearl gifts and modern option like the diamond.
Traditional and Modern 30th Wedding Anniversary Presents for Men
The 9 ideas are perfect as pearl anniversary gift ideas for husband, dad, or any couple you would like to congratulate. Scroll down to discover now!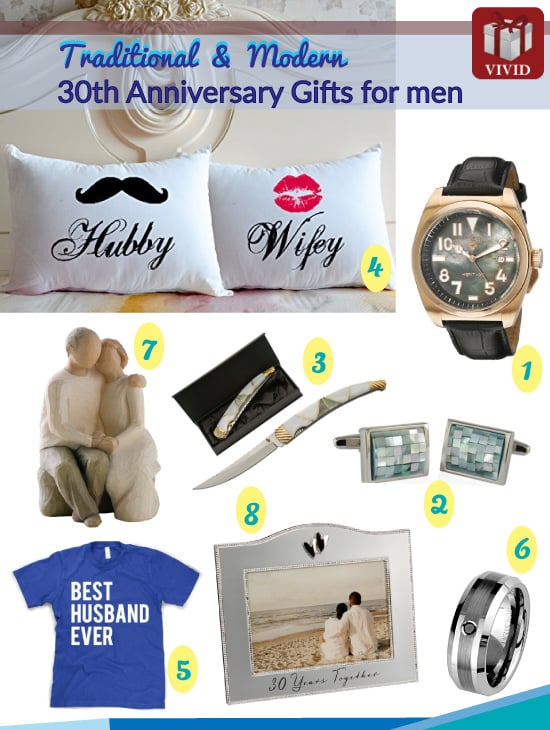 (In our list, we recommend mother of pearl instead of real pearl as it is less pricey and more affordable)
Watch is a nice gift for men. For the pearl anniversary, a beautiful watch with mother of pearl dial is an excellent choice. He will love this gorgeous watch by Swiss Legend. Distinctive black mother of pearl dial, rose gold tone case, and matching black leather strap. This watch has big numerals and it is easy to read.
A classy-style watch for men under $70.
Elegant cufflinks for shirt-wearing men. Made from mother of pearl and stainless steel. Detailed mosaic pattern, well polished, smooth surface. A sophisticated pair of cufflinks that will make the 30th anniversary memorable.
Unique pearl gift for him. A handsome folding knife with pearl inlay and brass bolsters. Nice craftsmanship, good weight, regal feel.
The knife comes in a gorgeous gift box.
Create the newlywed feel for couples who are deeply in love for 30 years. A set of cute pillowcases for the husband and wife. Simple and sweet!
5. Funny Tee
This T-shirt is another wonderful anniversary gift for husband. Fun and bold statement that reads "Best husband ever".
6. Diamond Ring
Diamond is the modern 30th anniversary gift. You can get men accessories that come with diamond. We recommend this stylish ring that is good for your budget. Made from scratch resistant tungsten accented with shiny black diamond. It is simple and good-looking.
Artistic figurine that depicts the love, closeness and bond between a couples. Hand carved by artist Susan Lordi from Kansas City. This figurine is beautifully crafted with fine details and pleasing colors. It looks pure and attractive from every angle.
8. Photo Keepsake
To celebrate with your parents, you can choose a lovely frame filled with a memorable photo of them. This silverplated picture frame which can be hung on wall or free-stand on any surface is a decent choice. It makes a meaningful keepsake for couple who are celebrating their 30th wedding anniversary together.
9. Dinner/ Party
If you are still not sure how to celebrate the 30th wedding anniversary, you can prepare his favorite food and make a romantic dinner for two. You can also throw a party if he likes to be surrounded by friends and families.
That ends our list of 30th Anniversary Gift Ideas for Him. Thanks for reading!
Follow us on Pinterest!